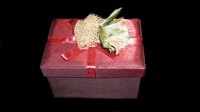 Giving a romantic gift to a Korean woman requires some preparation, as Korean tradition dictates that certain items hold symbolic significance. It is important to make sure your gift sends the right message. There are definitely some items you want to stay away from and some that will be warmly welcomed. With some know-how, giving a Korean woman a romantic gift will be simple and stress-free.
Symbolism
Many items have symbolic meaning in Korean culture. For example, objects with sharp edges like scissors or knives can mean a cutting of the relationship, so stay away from giving these. Similarly, handkerchiefs or items related to crying can mean a sad farewell, and you should avoid giving these. Personal care items can be very good gifts. Items like perfume and designer soaps are considered good gifts as they can be put to use on a daily basis. Also, flowers are a very romantic gift, as flowers are only ever given from a man to a woman in Korea, and they have a romantic connotation, unlike in the U.S., where friends often exchange flowers.
Corruption
In Korean culture it's important not to be seen as advocating corruption, so men should never give gifts to women in the workplace. However, outside the office, men can sometimes give women small gifts like wine or flowers, but only if a special occasion is being celebrated. If a man is invited to a birthday party of a woman he works with, he can give her a gift, but he should also bring a small gift for the hostess of the party, to show he means no harm. A man should never give a woman he works with a money gift, as this can be seen as bribery or an abuse of power.
Wrapping
How you wrap a present for a Korean woman can hold much symbolism. Bright colors like pink or red are popular, as these show happiness and good wishes. Dark colors should be avoided, and wrapping paper should never be black, as this can be seen as a bad omen. Adding special decorations to a present can show extra meaning. Placing a bow or ribbon on the gift makes it special, and putting decorative flowers onto the present gives it a romantic touch. Always include a card with your gift, expressing your respect and good thoughts for the recipient.