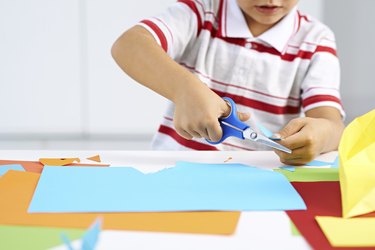 The varied textures and bright colors of Spanish folk art adapt well to children's arts and crafts projects, making them effective tools for teaching kids about the culture. While pinatas and maracas are often used as kid-appropriate art projects, a variety of lesser-known textiles -- like papel picado or munecas quitapenas -- can be incorporated into lesson plans as well. Encourage cultural immersion by sharing photos of the art as made by native craftspeople and telling stories about how the craft was originally introduced into the culture.
Peruvian Beaded Necklace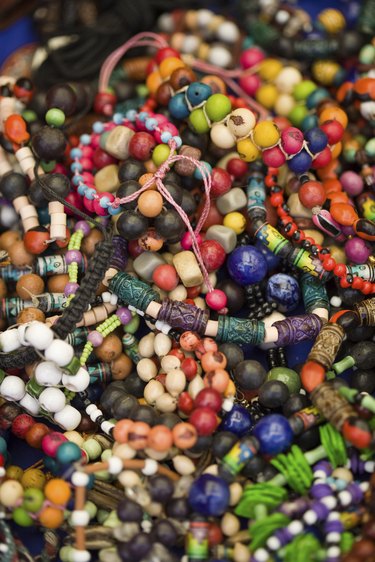 According to Sara Goudarzi, writing for National Geographic News in 2008, the oldest gold artifact in the Americas -- a nine-bead gold necklace -- was found near Peru's Lake Titicaca. Beaded trinkets, fashioned by early Peruvian civilizations, make a craft project for little fingers. Children can form large beads by rolling out and wrapping snakes of air-dry clay or play dough around pencils or create smaller spheres and squares from clay with holes poked with toothpicks. Allow the clay to dry thoroughly and have the children paint or draw patterned designs. Thread the finished baubles onto ribbon or string.
Guatemalan Munecas Quitapenas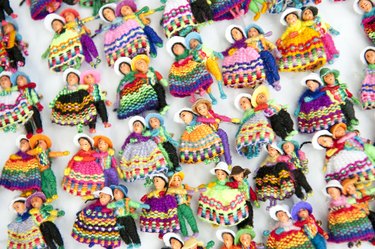 An old Mayan legend, says the University of Minnesota's Sara McDonnell, encourages Guatemalan children who can't sleep to whisper worries to muneca quitapenas -- or "worry dolls." When placed under the pillow, the dolls take over the worrying while the child sleeps. Recreate this folk art by twisting the top inch of two pipe cleaners together. Twist a third pipe cleaner around the middle for arms and separate the long ends into legs. Wrap yarn around the form to fill in the body; for example, use blue yarn for jeans and a red yarn shirt. Finish off with a bit of construction paper glued on for a head.
Mexican Papel Picado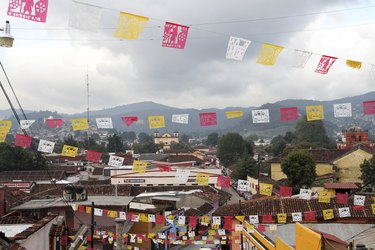 Mexicans hang multicolored banderitas -- or banners -- of papel picado to decorate during big celebrations like Dia de los Muertos and Christmas, according to the Tacoma Art Museum. Making this kind of "perforated paper" banner helps develop young children's fine motor skills and teaches elementary-aged kids about geometrical symmetry. Begin by folding brightly colored tissue or construction paper in quarters, eighths or back and forth like an accordion. Cut shapes in the creases; any shape is suitable, from simple triangles and circles to complex flower petals and multi-pointed stars. Unfold and affix the sheets to a string with glue or tape. Suspend the banners from the ceiling or hang them over a window or door.
Spanish Flamenco Castanets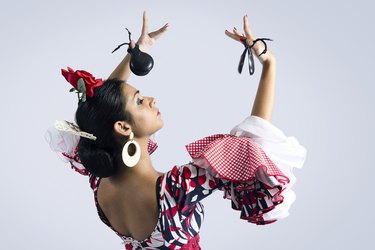 Castanets are traditionally worn by Spanish flamenco dancers as accompaniments to the music and movement. Craft noisemakers from paper plates and some pennies to help develop fine motor skills and foster music appreciation. Have the children decorate the back-side of a paper plate with bright colors and shapes -- show photos of traditional Spanish tiles as reference -- and then fold the plate in half and punch a pair of holes approximately 2 inches apart on either side. Glue pennies along the inside rim and thread a ribbon through both sets of holes for handles.