The holidays can be a stressful time of year and figuring out how to feed a house full of out-of-town visitors or party guests only adds to the chaos. Instead of slaving over the stove, try one of these fun do-it-yourself entertainment bars that allow your guests to make their own stress-free customized meals.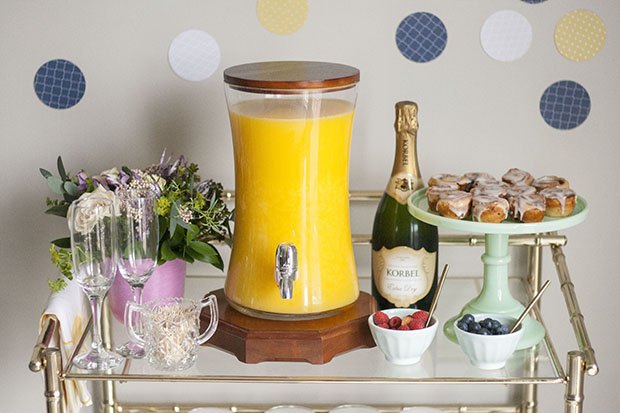 (Carrie Waller)
Go beyond cold cereal and offer your guests this "bed and breakfast" style waffle bar. To save time and effort, gather your waffle accoutrements the night before and all you'll have to do in the morning is make waffles and watch your happy guests enjoy.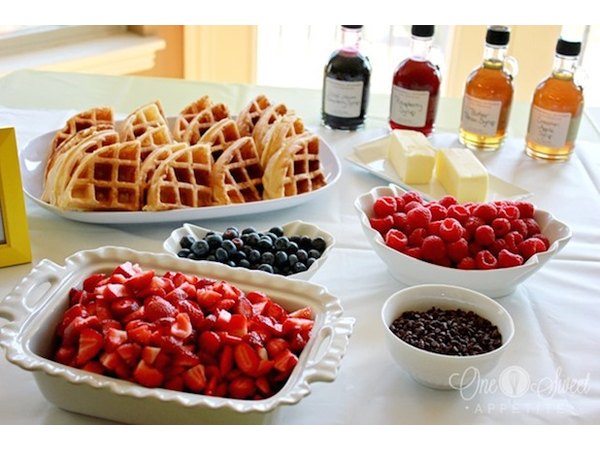 onesweetappetite.com
Waffle Bar
No brunch is complete without mimosas and this bar allows your guests to customize their own bubbly beverages. Offer a variety of juices, fresh fruit garnishes, and of course a few bottles of chilled champagne. Even youngsters will have fun creating their own virgin concoctions with this DIY bar.
Carrie Waller
Mimosa Bar
Chili is the perfect cold weather meal and its variety of uses makes it perfect for feeding a crowd. One big pot of chili serves as the hearty topping for chips, baked potatoes, hot dogs, and fries. Finish off the bar with a variety of customizable toppings and you've got endless meal options to fit endless appetites.
celebrationsathomeblog.com
Chili Bar
Everybody loves a hamburger, so you can't go wrong with this DIY lunch bar. Offer beef, turkey, and veggie patties, a variety of fresh vegetables, and a carousel of condiments for guests to build their own best ever burger.
www.talkofthehouse.com
Hamburger Bar
Macaroni and cheese isn't just for kids anymore. Offering a selection of flavorful add-ins turns mac and cheese into a gourmet treat. With sauces, meat, vegetables, and specialty cheeses, guests can make "grown up" mac and cheese flavors like buffalo chicken, broccoli and bacon, or smoky chipotle.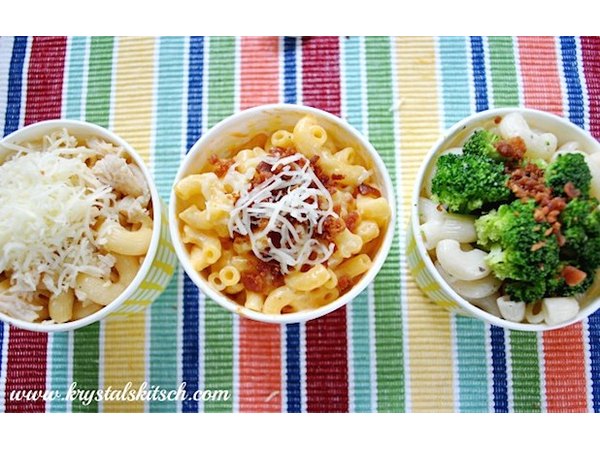 www.krystalskitsch.com
Mac and Cheese Bar
This South of the Border themed bar is fresh and vibrant with a selection of vegetables, beans, meat, and sauces to pile onto crisp tortillas. Leave a few soft tortillas out for those who prefer a soft taco-style meal, as well as a few bowls for carb conscious guests to create a tortilla-free tostada bowl.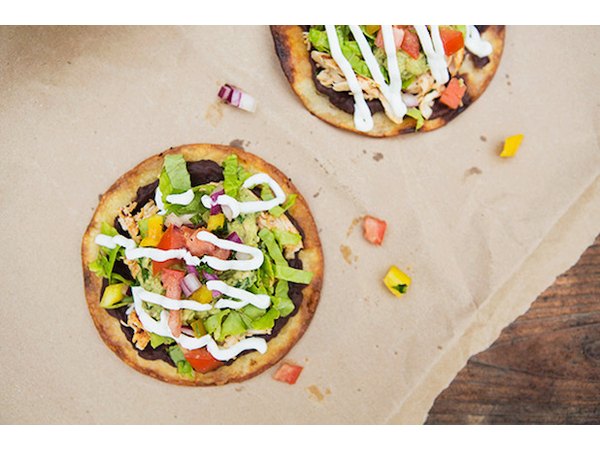 Shaina Olmanson
Build-Your-Own Tostada Bar
A grilled cheese is the first meal that many of us learned how to cook. You could spend a lifetime trying all the variations on the classic bread and cheese theme. Let your guests choose their bread, flavorful cheese, sauces, and even a few extras like sundried tomatoes or bacon for a grilled cheese like they've never had before.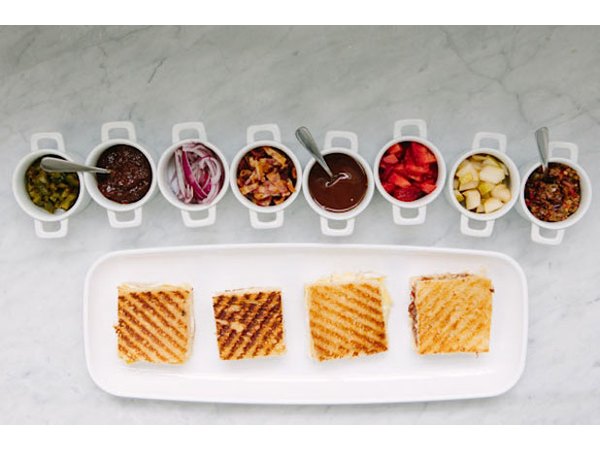 ohhappyday.com
Grilled Cheese Party Bar
Nothing is more festive during the holidays than a warm mug of hot chocolate. Bring your friends in out of the cold and offer them a table full of cocoa flavors and garnishes. Keep the cocoa warm in a slow cooker and provide flavored syrups, liquors, marshmallows, and other candies for each guest to personalize their drink. It's the perfect post-caroling or tree-decorating tradition.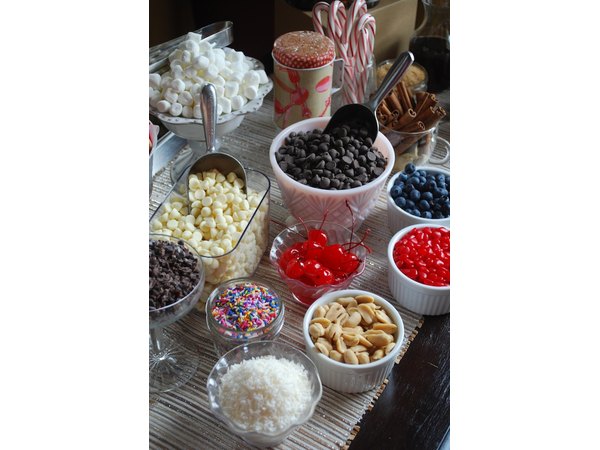 www.alwaysorderdessert.com
DIY Hot Chocolate Bar
Pizza is a no-brainer when it comes to pleasing a crowd, but getting all the special requests straight can be a bit hectic. Instead of special ordering pizzas according to each person's dietary needs, let them build their own personalized pizza. A toaster oven makes a quick job of cooking each pizza, or cook the pizzas in batches using a conventional oven.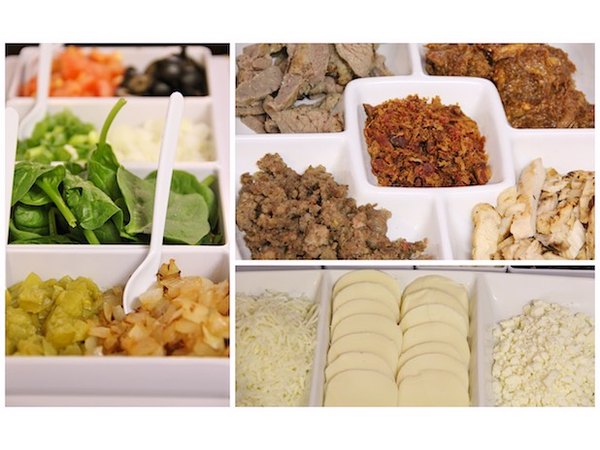 www.aroundmyfamilytable.com
Personalized Pizza Bar
Whether it's the big game or a casual New Years Eve celebration, nachos are a great meal option when there will be a lot of drinking and celebrating. One big pot of shredded chicken chili serves as the base for these awesome nachos and the variety of toppings will make the nachos more than memorable.
www.thegunnysack.com
Chicken Chili Nacho Bar
Promoted By Zergnet