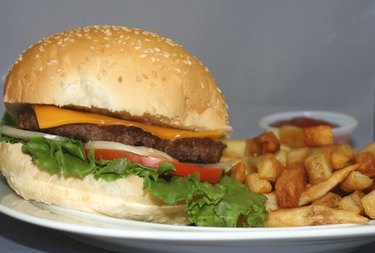 The first Cheddar's restaurant opened its doors in 1979 in Arlington, Texas. The restaurant serves a variety of favorites made from scratch, as well as appetizers and desserts. Locations are available across the Midwest and South, and each offers guests a casual dining experience. As of January 2011, Cheddar's website gives no specific nutritional information; however, it says this information will be available soon.
Appetizers
Cheddar's offer a variety of appetizers including chips and homemade queso, spinach dip, edamame and cheese fries. The spinach dip is a blend of Southwestern spices, spinach, sour cream and four cheeses. For a healthier appetizer, try the edamame, which is an Asian food made of soybeans. It comes with a ginger soy sauce and Southwestern-flavor spices. The cheese fries, which are not one of the healthiest options, consist of a heaping mound of fries piled with cheese and bacon, served with a ranch dipping sauce.
Meals
Some meal options that are not calorie-friendly are the Monte Cristo sandwich, chicken-fried steak, New Orleans pasta, grilled chicken Alfredo, beer-battered fried shrimp and a variety of burgers. The Monte Cristo is a club sandwich on white bread that is battered and deep-fried, then covered in powdered sugar. New Orleans pasta is a generous portion of penne pasta, sausage, shrimp and chicken tossed in a Cajun cream sauce.
Desserts
Though the desserts are way off track to eating healthfully, a few are on the menu. The monster cookie is a legendary dessert consisting of a huge homemade chocolate chip cookie topped with ice cream, nuts, whipped cream, hot fudge and a cherry. Other desserts include hand-dipped shakes, hot fudge sundaes and apple pie served with ice cream and hot caramel sauce.
Healthy Options
With the wide variety of food this restaurant offers, you will find several healthy choices on the menu. Healthy meals include grilled Atlantic salmon, grilled tilapia with mango sauce, Key West chicken and shrimp, a variety of homemade soups, roasted pear spring salad with chicken, Hawaiian chicken salad and lemon pepper chicken. All these options feature fish and chicken that are grilled, not fried. Healthy side options include steamed vegetables, sweet baby carrots, green beans and coleslaw. If you are looking to eat healthfully while visiting Cheddar's restaurant, select a grilled fish or chicken and a healthy side dish.