Things You'll Need
Raffia

Scissors

Hot glue gun

Tape measure

Feathers

Newspapers

Mother of Pearl shell

Small shells with a natural hole

Needle

Thread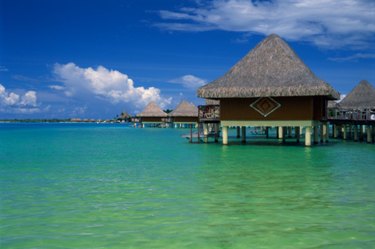 A Tahitian dance headdress is a type of decorative headgear worn by hula dancers. Tahitian headdresses are traditionally made out of natural materials native to Polynesia, such as coconut fibers, feathers and ti leaves. These materials can be substituted with raffia, strips of fabric, shells and ribbons. A Tahitian headdress will add the finishing touches to a hula girl fancy-dress outfit. Store-bought Tahitian headdresses can be costly, but you can make your own headdress for a fraction of the price.
Step 1
Measure the circumference of your head. Cut three pieces of raffia that are each four times the circumference of your head and two inches wide. Align the ends of the raffia strips.
Step 2
Tie a single knot in the top of the strands. Separate the three strands so that they lie vertically next to one another. Lift the left strand over the middle strand, so that it now lies in the middle position. Lift the right strand over the middle strand, so that it now lies in the middle position. Repeat this braiding technique until you have braided the desired length of headdress.
Step 3
Tie a single knot in the bottom of the braid. Leave enough loose raffia to tie the headdress around the crown of the head. Trim off any excess raffia with the scissors.
Step 4
Lay several sheets of newspaper out to protect your work space. Place the raffia braid horizontally on the newspaper, with the outside edge facing the newspaper. While your glue gun is heating, trim off the bottom of the shaft on the feather. Squeeze a drop of glue onto the bottom front side of the feather. Press the bottom of the feather onto the center of the braided raffia, and allow the glue to cool for a minute. Repeat this process with four more feathers -- two on either side of the original feather. Slightly overlap each feather, so that there are no gaps between the feathers.
Step 5
Flip the raffia braid over. Apply a drop of glue to the back of the mother of pearl. Press the mother of pearl onto the front center section of the raffia, just below the central feather.
Step 6
Thread the needle with a 10-inch piece of cotton thread. Tie a double knot at the bottom of the cotton. Thread the needle through the underside of the raffia and pull all of the thread through to the front. Insert the needle through the hole in a small shell, pushing the shell down until it touches the raffia, and pull all the thread through. Insert the needle back through the raffia, through the hole in the shell, back through the raffia and tie it in a double knot. Trim off any excess thread with the scissors. Repeat this process with several more shells dotted along the front part of the raffia headband.
Warning
Hot glue guns should only be used under the supervision of a responsible adult.