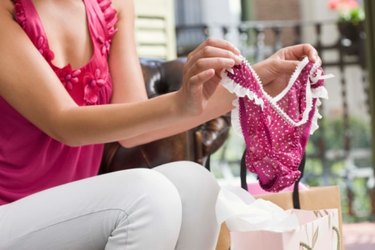 Crotchless underwear can be an enticing type of lingerie for a partner. It can also make the person wearing them feel more confident and sexy. The cost of crotchless underwear can be high, especially considering the manufacturers use less material, not more. Some people are deterred by the locations that sell crotchless underwear. The solution to saving money and avoiding a trip to the adult store – though some department stores sell crotchless underwear – is to make your own. It is a simple process to make crotchless panties.
Things You'll Need
1 pair sexy panties and/or

1 pair old panties for practice

Sharp scissors

Needle (optional)

Thread that matches the color of the panties (optional)
Step 1
Select a pair of sexy panties. Buy a new pair or recycle a pair you already own. Practice your first attempt on an old pair of underwear if you choose.
Step 2
Lay the panties out flat.
Step 3
Find the crotch of the underwear. Fold it lengthwise together.
Step 4
Carefully trim away the crotch panel, leaving a thin strip of fabric on each side, attached to the binding. Do not remove the binding on the legs of the crotch area. Discard the excess fabric. If there is no crotch panel, find the seam at the top of the crotch and cut from the seam to 3 inches lower.
Step 5
Put on the panties to measure the area you want removed before cutting if the underwear doesn't have a distinct crotch panel or joining seam. Mark the area with a black marker and cut the marks after removing the panties. This step is unnecessary for panties with discernible crotches.
Step 6
Use a needle and matching thread to hem the raw edges of the cut if you choose. This is optional and will prevent fraying.
Tip
Dress up your pretty new panties with lace, ribbons or other decorations along the strips that still remain. Use a hot glue gun to attach decorations, but hand wash the underwear if your objects aren't sewn on.
Instead of a basic square or rectangle, you can cut shapes out of the crotch panel, such as hearts, diamonds or stars.
Warning
Make sure you don't cut out too much. You need a little strip, along with the edge binding, on each side of the crotch area to keep on the panties.