Things You'll Need
Sweat pants

Mid-drift baring shirt

Hair tie

Silk type scarf

Flat shoes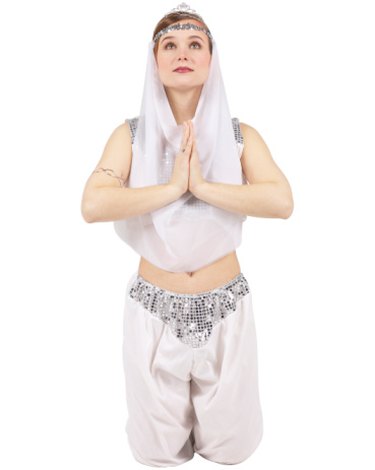 You don't have to be a wizard with a sewing machine to take advantage of the savings a homemade costume has to offer. There are simple costumes, like a genie, that can be put together on a tight budget and still look great. A basic genie costume can be put together with common items that you may already own, can find at a discount store or even borrow.
Step 1
Look for pink, purple or light blue sweat pants. The pants should be gathered at the ankle and have wide or baggy legs. It might be necessary to get pants that are several sizes too big with a drawstring waist.
Step 2
Match a mid-drift baring shirt, bathing suit, or bra top to the sweat pants. If you would rather not expose your waist, wear a flesh-colored leotard under the the genie top.
Step 3
Tie your hair up in a ponytail on the very top of your head so that it can bee seen when you are looking straight ahead. Tuck one corner of the silk scarf in to the left side of the hair tie. With the scarf going under your chin, or across the bottom of your face, attach the opposite corner on the right side of the hair tie.
Step 4
Wear flat shoes without socks or with flesh-colored stockings.
Tip
For a more authentic look, add jewels or sequins with a hot glue gun.
For boys, replace the mid-drift shirt with a short vest.