Things You'll Need
2 quarts blueberries

2 zip-close bags

2 plastic storage containers

Small plastic foam cooler

Cardboard

Oven mitts

2 lbs. dry ice

Tape

Brown mailing paper

Permanent marker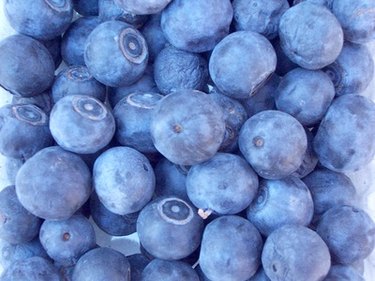 Blueberries require very specific growing conditions – acidic soil and warm days with cool nights. Blueberries grow best in Northern and Midwestern United States. Blueberries spoil quickly when off the vine, so they should be frozen or consumed quickly. Shipping blueberries takes a little effort, but giving loved ones a taste of farm-fresh berries is worth it.
Step 1
Pack approximately a quart of berries in each plastic zip-close bag. Pack each bag of berries into a disposable plastic storage container to protect the fragile berries during transport. Place the storage containers side by side in the bottom of a plastic foam cooler.
Step 2
Cut a piece of cardboard to fit inside the cooler. It should be large enough to cover the top of both containers. The cardboard will protect the berries from freezer burn.
Step 3
Put on the oven mitts. Without touching the ice with your hands, place the dry ice on top of the cardboard. Place the lid on the cooler and seal the edges with tape.
Step 4
Cover the cooler with two layers of brown mailing paper. Address the package. Write the words: "Refrigerated Food," and "Contains Dry Ice" on the outside of the package.
Step 5
Ship the package overnight express.
Tip
If the cooler is too large for just the berries and the ice, pack the rest of the cooler with plastic foam packing material to keep the contents cold.
Warning
Dry ice will burn exposed skin. Do not handle the dry ice or allow the ice to touch your skin.