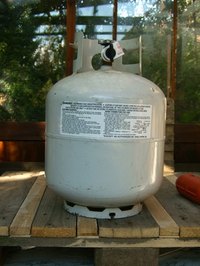 Propane gas is commonly used to power barbecues, RV trailer appliances and other equipment. New tanks can cost upward of $40, but refilling and reusing an old propane tank can save you the cost and hassle of buying a new tank. While the process is a simple one, it is important to be sure your old propane tank is still in proper working condition and safe to reuse. You can refill a propane tank at any time whether the tank is completely empty or not.
Check your old propane tank for any structural damage. Look for dings to the body of the tank or any signs of rust. Check the condition of the propane tank valve to ensure it's isn't damaged. If you see any signs of rust or structural damage to the body or valve of the tank do not reuse it.
Go to a local supplier and bring your old propane tank to the attendant or an employee. Tell the attendant your tank is older and ask them to check the valve to make sure it is up to code. Propane tanks manufactured before September 30, 1998 may need a valve replacement.
Ask the attendant to fill your tank. The highly pressurized nature of propane gas means it is too dangerous for you to fill the tank yourself so an employee of the station will do it for you.
Secure your filled tank in your vehicle to ensure it doesn't roll around on your return trip home. Depending on your vehicle, it is a good idea to bring rope or other tiedowns with you to ensure your filled tank is secure.