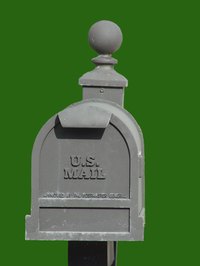 Mailbox vandalism is a serious crime that affects individuals and communities as a whole. According to the U.S. Postal Inspection Service, mailboxes are considered federal property, and by federal law violators can be fined up to $250,000 or imprisoned for up to three years for each act of vandalism. Most incidents of mailbox vandalism occur in isolated, rural areas, but many cases occur in well populated cities as well. Learning how to stop mailbox vandalism is a must if you want your mailbox to stay in good working condition.
Things You'll Need
Steel/brick mailbox
Cement
Immediately report the vandalism to your local post office. Reporting your mailbox vandalism incident with your local post office will allow the department to determine whether or not your incident is an isolated case and will allow the department to determine what type of further direction or action is needed to solve your individual case.
Install a stronger, more durable mailbox, like a steel or brick mailbox. Criminals tend to shy away from stronger, sturdier mailboxes. You can purchase a steel or brick mailbox at hardware stores.
Strengthen the foundation of your mailbox by cementing the mailbox pole into the ground. Dig a hole, about 1 to 2 feet deep, depending on the length of the pole, and place the pole holding the mailbox into the hole. Pour the cement and water mixture into the hole and let it dry.
Set out a security camera to catch the criminal in the act. If the criminal has vandalized your mailbox once, they'll probably try to do so again at a later date. Place the security camera in easy viewing access of your mailbox, but out of eye-sight from the criminal. Give the video surveillance evidence to your local police to handle and press charges.