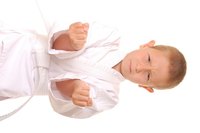 Practicing karate is not only a good way to learn self-defense, but is also great exercise. Most schools require students to wear a uniform called a gi. However, traditional gis come in a limited number of sizes and are often expensive and require altering. If you have some basic sewing skills, however, you can buy a pattern and sew your own gi that will fit better and possibly cost less than one you buy.
Things You'll Need
Pattern
Sewing machine
Scissors
Pins
Tailor's chalk
Heavyweight white cotton fabric
Heavyweight white thread
Iron
Ironing board
Measuring tape
Wash and dry your fabric. This is called "preshrinking" and is important before you cut out the pattern pieces so everything is the correct size. Wash and dry the same way you intend to wash the completed gi; most gi are washed in cold water and hung to dry, but if you intend to use hot water and dry it in a dryer, do that now.
Iron your pattern pieces (on low heat) and your fabric.
Lay out your preshrunk heavyweight white fabric on a flat surface and arrange the pattern pieces according to your pattern's diagram. Most patterns make use of folded fabric (wrong sides together) when you need to cut more than one of the same piece. Pin the pattern pieces in place.
Take the measurements of the person who will be wearing the gi at the chest, hip and waist, using a measuring tape. Use the cutting line for the size that most closely matches these measurements. Always round up to the next largest size.
Cut out your pattern along the line for the size you've selected, using scissors. Mark any pattern symbols on your fabric with tailor's chalk before you remove the pattern from the fabric.
Pin your pieces together (usually wrong sides together).
Sew the pieces together as instructed, using a sewing machine and heavyweight white thread. If making a gi for actual use (as opposed to a costume), use the flat-felled seams technique to make sure your seams will withstand the wear of karate practice. If not using flat-felled seams, sew 5/8 inch from the edge of the fabric, and press your seams open after you sew each one.
Hem the sleeves and pants to the appropriate length.