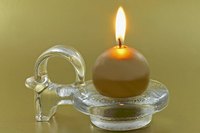 Clearing residual energy from your home can be a simple process. Whether you're moving into a new house, starting a new job, ending a relationship or just want to get a fresh outlook on life, you can clear any negative energy from the house. Getting rid of residual energy doesn't have to involve any special ingredients, and you can add any spiritual practices of your own to augment your cleansing ceremony.
Things You'll Need
Music
Portable radio or MP3 player
Essential oils
Unburned, unscented candle
Smudging stick of white sage or cedar branches
Heat-proof bowl
If you are already established in the house, clear out any clutter first. In either a new home, or one in which you've been living, check that all the doors and windows are unblocked and can be opened to allow energy to flow through the house. Take any steps to ensure that you are relaxed.
Gather your ingredients in the room in which you wish to start the cleansing. Put on music. The music can be uplifting, soothing, calming, or energizing, as long as it's something you enjoy hearing. Lyrics are fine as long as it's not distracting. You can also carry a bell or a chime instead of playing music.
Light a smudging stick or a candle with a little essential oil rubbed on to begin your cleansing method. If you are using a candle, rub some essential oil on it before lighting it. If you choose a smudging stick, light the end and put it in the heat-proof bowl.
Holding your candle or smudging stick, walk around the room. If there are any shadowed corners in the room, carry the candle or smudging stick and 8either light up the corner or allow the smoke to drift into the corner. If you'd like, recite a positive mantra or favorite uplifting quote as you walk around the room.
Continue walking with your candle or smudging stick throughout the house. If possible, go in a clockwise circle through the house and end in the room you started in. If this isn't possible, try to plan a route that will allow you to go through every room at least once.
End in the room you started with. If you have a mantra, recite it one last time before extinguishing the candle or smudging stick.