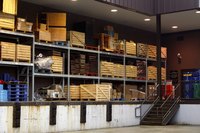 Use plastic strapping tensioners to tighten plastic strapping around boxes, pallets, bales and crates. Mostly used for commercial purposes, tensioners are manufactured by several companies. The best ones are lightweight and portable and can be used both horizontally and vertically. Purchase plastic strapping tensioners online or at industrial supply and shipping stores.
Things You'll Need
Plastic strapping tensioner
Plastic strapping
Using Plastic Strapping Tensioners
Pull the strap snugly around the package, taking care to keep the strap straight. Tuck one end of the strapping under the other end.
Squeeze the handle of the tensioner down to the base. Move the tool onto the strap.The end of the strap slides between the base and the gripper foot and extends 4 inches beyond the tool. Clamp down on the strap by releasing the handle.
Slide the back strap end through the cutter housing and the windlass.
Attach a seal to both the front and back pieces of strapping in front of the tool. Move the handle up and down to tighten the strap.
After crimping the seal with a strap sealer, press the handle down to cut the strap. Slide the tool away from the strapping. Discard leftover strap.