Things You'll Need
Crochet cotton yarn

Crochet hook

Tape measure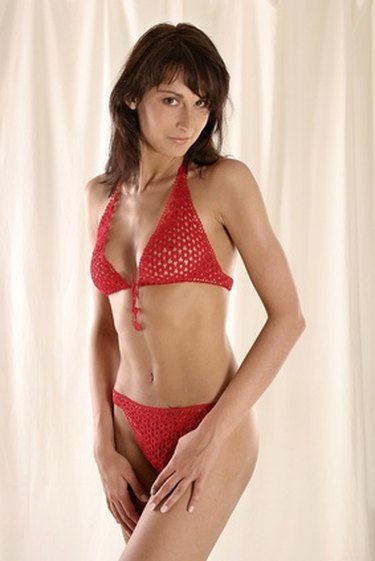 Crocheted lingerie was very common in the Victorian era, then in the 1970s it took the form of bikinis. It is easy to produce your own simple crocheted lingerie; all you need is a little common sense, some cotton yarn, a crochet hook and a tape measure to ensure that the lingerie will fit.
Step 1
Crochet two triangles in single crochet that measure long enough and wide enough to cover each breast. Start by chaining a row that is as wide as you want the bottom part of the triangle to be, then reduce stitches in each subsequent row until you reach a point.
Step 2
Crochet one small triangle to cover the front of your pelvic area, again, as wide and long as suits you.
Step 3
Crochet one wide large triangle that will cover your backside.
Step 4
Crochet a rectangular strip to connect between the front and back triangles to form your underwear. Make this as wide as is comfortable for you.
Step 5
Crochet two smaller chains to connect the sides of the underwear together and four longer chains to connect the back of the bra and to connect and tie the top of the bra around your neck, halter style. These chains cannot be measured precisely but should be as long as they need to be to fit around your body and tie into bows comfortably.
Tip
A smaller crochet hook and thinner yarn will provide you with a more dainty set of lingerie; thicker yarn is easier and faster to crochet but will produce a heavier and thicker product.
Warning
Use 100 percent cotton thread; it is the most hygienic.