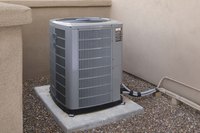 Your central air conditioner knows when to turn on and off based on information it receives from the thermostat. You can set your thermostat to your preferred temperature, and the thermostat controls when the air conditioner blows cold air to bring your house down to that temperature. If you install an air conditioner thermostat that you can program, expect to save money on your utility bills because it will save you quite a bit in energy costs.
Things You'll Need
Turn the circuit breaker to your central air condition to the "Off" position.
Remove your existing thermostat from the wall. Unscrew the connectors that hold it to the wall, and unscrew the wire terminals on the back of the existing thermostat.
Draw a diagram of the wire terminals on the back of your existing thermostat, and label each wire so you know which terminal it plugs into. You can write the terminal information on a piece of masking tape, and wrap the tape around the appropriate wire for an easy labeling option. You'll insert your central air conditioner wiring into the same terminals in your new central AC thermostat.
Pull the wires out of the wire terminals gently. Pull the thermostat off the wall, and set it to the side.
Wrap the thermostat wires around a pencil. The pencil will help keep the wires from falling back behind the wall while you install a new central AC thermostat.
Mount the base of your new thermostat to the wall using the screws provided with the thermostat. If necessary, add sheetrock anchors to provide extra support to your new air conditioner thermostat.
Insert your wiring into the appropriate wire terminals on your new thermostat, tightening the screw on each terminal to hold the wires in place.
Snap your new central AC thermostat into place on its base.
Restore power to your central air conditioner by turning the circuit breaker to "On."