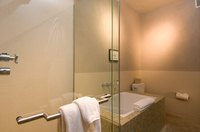 Homeowners who hope to maximize space might consider adding a shower to a small bathroom. Follow the plumbing code for size guidelines, use cool colors and clean lines to visually enlarge the space and you can turn a half-bathroom into a more usable space.
Map out the bathroom to take advantage of any available space and determine the best way to fit a shower into that space while meeting plumbing codes. If the plumbing of the room can be moved easily, consider placing the toilet in a corner of the room to make additional space for a shower in the opposite corner. If the toilet cannot be moved, determine if there is enough space to install a stall shower next to the toilet or sink. The interior of a shower must be no smaller than 30 inches by 30 inches, while a toilet needs 30 inches deep and 15 inches on either side from its center line.
Enlarge the small shower and bathroom to the eye by utilizing cool colors, such as blue, green, white and gray. Avoid warm colors, such as creams, golds and reds.
Install tile in the shower to match tile in the rest of the bathroom and achieve a cohesive design. This will make the space appear bigger. If possible, install the same tile on the bathroom floor as on the shower floor. When the same tile is used throughout the room, the eye travels in an unbroken line, and that makes the area seem larger. Use a larger-size tile on the bathroom floor and its mosaic counterpart on the shower floor. If possible, use the same wall tile on the bathroom walls as on the shower walls.
Create recessed niches in the shower walls rather than wire baskets or soap dishes. A small shower needs to spacious enough for the user to place her hands on the shower head, elbows facing out to the sides, without hitting any objects.
Install a hand shower for ease of cleaning and flexibility.