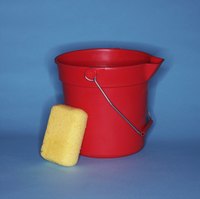 Sunbrella fabrics are particularly suited for outdoor furniture because they are treated with a fluorocarbon finish, which repels water; they're woven, which makes them breathable and allows them to air dry quickly; and they do not support mildew growth. Although this fabric has appealing characteristics, cleaning maintenance is still required.
Things You'll Need
Soft bristle brush
Sponge
Bucket
Spray bottle
Mild liquid soap
Bleach
Fabric guard
Use a soft bristled bush to gently remove any loose dirt.
Mix a solution of one-quarter cup mild soap and 1 gallon of warm water together and pour the solution into a spray bottle.
Spray the solution on the cushions and allow it to soak into the fabric.
Use a sponge to clean the area. For tough stains, use the soft bristle brush to work the solution deeper into the fabric.
Use plenty of water to thoroughly rinse the area.
Allow the cushions to air dry.
Treat cushions with a fabric guard to keep it water-resistant. Sunbrella suggests 303 High Tech Fabric Guard. Simply follow the package instructions.