Things You'll Need
Blank silk scarves or fabric

Fabric paint

Sewing notions (needle, thread, scissors, etc.)

Trimming and embellishments

Fabric dye and supplies (optional)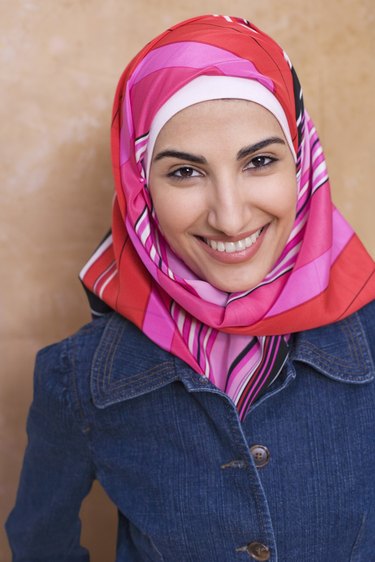 Making your own hijabs is an easy and fun way to have a hijab to match every outfit or unique hijabs for special occasions. As you are creating wearable art, the options are endless, but there are a few things to keep in mind.
Step 1
Measure and cut the fabric to the appropriate size. A 22-by-66-inch rectangle or 45-by-45-inch square will provide sufficient coverage. (If you're using blank silk scarves, you can skip this step.)
Step 2
Cut a piece of stretchy, knit fabric, 22-by-8 inches, and sew the short ends together, making an open ended tube to make an under scarf (this is optional). Hem or serge the edges in the same manner as the main scarf.
Step 3
Paint or dye the fabric by following the instructions provided by the colorant manufacturer to color your scarf. Fabric paint should be applied thinly or diluted, lest your finished garment become stiff. Allow the dyed or painted fabric to dry before proceeding.
Step 4
Iron the scarf. Pin any trims or edgings before sewing them on. The trim or edging should have sufficient drape to allow the fabric to be wrapped and pinned. Sew on any edgings, and hem or serge the raw edges to finish your scarf.
Tip
If you don't have a sewing machine or a serger, you can use blank silk scarves or finish raw edges by hand.
Warning
Make sure your fabric is opaque enough to use as a hijab.