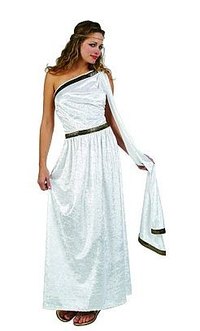 How to Wear a Toga. Toga parties are very popular these days, especially for adults and college students. Make your next party a toga party and enjoy the breezy outfits. Buy some good wine and grapes and get ready to do as the Romans do.
Things You'll Need
Packet Safety Pins
3-4 yards materials
Throw away that sheet. It won't fit, and cabbage roses won't look all that authentic anyway.
Buy 3 to 4 yards of drapey material. Cotton, muslin or poplin will work best.
Wear whatever you want on top; for example, a T-shirt, a bathing suit top or a sleeveless tank is fine.
Holding the length horizontally, wrap the material around your waist 1.5 times.
Throw the rest of the fabric over either shoulder.
Bring fabric back to your waist and tuck it into waistband. You can also tie it with a similarly colored sash, or pin it again.
Adjust the material to cover more of what you want to cover.