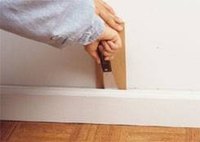 There are various reasons why you may want to remove the baseboard trim in your home. You may need to fix a piece of baseboard that has been damaged, you may be remodeling or you may be installing new flooring that requires that you remove the baseboards first. No matter what the reason, removing baseboards is an easy do-it-yourself job that requires minimal tools.
Things You'll Need
Utility knife
Putty knife
Screwdriver
Pry bar
Hammer
Multi-tool
Hand snippers
Pliers
Spackling compound
220-grit sandpaper
Matching paint
Cut the caulk seal along the top of the baseboards carefully, using a utility knife. Take care not to damage the wall or scratch the paint.
Slide a sturdy putty knife into the crack between the wall and the baseboard at one end. Gently pry the baseboard off the wall, and work your way down to the other end of the baseboard doing the same. You may need to use a screwdriver for additional leverage during this step. In this case, use the putty knife to protect the wall from the screwdriver damaging it.
Pry with a pry bar instead of a putty knife If you find that the baseboard is attached using adhesive as well as nails. Be careful not to damage the wall when using a pry bar. A hammer will work as well, but it should be a last resort. When using a hammer, pull the baseboard out until the head of the nail holding it pops, then pull out the nail with the hammer. Once the nail is gone, the baseboard should come easily.
De-nail the baseboards after removing them. Tap the nails with a hammer until the heads are loose, then pull the heads with the hammer claw. You can also simply snip the nails, using a multi-tool or hand snippers. Another option is to pull the nail through the baseboard with pliers.
Repair any damage visible on the wall using drywall spackling compound and a putty knife. Once the filler is dry, sand it smooth, and then repaint the areas with paint that matches the wall.