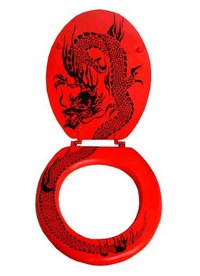 Tired of looking at a plain white toilet seat and don't want to pay a lot of money for a prepainted one? Consider painting the toilet seat yourself. Whether you paint a design or a solid color, providing you use the right kind of paint, you can transform your old toilet seat into a work of art.
Things You'll Need
Vinegar or alcohol
Paint brush
Purchase paint designed specifically for the material of your toilet seat.
Clean your toilet seat's surface with household vinegar or rubbing alcohol and wait until it is completely dry before painting.
Apply paint with a paint brush. One coat of paint should suffice.
Allow the paint to dry for at least 24 hours.
Using a different paint brush, apply a coat of clear polyurethane. Allow sufficient time for polyurethane to dry and apply a second coat. This will provide additional protection against moisture.