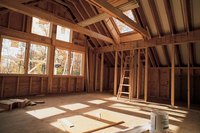 The best rule of thumb to use in choosing a contractor is to find one before an emergency repair is needed. Often, you are forced into hiring someone for a home repair when you are least prepared to make a good decision. The worst possible time to select a contractor is when you have the stress of a household crisis. No matter when you go about looking for a contractor, though, you may wonder how you can identify the best person or company to do the job.
Compile a list of potential contractors by researching local businesses. One of the best ways to do this is to speak with friends and family who have had similar work done and ask about their experiences. Word of mouth is always the best resource. Once you have a few names you can look the businesses up online to read more about what they have to offer or check them out on review sites such as Angie's List.
Call the Better Business Bureau. You can also check with your local Chamber of Commerce and State Board of Professional Licensing. These are good ways to find out if contractors have had any complaints lodged in the past, or if there are any pending issues with the person or her company. Ask about any permits that may be needed for the type of work you are thinking of having done.
Phone the contractors on your list and schedule an interview with each. Prepare a list of questions for your meeting. These questions should include the contractor's licensing and insurance status, the length of time he has been in business, and his area of expertise. Questions about how much money is required for a down payment and when the next installment is due once work begins should also be on your list, as should a query about how much time the project will require from start to finish.
Pay careful attention to all aspects of your interaction during your interviews. Was the reply to your call prompt and courteous? Was the company representative on time for the appointment? Did the contractor seem knowledgeable and did he have a positive attitude toward taking on your project? Was he willing and able to provide references? First impressions say a great deal about future interactions.
Call the references you received from the contractors you have interviewed. Ask honest, straightforward questions about their experiences. Find out if the work adhered to the contract and met expectations.
Review the contract carefully before signing. Ask questions if you are uncertain about anything.