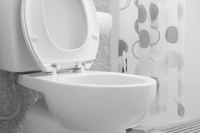 Shopping for a toilet seat in North America isn't quite the adventure it can be in Japan, where advanced heating and bidet features make the experience somewhat like shopping for a new car. There is enough variation in stateside toilet design to make room for mistakes when choosing a seat, though, so it helps to understand the options in size, material and other features. Plug-in seats aren't common in North America, but they're also available.
A Good Fit
The first thing you need to consider is the size of the toilet bowl. It may be a standard one, which measures 16 to 16 1/2 inches from a line between the centers of the bolt holes on the back to the front of the rim, or it may be elongated. If it is the latter, the distance from the line to the front of the rim is 18 1/2 or 19 inches. You don't have to worry about the distance between the two bolt holes; that's a standard 5 1/2 inches on all models.
Comfort Versus Cleanliness
Toilet seats come in four materials: plastic, polypropylene, solid wood and wood composite. The seat that comes with most toilets is plastic, and it's an inexpensive, easy-to-clean option. But polypropylene seats are even more lightweight and flexible. On the opposite end of the comfort scale are composite seats, which are often painted to look like plastic, and solid wood ones, usually made from oak. The sturdiness of wood feels reassuring, and wood seats are easier to fit into a decor scheme, but there's no getting around the fact that wood is porous -- a disadvantage in a bathroom. Wood seats are more vulnerable to stains, mold and moisture.
Seat Shape and Bolts
U-shaped and O-shaped seats are available in plastic or polypropylene for standard and elongated bowls. If you prefer a wood seat, you'll have to settle for an O-shaped one. Another limitation of wood seats is that they often come with decorative brass hardware. Metal may look bright and shiny when you install it, but it rarely stays that way, especially in a humid bathroom. Moreover, metal nuts have a habit of unthreading and corroding at the same time, resulting in a loose seat that's almost impossible to tighten. If you don't mind sacrificing the bling, you can replace these bolts with plastic ones.
Special Features
If you share a house with a serial seat slammer, you may want one with quiet-close hinges. You also might choose easy-release hinges that allow you to effortlessly remove the seat for thorough cleaning. These features are available primarily with plastic or polypropylene seats, as are tall bumpers that raise the seat for easier access for those who need it. The turbo seats common in Japan may be hard to find in North America, but you can buy plug-in models that stay warm in the winter, provide bidet functionality and a nightlight, and even release a sweet scent in the bathroom to make your visit that much more pleasant.