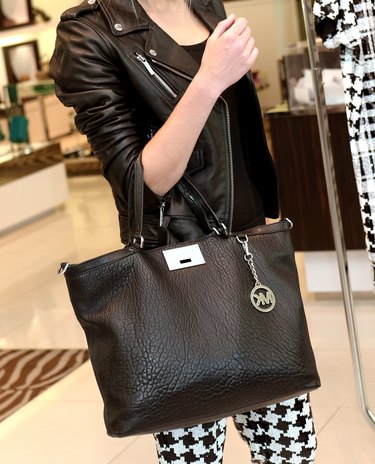 Designer handbags are big business, and pricey status symbols that many women will spend a small fortune on. Michael Kors is a top designer whose bags are highly coveted by a fan base that appreciates his knack for pairing simple silhouettes with edgy hardware. And like many desirable fashion items, MK handbags are regularly knocked off. Sometimes the copies are so good, their lack of authenticity is not immediately apparent. However, there are telltale signs that separate the real deal from an inferior fake, but it's crucial to know what authentic Michael Kors bags look and feel like first – this will make spotting counterfeits much easier.
Step 1
Inspect the construction. A real MK bag will have straight stitching that uses heavy-duty thread – not thin and flimsy. Textile patterns will perfectly line up at the seams. Any monograms or logos will not be cut off.
Step 2
Open up the bag. With a fake item, the lining color or MK signature pattern will probably be different than an original. The Michael Kors label on the inside could be crooked or the typography used might be wrong.
Step 3
Check out the hardware. All of the MK logos and stamps will be clean and easy to read on an authentic bag. Like the inner label, make sure any words use the proper font and are spelled correctly. Hardware on an MK bag will also be weighty and solid, so if zippers, tags and key fobs feel light or the color flakes off, the bag is likely counterfeit.
Step 4
Hold the bag. An authentic bag will be sturdy and heavier than a fake. The leather will be smooth and dry, not tacky or oily.
Tip
Always buy Michael Kors bags directly from the MK website, a company store, or a reputable retailer or department store. Avoid flea markets, street vendors, auction sites and online classifieds. And remember, if the price seems too good to be true, then it probably is.