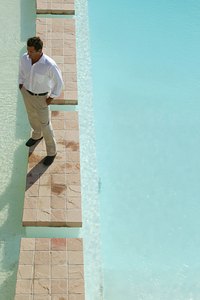 Flagstone is derived from any evenly stratified stone -- usually sandstone -- that splits into flat pieces for paving or flooring. Flagstone generally requires a sealer to protect it from spills and surface wear. Stone enhancers are a type of penetrating sealer formulated to darken the stone and bring out its natural colors, although regular penetrating sealers also darken the stone somewhat. These products are available at stone dealers and larger home improvement stores. You may need to experiment with several brands to find the one that produces your desired level of darkening.
Things You'll Need
Broom or vacuum cleaner
Sponge or mop
Masking paper (optional)
Painter's tape (optional)
Safety gloves
Safety goggles
Penetrating sealer or stone enhancer
Brush, sprayer or roller
Lint-free cloths
Sweep or vacuum the flagstones thoroughly. Wash them with warm water and a sponge or mop. Let the stone air-dry completely before proceeding.
Cover nearby flooring and baseboards with masking paper and painter's tape, if necessary.
Clear small children and pets from the area, and open nearby windows for ventilation. Put on safety gloves and goggles.
Apply the penetrating sealer or stone enhancer with a brush, sprayer or roller -- as directed by the manufacturer. Wipe away any excess with a clean, lint-free cloth. Don't treat a larger area than you can wipe clean before the excess sealer dries.
Let the sealer dry for the amount of time specified on the product's label. Apply an additional coat, if desired.
Let the treated stone cure for the amount of time specified by the manufacturer. Do not allow anyone to walk on the stone until it's fully cured.