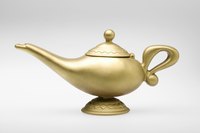 Whether your inspiration comes from the medieval Arabian tale, contemporary stories or a movie, an Aladdin or a genie costume promises to be an eye-catching and memorable get up for your next costume party or Halloween. Costumes for Aladdin or the genie are easy to put together, inexpensive, very comfortable and sure to make an impression on everyone who sees you.
Things You'll Need
Baggy white pants
Elastic
Brown sash or cloth
Light-colored shirt
Make-up in the same shade
Vest
Disposable paper or plastic bowl
Red felt or cloth
Hot glue gun
Sky blue t-shirt
Baggy blue pants
Red sash or cloth
Sky blue body paint
Silk scarf
Aladdin
Lay out the pair of baggy white pants on a table. Measure out enough elastic to wrap around the space just above your ankles, and then sew the bottom of the pants legs to the elastic, making the loose fabric gather at the hem.
Cut a piece of brown fabric a few feet long and 5 inches wide to tie around your waist as a sash.
Apply make-up to your arms, neck and face that matches the tone of the t-shirt you will wear. This will help to simulate Aladdin's usually shirtless look. A simpler option is to go shirtless yourself.
Lay the vest out and trim the bottom by a few inches. The trimmed vest should reach about halfway down your ribs.
Apply hot glue to a disposable paper bowl and cover it in red cloth to make an Aladdin hat. Attach the hat to your hair with bobby pins after the glue has dried.
Genie
Lay the baggy, dark blue pants out on a table. Sew some elastic to the hem along the bottom of the legs to make the fabric gather.
Cut a piece of red fabric a few feet long and 5 inches wide to tie around your waist as a sash.
Paint your face and any showing skin on your arms and hands sky blue with body paint. Either wear a t-shirt in a matching shade, or apply body paint to your entire torso. Top with a short red vest.
Wrap a silk scarf around your head to create a turban.