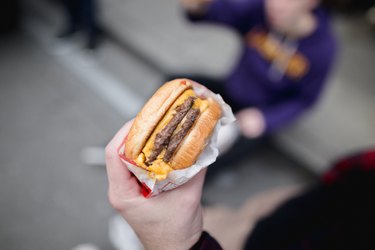 It's late, you've had a tough day at work and the kids are clamoring for dinner as you drive home. You see a fast food outlet just ahead, and the answer to your stress looms within eyesight. Even when your family involves picky eaters, you can get a well-balanced meal where fast foods are served. You just have to know what to choose in order to bring smiles to your family's faces without destroying their daily calorie intake or contributing to their belly size. Fast foods should be seen as rescue foods, and an occasional foray into the fast food world shouldn't cause harm to one's health.
Convenience is the hallmark of fast foods and one of the benefits of the fast food industry. Within 10 minutes you can walk out of the store with bags full of meals to feed an entire crew of workers, hungry spouses, ornery children or yourself when your energy level is reaching zero. Fast foods are an immediate pick-me-up, and can save the day for those with busy lives. And if you don't have time for breakfast, McDonald's Egg McMuffin comes loaded with a protein-rich egg, ham, cheese and an English muffin all for 300 calories, outlines Fast Food Menu Prices.
Add consistency to the list of pros of fast food. A McDonald's fish sandwich tastes the same whether it's from a location in America's heartland or from an outlet in an urban area. It may not be hand-caught cod pulled sustainably from the cold North Atlantic waters, but it is cod.
At one time the cost of a fast food meal was less than you could make a similar meal at home, but with prices inching upward, the sticker shock can be considerable. And if you are ordering low-cal items, be prepared to pay a higher price. As people have grown more concerned with the health effects of the food they eat, marketing gurus have responded to redesign the menus of most fast food restaurants to comply with customer demand – and the corporate bottom line.
According to the Barbecue Lab, data from the National Center for Health Statistics, a part of CDC, reveals that 42 percent of higher-income families eat fast food daily, compared to lower-income families at 32 percent, contradicting an often common assumption that fast food equals cheap food, and lower income families go for the less expensive alternative.
Recognizing a Thriving Industry
According to Statista, the fast food business is one of the most well-established in the world, where the golden arches, the Colonel and a whirling taco are immediately recognized from the Sahara sands to Ho Chi Minh City. McDonald's claims in its advertising that the best first job for young men and women is working at one of their outlets.
The fast food industry supports millions of employees, from first-jobbers to retirees. And when you consider that nearly 50 million customers frequent fast food restaurants daily, according to Linchpinseo, and spend nearly $3 billion as reported by Zippia, that's a lot of businesses needing behind-the-counter and kitchen help.