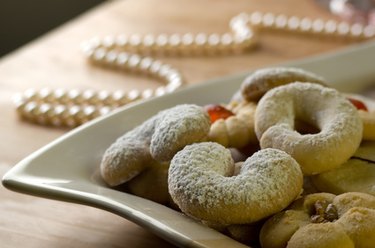 No one knows the exact origins of the Mexican wedding cookie or how it acquired its name, but historical timing provides speculation. Mexican wedding cookies have not only existed in Mexican culinary culture for centuries but have also existed in those of other cultures around the world including Eastern and Western Europe. Though the cookie goes by a different name in virtually every world region, they all share the same basic ingredients and method of preparation, which makes the cookie a universal treat.
Mexican Wedding
As the name implies, Mexican wedding cookies do in fact actually appear as desserts in a traditional Mexican wedding, though by a different name. In English, they are referred to either as Mexican wedding cookies or Mexican wedding cakes, which is slightly misleading as they are not cakes nor does they replace a traditional wedding cake in a Mexican wedding reception. The cookies, known in Mexico as biscochitos, appear at either the dessert bar, among the buffet items or on plates distributed among tables. In Mexico they are made either in ball or crescent shapes.
Controversy
The term "Mexican wedding cookie/cake" did not appear in the American vocabulary until the early 1950s, after which the term appeared in virtually every basic baking cookbook. At the same time, recipes for "Russian teacakes" began disappearing from the same books. Russian teacakes and Mexican wedding cookies are virtually the exact same thing in both ingredients, method and final product. Many historians speculate that the term Mexican wedding cookie/cake was used to replace the term Russian teacake due to the strained U.S. relationship with Russia at the time (the Cold War).
Ingredients
Mexican wedding cookies, or Russian teacakes, are made from the same base ingredients including butter, confectioner's sugar, wheat flour, chopped nuts such as walnuts, pecans, hazelnuts and almonds and vanilla extract. The ingredients are mixed together and either rolled into small balls or shaped into crescent moons. The cookies are then baked and rolled in powdered sugar twice. Variations to the recipe are slight, hinging on only the variety of nut used, type of extract (sometimes almond) and the shape the cookie is formed into.
Other Names
Aside from Mexican wedding cookie, biscochitos and Russian teacake, the crunchy buttery ball also goes by the name polvornes in Spain, butterballs, Swedish teacakes, moldy mice, pecan sandies, Danish almond cookies, Finnish butter strips, Napoleon hats and melting moments. The same cookies (same ingredients and method but with different shapes) go by different names various regions around the world, and it is impossible to state who was the first to pioneer the recipe.
Uses
Mexican wedding cookies are used traditionally for weddings in Mexico; however, they and their namesakes around the world are also commonly served at Christmas time. However, the nutty, buttery sugary cookie can be consumed and enjoyed at any time of the year.