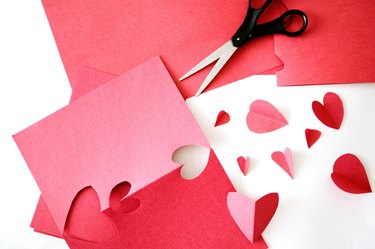 To children, Valentine's Day is often about candy and classroom parties. Many church youth group leaders and Sunday school teachers desire to situate Valentine's Day within the context of Christian love and God's love for His people. Valentine's Day crafts that focus on these lessons can enhance the meaning of Valentine's Day for children in a fun, interactive way.
Bookmarks
Make up verse cards for younger children to choose from. Suggested verses for Valentine's Day include 1 John 4:16, John 15:12, 1 Corinthians 13:4-8 and Mark 12:30.
Print each verse on cardstock. Then, cut a piece of colored foam a bit larger than each verse card. Using glue sticks, attach the verse cards to the foam pieces and decorate the foam with markers or stickers.
To make this craft challenging for older children, instruct children to find a Bible verse about love that they would like to use. Allow students to use shape templates such as hearts, stars, circles, and flowers to cut their foam pieces. Children may punch a hole in the top of their foam pieces, string a piece of ribbon through, and tie the ribbon as a finishing touch.
Heart Wreath
Crafters can use the heart template provided on the website or can make their own with paper and a marker. Gather red and pink foam fabric, thick red ribbon, colored pipe cleaners, double-stick tape, scissors, glue, a hole punch, and something that can be used as a wreath base, such as a Styrofoam ring or a paper plate with the center cut out. This craft is suggested by author Sarah Keith on the website ChristianCrafters.com.
Using double-stick tape, attach the heart template to the foam fabric. Cut out five red and five pink foam hearts, and then punch one hole at the top and one hole at the bottom of the Styrofoam plate. Thread a pipe cleaner through the top hole to serve as a wreath hanger. The bottom hole will be used to hang two foam hearts.
Use eight of the foam hearts to cover the styrofoam plate in an "overlapping pattern." Glue these hearts in place. Write "Love one another" on one of the remaining foam hearts and "God is love," "1 John 4:7-8" on the other. Punch a hole in the top of each of these hearts, thread red ribbon through the hole in the bottom of the Styrofoam plate, allow the ribbon to hang unevenly, and tie the two foam hearts to each end.
Heart to Heart Craft
Instruct each child to trace a large heart on butcher paper and leave the heart at his desk with his name written at the top. Hand out markers, and let the children write compliments on one another's paper hearts. If there is considerable time to devote to this activity, allow children to trace hearts onto construction paper and decorate a personalized "heart to heart" message for each child in the room. This craft could be easily worked into a lesson about how God calls people to love others. Finish by allowing students to deliver their construction paper compliments to one another.