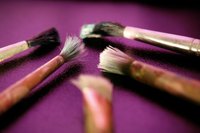 Empty coffee cans are good for more than just using as a backyard cigarette butt holder. You can paint and decorate coffee cans to store things, use them to make a birdhouse or a pretty new planter for the garden. Painting coffee cans for use in crafts is generally quick and inexpensive, plus the painted cans have a variety of uses. For Dad, you can construct a spray paint can or parts holder, and for Mom, a painted coffee can planter is a great Mother's Day present.
Things You'll Need
1 coffee can
Acrylic paint
Newspaper
1 large paintbrush
Wash out the coffee can and allow it to air dry.
Select a color, or more than one color, of acrylic paint to use. Spread out newspapers over your work area.
Squirt some of the paint onto the newspaper and dip the brush into the paint. Using long strokes, completely cover the coffee can in paint.
Allow the paint to dry and add another layer of paint.