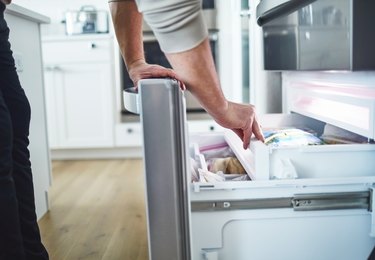 When you're watching your grocery budget, a freezer can be your best friend. It means you can stock up whenever you find good specials, and use up those items at your leisure over a period of months. It's also great for people who only occasionally have time to cook because you can either buy ready-made meals or make up big batches periodically and divvy them up for convenient weeknight meals. The issue, of course, is freezer organization. Having wonderful food on hand is just frustrating if you can't actually find it when you want it! We've got the solution, with clever storage containers and freezer bins to help you tame any space.
What to Consider When Purchasing Freezer Organization Products
‌Your Freezer:‌ What kind of space are you working with? The cramped confines of your fridge's freezer compartment call for very different strategies (and tools) than an upright freezer or chest freezer. For that matter, an eye-level freezer compartment is entirely different from the bottom-mount freezer drawer found on many modern refrigerators, or the tall-and-skinny freezer of a side-by-side. Some of the tools we'll cover here can be used for any kind of freezer storage, but others definitely are more useful in specific situations.
‌The Food You Intend to Freeze:‌ What sort of food storage are you looking for? Stackable containers for your leftovers or made-ahead meals? Clear bins to hold bulk items on shelves, or wire baskets to organize that "freezer box" of meat you got from the butcher? Each of these—and especially small, easily-lost items that literally slip through the cracks—have different uses, and meet different needs. Before you start, take a moment to consider what you keep in your freezer (or freezers, if you have more than one) and how accessible you need it to be.
‌Usage:‌ Whenever you take on this kind of project, it's important to take your actual usage into consideration. Be sure to choose storage bins, containers and baskets that keep your most-used items easily accessible, otherwise, you'll find yourself constantly having to shuffle and reorganize. And avoiding that is the whole point of the exercise, right?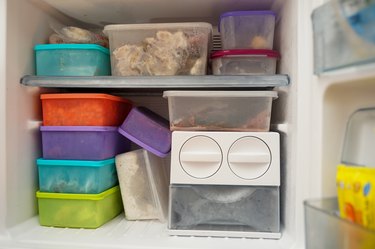 1. iDesign Linus Divided Fridge and Freezer Storage Bin
A lot of the convenience foods we put into the freezer come in boxes, from entire heat-and-eat meals to things like battered fish or mac and cheese. Small boxes in particular can be a pain to store because they tend to slide around and fall over. A clear storage bin with dividers, like this one from iDesign, is just what you need to corral them. At just 11 inches deep and 5 wide, it's small enough to be a good fit for upright freezers or the freezer compartments of top-mount or side-by-side fridges, and the divider means boxed items will still stand upright even after you've used a few. In most freezers, you'll be able to fit two or more as needed, and they'll slide out for easy access to items at the back. There are both smaller and larger models available, but this one hits the sweet spot. Oh, and they're great in the pantry and fridge as well.
2. YouCopia FreezeUp Freezer Bin
Another type of "problem packaging" is the stand-up, zipper-seal bags that many kinds of fruit and veggies are sold in. They're convenient to use, but there's not really a neat way to stack or organize them when they go back into the freezer. This freezer bin from YouCopia, with its four or six removable dividers, is just the thing to keep them (or anything else in a low-profile bag, box or package) in line. It's transparent and has a low wall at one side, so it's remarkably easy to see what you've got and to whisk those packages in and out of the freezer without effort. It works in just about any kind of freezer (in a chest freezer you'll want to put it inside a suitably-sized basket), and it's a great example of the company's focus on smart solutions to common problems. Choose from a 12-inch version (4 dividers) or a 15-inch version (6 dividers).
3. Rubbermaid 60-Piece Food Storage Containers With Lids
At some point, you'll need to invest in a set of freezer-safe food storage containers for your leftovers, made-ahead meals and supermarket specials, and when that moment arrives, this is probably the set to get. Rubbermaid's containers are durable, airtight and leakproof, and go from fridge to freezer to microwave quite happily. There are lots of other good containers out there, but Rubbermaid's build materials and build quality are higher than most (they're reusable for a lot longer than some cheap brands) and they're also thoughtfully designed. These containers don't just stack, they snap into the lid of the container below for safe, secure storage. No more containers cascading out onto your toes! When they're not in use, the dishwasher-safe containers nest easily for storage, and the lids snap into each other so they won't go astray.
4. YouCopia Freezer Food Freezer Food Block Maker, 2-Cup, 2-Pack
Zipper-seal freezer bags provide a low-cost, convenient way to pack up foods for the freezer, but they have the unfortunate habit of freezing in random shapes, which can make them difficult to organize neatly. YouCopia's Food Block Maker tackles that problem head-on. It's a durable plastic mold that holds your quart bags vertically, and it will turn two cups of vegetables, soups, chili or anything else into neat blocks measuring approximately 4.5 inches square and 2 inches thick. Just freeze the food overnight in the mold (its silicone bands will stretch, as the food freezes and expands) and then pop out the finished blocks when you're done! The bagged food will now line up neatly in a freezer basket or the company's own divided storage bin (highlighted previously). This pack contains two of the 2-cup molds, or for larger batches, there's also a 6-cup version sold separately.
5. Freezermax Top to Bottom Universal Freezer Organizer
Bins and containers work in most freezer types, but a big chest freezer is a thorny problem all its own. How do you keep everything organized from top to bottom so that all of the freezer space is usable, and the food remains accessible? Well, if you have the budget for it, this is the ultimate answer (it's the deep freezer equivalent of those closet organizer kits). The set is adjustable—this one's for freezers of 8 cubic feet or more, the cheaper "Mini" version is for freezers under 8 cubic feet—with an expandable frame that sits down inside the freezer. The freezer baskets are also expandable and rest on the multi-level frame so you can easily slide them from side to side and/or lift them out as needed, to have easy access to everything. It even comes with a magnetic organizer chart you can write on with dry-erase markers to keep track of where everything is stored (and what you have on hand).
6. Sanno 14-in. Stacking Wire Baskets, 4-Count
If you don't need something quite as elaborate as the Freezermax system but still want practical storage solutions for your deep freezer, check out these stackable storage baskets from Sanno. They're 14 inches long, 11 inches wide and 6 inches high, which makes them suitable for holding anything from a frozen turkey to those big bags of bulk vegetables, but the wires will also keep all but the smallest and thinnest of items from falling through. The built-in handles fold out of the way when they're not in use, but make it relatively easy to hoist a basket from the depths when necessary. They also work great as a space-saving pantry organizer, so you may want to buy extra for your dry goods. Choose from a stainless steel or white finish.
7. Removable Freezer Food Labels, 1 x 3-in. Roll of 500
Physical organizing isn't the only kind you'll need to do to get the most out of your freezer and its contents. You'll also need to keep track of what's in there, and for that you need labels. Labeling everything that goes into your freezer will help you keep track not just of the contents of each bag and package (because nobody likes surprises when they're already hangry), but also to know which items need to be used up in which order, so they won't be lost to freezer burn. These labels from Chinco are just the thing. They'll stick to storage bags or containers made of plastic and glass, but after they've been used, they'll peel off easily and leave no residue behind. The labels are sold in blue, green or red.
8. OXO Good Grips No-Spill Ice Cube Tray
Ice cube trays can take up a surprising amount of space in your freezer, even if your fridge has an ice maker (because you'll always want more, right?). They're not large, but because they need a flat surface (and can tip and spill), they're inconvenient to work around. This one from OXO changes the situation dramatically, thanks to the company's always-thoughtful eye for detail. The BPA-free plastic tray comes with a tight-fitting silicone lid, which you smooth down after filling to remove any excess water. Then, once the tray is sealed, you can just plop it into any space you have in your freezer—flat, angled, on its side, upside-down— and it won't spill a drop while it freezes. The trays are stackable, if you ‌do‌ have a designated spot for them on your freezer rack, and the rounded shape of the individual ice cubes makes them startlingly easy to remove (push down on one side, and the other pops up). It's not the biggest organizational challenge you'll face, but this tray makes it go away.
9. Nesco VS-12 Deluxe Vacuum Sealer
This technically isn't an organizing tool for your freezer; it's more of a way to maximize that organization once you've achieved it. Airspace inside your bags or containers is what causes foods to develop "off" flavors in the freezer, and a vacuum food saver like this one from Nesco will give you storage with little (if any) trapped air. Food never spoils in your freezer—as such—it just becomes unpleasant due to freezer burn, oxidation and rancidity. If it's stored in vacuum bags instead, you'll extend the useful life of your frozen food by many months. If you're "sealer-curious," you can't go wrong with the Nesco, which offers a great seat of features at the price point and was the top pick in our recent roundup of vacuum sealers.