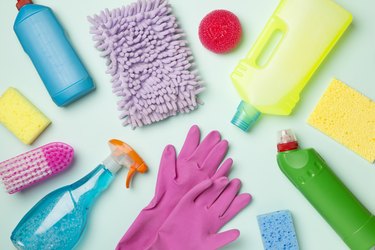 While a day of deep cleaning often involves reorganizing closets, scrubbing down the kitchen and washing windows to achieve that squeaky shine, there are a few household spots most people forget to clean: walls, ceilings and baseboards. These places inevitably fall victim to fingerprints, fine layers of dust and stains and splashes from food, so it just makes sense to add them to your cleaning list.
But what if you've never actually washed your walls before and aren't sure where to start? Don't worry, we won't judge. #CleanTok has you covered with a few creative tips for cleaning oft-overlooked parts of the house.
Let's start with those weary walls! TikToker @digomezlife shows us how to clean walls with materials many of us already have on hand. She suggests using a microfiber cloth attached to a Swiffer mop—pretty simple! Next, she recommends adding a gallon of water to a bucket along with a cup of vinegar and a dash of fabric softener. Dip your microfiber cloth into the mixture, squeeze out excess liquid and attach the cloth to your Swiffer. All that's left to do is clean away! We love that the Swiffer mop makes reaching high spaces seamless ‌and‌ that this cleaning hack can likely be pulled off without any new purchases.
Next up, let's tackle ceilings, which slip many of our minds during the house-cleaning process. TikToker @cleanthatup emphasizes the importance of using minimal liquid and proceeding gently, especially if you have popcorn ceilings. Your ceiling-cleaning mixture should consist of 1 teaspoon of dish soap and warm water in a spray bottle—that's it!
To start, remove dust and cobwebs with a vacuum attachment or soft-bristle brush. Spray the cleaning mixture onto a clean paint roller (genius!) and use that to clean the ceiling in sections. For particularly dirty spots, a microfiber towel comes in handy.
3. How to Clean Baseboards
Last but not least, we'll look down and pay attention to baseboards. TikToker @thecleanloft offers an inventive solution that will save your back by requiring as little bending as possible. (And let's face it—most of us would appreciate a little less back pain!)
Start by removing dust and dirt with a duster, cloth or vacuum. Next, dip a towel in soapy water. While @thecleanloft uses a broom and rubber bands to attach the towel, @digomezlife's tip above for attaching a cloth to a Swiffer mop would work just as well here. Be sure to rinse the towel as you go to keep it fresh and clean. The before and after in this video is so satisfying!
Whether you tackle the walls, the ceiling or the baseboards next, we hope these videos make the task feel less daunting! Here's to your cleanest home ever.