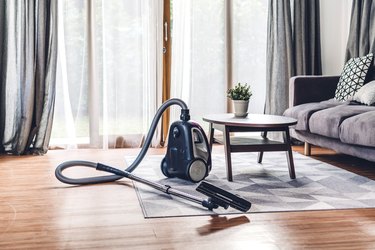 Sometimes carpets—albeit cozy—can be a total pain to clean. If you are living in wall to wall carpet, and especially if you have a lot of foot or paw traffic, you may want to introduce a carpet cleaner into the wonderful chaos that is your life. Don't get us wrong; vacuum cleaners are great for cleaning dirt and grime from your floors and everyday spaces. However, some messes and stains in particular are beyond a regular vacuum's capabilities. Enter a carpet cleaning machine. Fresh-smelling carpets and your future satisfaction await!
What Is a Carpet Cleaner, Exactly?
So, what is a carpet cleaner? A carpet cleaner machine is a home cleaning appliance that basically looks like a more bulked up version of a vacuum—but these two gadgets are not the same. A vacuum sucks up dirt off the floor, while a carpet cleaner blasts solution mixed with water into your carpet. The best carpet cleaners use cleaning solution, water and powerful brushes to penetrate your carpets and lift away stains, dirt and smells. A carpet cleaner can restore your carpet and leave it feeling fresh and new again! But fair warning: Do not confuse a carpet cleaning machine for a steam cleaner. While a steam cleaner can refresh carpets and upholstery within your home, a carpet cleaner is a bit different and takes it to the next level to eliminate pesky stains and looming odors.
How does the magic happen? Well, don't ditch your vacuum just yet. Most instructions will recommend you vacuum your floors and carpets before using a carpet cleaner machine. After a solid run with your favorite vacuum, carpet cleaner machines can tackle a difficult cleaning job, thanks to the functionality of a dual clean and dirty tank. First, water and cleaning solution are stored in the clean tank. Then, solution is sprayed onto your carpet. Finally, the mess is sucked back into the dirty water tank. Some carpet cleaner machines may have additional features such as drying to speed up the process, or other attachments to help you with pet stains or get to hard-to-reach places within your home and ultimately leave your carpets smelling fresh, clean and hopefully stain-free!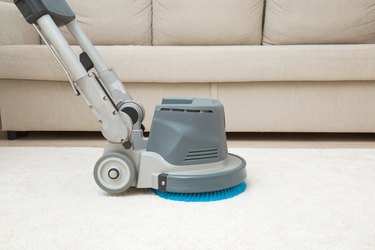 What to Consider When Purchasing a Carpet Cleaning Machine
You may not think much of carpet cleaning machines, or even know what to consider before adding this appliance to your cleaning closet. A carpet cleaning machine may seem pretty straightforward and self-explanatory. It cleans your carpet, but what else is there to it? Before investing in a carpet cleaning machine, there are some key points to think about.
‌Tank:‌ A carpet cleaner is all about that tank. The size, quantity and type of tank can also impact the weight of your carpet cleaner, which is important to consider, as carpet cleaning machines can be on the heavier side. Some carpet cleaners have dispensers that will automatically add cleaning agent to the water in your tank, which can be more convenient and save you time. Certain carpet cleaners can have a single tank with two chambers, while others can have two separate tanks: one for fresh solution and one for the dirty suction. Separate tanks can make refilling quicker, while smaller tanks will warrant more frequent refills but a lighter overall weight of the machine.
‌Features:‌ As with many household appliances, certain features vary on different machines. Some carpet cleaning machines have dry-only settings to suck up more water after an initial cleaning, which can speed up drying time. Others have additional accessories including rotating brushes, hoses, longer cords and special tools for upholstery, pet stains and corners and hard-to-reach areas. Determine what features could be valuable to you and your cleaning needs before purchasing a carpet cleaning machine.
‌Noise:‌ Loud noises can be irritating and disruptive to your household. For those who are sensitive to sound, it may be important to factor in noise before adding a new household appliance to your cleaning routine mix. While your average vacuum may be loud, a carpet cleaner can be even louder (for real). So, keep this in mind before making your purchase (and consider a pair of noise cancelling headphones or earplugs)!
‌Your Carpet:‌ Before you clean your favorite piece of upholstery within your home, do your research. Some fabrics and upholstery require special care. If you are cleaning a cherished carpet, you will want to determine if your carpet is able to withstand a carpet cleaner and if the mess or stain warrants a carpet cleaning machine. You do not want to ruin items within your home, so be sure to double-check how to clean your valued possessions. Always check care instructions first for warnings and suggestions before using a new tool on your home furnishings.
The Best Overall Carpet Cleaner
You may want a versatile, simplistic and overall good carpet cleaning machine for your carpet cleaning needs. This carpet cleaner from Hoover makes carpet cleaning super easy and hassle-free: All functions are automatic, including carpet cleaner solution measuring and dispensing. There is also an AutoDry feature that extracts water from your carpet with HeatForce technology, allowing for a faster dry time. Attachments like a 2-in-1 pet tool, stair tool, small bottle of cleaning solution and 12-foot hose are all included to make this a great value, as well as a very effective and convenient carpet cleaning option.
‌Tank Size:‌ 1 gallon
‌Cord length:‌ 22 ft.
‌Weight:‌ 18.9 lbs
‌Features:‌ AutoMix solution, Pet Tool, Stair Tool and AutoDry feature
The Best Budget Carpet Cleaner
If you're looking for a reasonably priced carpet cleaner that is effective and reliable, this budget-friendly carpet cleaner machine from Hoover is both lightweight, compact and easy on the wallet. Marketed for pet stains, this carpet cleaner machine is also great for high-traffic areas and small spaces. It comes with HeatForce technology to speed up drying time so you don't have to wait all day to get back to enjoying your carpeted spaces. You can purchase just the carpet cleaner itself or a number of carpet cleaner and mat or carpet cleaner and cleaning solution combinations.
‌Tank Size:‌ 0.5 gallons
‌Cord length:‌ 20 ft.
‌Weight:‌ 12.5 lbs
‌Features:‌ Heatforce technology, brush roll
The Best Carpet Cleaner for Pet Stains
Got a furry friend at home? And does that friend often have muddy paws? This carpet cleaner from Bissell has easily removable two-tank technology and is great for cleaning high-traffic areas. Better yet, it's especially effective at tackling pet stains. The Bissell Powerbrush Roll works with Bissell cleaning formula to remove pet stains like dog and cat urine and mud tracks. The lightweight and smaller size model is great for a pet-filled home with limited space and storage. An added bonus? Every purchase from the Bissell pet line benefits the Bissell Pet Foundation for homeless pets.
‌Tank size:‌ 5/8 gallon, two tanks
‌Weight:‌ 12 lbs
‌Features:‌ power brush roll, lightweight
The Best Portable Carpet Cleaner
Sometimes, you've got to take your carpet cleaning technology on the go! This portable carpet cleaner from Bissell is compact and quite the catch, if we do say so ourselves. A small size tank and lightweight design makes it easy to fill, empty, clean multiple surfaces and store away when you're all done. It's roughly the size of an adult-size backpack, so it's easy to transport in your trunk or back seat.
‌Cord length:‌ 15 feet/ portable
‌Weight:‌ 9 lbs
‌Features:‌ 3-in-1 stair tool, self cleaning hose and lightweight