Plenty of places around your home beg for storage solutions. And your kitchen drawers are definitely one of them. Even the tidiest kitchens on the surface can be plagued by underlying chaos without some well-designed drawer organizers. That chaos might not be visible most of the time, but it can be annoying when you have to dig through it to find the utensils and other cookware you need.
The best kitchen drawer organizers let you tame the disorder and spot what you need quickly. They can also protect knife blades and other kitchen gadgets and tools. And your fingers too, which can get cut and poked while rummaging through a pile of pointy and sharp stuff in a drawer.
What to Consider When Purchasing a Drawer Organizer
‌Size:‌ You'll want your organizer to fit in your drawer, and for your drawer to close. Take measurements and check the specs on any organizer you're considering. Don't forget to measure the depth, too. Organizers come in all different heights, and some—especially products like knife and spice racks for drawers—can be pretty tall, plus there's added height from the items stored on them.
‌Compartments:‌ Choose a kitchen drawer organizer with compartments for the kitchen tools you want them to hold. If it's for silverware, you may just need a standard silverware tray, which has five compartments for the standard flatware pieces—dinner knives, dinner forks, salad forks, dinner spoons and teaspoons—plus a sixth slightly larger compartment. But there are plenty of other options, including expandable cutlery trays with extra side compartments for stuff like spatulas, and lots more.
‌Style:‌ In addition to organizers like utensil trays, there are all sorts of other compartment sizes and configurations. There are also drawer dividers to break up wider drawers into sections. Then there are customizable options, like individual trays or mini storage bins, or even sets of small dividers of varying sizes that can be configured in all sorts of ways. These are great for drawers that aren't a standard size or for storing a miscellany of mismatched items. You can also buy specialty organizers for your knife drawer, spice drawer or other dedicated space. And pegboards help organize deep drawers or kitchen cabinets that have pots and pans, containers, lids, bowls, etc.
‌Material:‌ Many drawer organizers are plastic, which is lightweight, low-cost and easy to clean (sometimes even dishwasher-safe). They often have nonslip feet to keep the tray from sliding around in the drawer, which is a nice feature. Other organizers are made of wood or bamboo, which is more eco-friendly but tends to cost a little more and should only be hand-washed and dried quickly. Metal organizers are very durable and easy to clean, though they're often the priciest and can be noisy if you're storing metal flatware or cookware in them.
These considerations will help you select the best drawer organizers for your kitchen.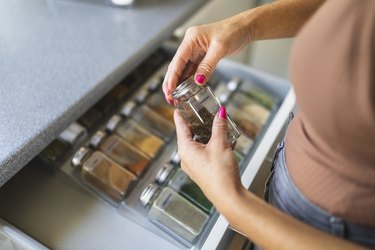 The Best Overall Drawer Organizer
For a standard, budget-friendly drawer organizer, this is a great pick. It has the typical six flatware compartments, plus it's expandable to provide one or two more full-length compartments to house spatulas and other long utensils. Those extra compartments snap securely closed when not in use, too. The product is made from durable BPA-free plastic, and it has a soft-grip lining that's simple to clean. It's also lightweight with rounded corners, making it easy and safe to handle. And there are other matching organizers with different configurations if you want a set for various kitchen drawers.
The Best Budget Drawer Organizer
If you're just looking for a no-frills tray at the low end of the price spectrum to organize your cutlery, get this one. It has five large vertical compartments for flatware, as well as a sixth larger horizontal compartment for bigger items. Made from sturdy plastic, the organizer has nonslip feet that prevent it from sliding around when you open and close the drawer. It's easy to clean by hand, but also dishwasher-safe. The black and gray look is pretty nice for a highly affordable plastic piece, too.
The Best Bamboo Drawer Organizer
Bamboo drawer organizers are popular as a more aesthetic, eco-friendly alternative to plastic. This beautiful piece is made from 100% organic bamboo. It has the six standard compartments of a utensil organizer, plus a second horizontal compartment, and it's expandable with two full-length compartments on the sides. These seven to nine compartments cover you for a wide range of kitchen utensils and gadgets, and the adjustable compartments slide open and closed smoothly and easily. And it's sold at a great price for the stylish look, durability and capacity.
The Best Drawer Dividers for Shallow Drawers
If you have wide, shallow kitchen drawers, sometimes all you need are some dividers to break up the expansive space into smaller sections. These adjustable bamboo drawer dividers extend from 17.5 to 22 inches long, and they're 2.6 inches tall, fitting just about any standard drawer. It's a set of six, sold at a great price for the quantity, attractive look and high quality. The dividers are spring-loaded with high tension and have EVA foam pads on the ends, holding them firmly in place.
The Best Drawer Dividers for Deep Drawers
If you have wide, deep kitchen drawers, these are similar to the previous entry, but they're 5 inches tall for better sectioning of deeper drawers. They're sold in a set of two, as deeper drawers are typically used to store larger items, so you probably wouldn't want to break one up into more than three sections. They adjust from just a hair under 17.5 inches to 22 inches, fitting most standard drawers. The tension on the spring-loaded expanding piece is strong, keeping them secure. And these dividers are made from sustainable bamboo, both elegant-looking and sturdy.
The Best Modular Drawer Organizers
For those who prefer a more customizable option. or like using small containers to organize a drawer, this is a perfect pick. The 16-piece set includes sturdy plastic containers of five different sizes. They won't work for full-size turners, ladles and other larger cooking utensils, but they're well-suited to taming a mess made by a bunch of mid-size and smaller kitchen items. They're also ideal for a junk drawer. The pieces are stackable, so you don't lose any vertical storage space, and since they're clear, it's still easy to see what's inside. On the underside, a wave design helps keep them from sliding around in the drawer.
The Best Pegboard Drawer Organizer
When you want to organize a deep drawer or kitchen cabinet where you're storing kitchenware like bowls, pots and pans, or containers and lids, a pegboard is a great option. And this affordable, durable plastic product is a smart pick for the category. It has two pegboard pieces, plus two extensions for them, giving you a good deal of flexibility for use. The pegs are taller than those that come with many similar products, making them better suited to organizing larger items or stacks (including vertical storage of things like serving platters). And there are 16 pegs, offering lots of configuration possibilities. Nonslip feet reliably hold the pegboard in place, too.
The Best Knife Drawer Organizer
To organize a knife drawer, turn to this flat-lying knife block. The beechwood doesn't just look nice—it protects your knife blades, helping keep them sharper longer, and it protects your fingers too when you reach in to grab a slicing and dicing implement. It holds up to 14 knives, including six larger knives like chef's knives and bread knives (with blades up to 10 inches long), and eight smaller knives, like paring knives and steak knives. It's a simple, sleek design, and it comes from a beloved, highly respected knife brand. This does push the price up a bit, but you're definitely getting a well-designed, quality product that'll last a long time.
The Best Spice Drawer Organizer
If you're looking to bring some order to a pull-out spice drawer, this is the way to do it. The rack is made from heavy-gauge alloy steel, so it's very durable, but it's also sold at a good price point for the material. This one is 10.25 inches wide, but there are also a couple of wider versions available for a little more money. The stepped construction allows you to neatly line up spice containers on four tiers while still having a full view of what each one is and being able to easily grab them. It's enough space for storing up to 24 bottles of herbs, spices and salts.