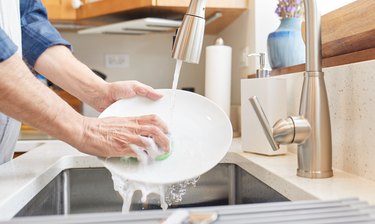 Washing dishes is probably few people's favorite chore, but it's just something that needs to be done. However, despite how simple a task it is, there are some things that make hand-washing dishes easier—like using the right dish sponge. It may sound like overanalyzing, but not all sponges are created equal. We've compiled a list of the best dish sponges and sponge scrubbers from both lesser-known brands and household names that make the somewhat dull task of washing dirty dishes easy-squeezy.
What to Consider When Purchasing Kitchen Sponges
‌Material:‌ Dish sponges can be made of various materials such as cellulose, silicone, polyurethane, foam, microfiber and natural materials like loofah or coconut fibers. Cellulose sponges are highly absorbent and easy to rinse, while natural sponges are plant-based, eco-friendly and biodegradable. Foam sponges are also popular as they are durable and can handle heavy duty cleaning jobs like a buildup of food particles.
‌Abrasiveness:‌ Look for a cleaning sponge with the right level of abrasiveness for your dishes. If you have delicate dishes, choose a softer sponge, and for tougher jobs, choose a more abrasive one. In general, sponges and scouring pads made of natural materials are safe to use on cast-iron cookware, but you'll want to avoid using plastic or metal scouring pads (which aren't even sponges), as they can remove the cast iron seasoning.
‌Durability:‌ A good dish sponge should be able to withstand multiple uses without breaking down or losing its shape. While a silicone sponge or silicone scrubber may be among the longest-lasting, as it doesn't break down over time, we find that sponges with better abrasion offer more scrubbing power and tackle crusted-on food debris better.
‌Size and Shape:‌ Choose a sponge that is comfortable to hold and fits well in your hand. You might also consider the size and shape of the sponge to determine whether it's suitable for the dishes you typically clean. Some sponges are built onto a handle in order to give you a more comfortable grip. These types of scrubbers may or may not have a hollow dish wand that you can fill with dish soap, which seeps into the sponge for cleaning convenience.
‌Hygiene:‌ Consider sponges that have antibacterial properties or are easy to clean and disinfect. Sponges with a smooth surface are less likely to trap bacteria and are easier to clean. Some sponges are even machine-washable, while silicone sponges are typically dishwasher-safe.
Tip
No matter which sponge you use, it's always a good idea to squeeze out excess water from the sponge (or sponge head on a scrubber) to avoid developing a moldy water smell. Allowing your sponge to dry properly will also keep it intact longer.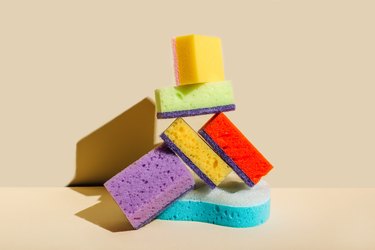 1. Scotch-Brite Non-Scratch Scrub Sponge (9-Pack)
This sponge from well-known brand, Scotch-Brite, is made of cellulose and features a non-scratch scrubbing surface that is gentle on surfaces but tough on stains. The thick, light blue, soft side is perfect for light cleaning and wiping down countertops, while the coarser, dark blue scrubbing side can handle dishwashing jobs that require more effort, without being so coarse that it will scratch nonstick cookware. You can also use Scotch-Brite sponges to scrub showers and bathtubs. For the best performance, replace your sponge at least every three weeks.
2. O-Cedar Multi-Use Scrunge® Scrub Sponge (6-Pack)
This version of O-Cedar's Scrunge sponge is 20% thicker and has a unique design that combines a foam sponge and a rippled scrubbing surface, making it versatile and effective for various cleaning tasks. It's safe to use on nonstick cookware and tough on messes like caked-on food debris and food stains. The rippled scrubbing surface also helps break up and lift away dirt and debris while preventing the smelly odors that tend to get trapped inside traditional sponges—as long as you rinse it clean. For optimal cleaning results, replace the sponge every 30 to 60 days.
3. Scrub Daddy FlexTexture Scrubber (4-Pack)
To this day, Scrub Daddy remains one of the most famous brands featured on the hit American entrepreneurial show, "Shark Tank," and for good reason. The Original Scrub Daddy sponge has a unique texture that changes with water temperature, making it effective for scrubbing and cleaning a range of surfaces, including nonstick pans. The foam is firm in cold water for harder scrubbing and soft in warm water for light cleaning. While it's one of the priciest dish sponge options out there, when properly maintained, Scrub Daddy is long-lasting and odor-resistant for up to eight weeks.
Also, can we talk about that smile? Scrub Daddy is always happy to see you—even if you're not thrilled about doing the dishes (Actually, for fun, there IS a frowning version called Sad Daddy that's otherwise identical in use). There's also a practical purpose for the smile or frown: You can use the holes to clean flatware more easily. For those who prefer to keep their cleaning products as simple as possible, a dye-free version of the sponge is also available on Amazon.
4. MR. SIGA Non-Scratch Dish Sponges (12-Pack)
If you're worried about scratching your delicate dishes or cookware, MR. SIGA eliminates that issue. This sponge consists of two layers—a brown scrub pad made of natural sisal and a yellow, cellulose sponge layer—both of which are scratch-free. The spongy side is highly absorbent and doesn't leave streaks, while the sisal layer is safe to use even on nonstick cooking surfaces. Each sponge is fairly thick, comfortable to handle and dries quickly so as not to get smelly. Make sure not to use it with an abrasive cleaner; a simple dish soap will do just fine.
5. SCRUBIT Multi-Purpose Scouring Pad (6-Pack)
Less traditional than your typical foam sponge, these scouring pads are tough on grime and long-lasting. Don't let their name fool you; while they're called scouring pads, they're not made from plastic or metal, but a premium-grade, non-scratch nylon that is safe to use on nonstick cookware. They're as effective at tackling tough food stains and crusted-on food debris as their coarser counterparts, without leaving behind scratches. You can also use them on a variety of surfaces, including kitchen and bathroom countertops, stainless steel faucets, ovens and refrigerators.
Choose from vibrant single-color multipacks or a blue, red and green variety pack. One thing you'll want to be sure to do is give each SCRUBIT pad a good squeeze or wringing out after each use to prevent odors from developing, as the material doesn't dry as quickly as foam sponges. You can even try throwing it in the washing machine and dryer every so often.
6. Scotch-Brite Non-Scratch Dishwand
Designed with convenience in mind, this dishwand from Scotch-Brite features a replaceable non-scratch sponge head and a wand handle that you can fill with dish soap. No more having to reach for the bottle of dish soap and dropping your sponge into the water! Speaking of water, this dishwand comes in handy when you only have a few items to hand-wash and don't need to fill the entire sink with soapy water. Just below where the sponge sits, the wand handle includes a plastic scraper to help remove stuck-on food.
To fill with soap, simply unscrew and pop off the soap stopper at the end of the handle and pour in your favorite mild dish soap. When it comes time to replace the sponge head, hold the dishwand with the head facing up, push the tab away from the handle, slide the head off, and push forward to remove it. Then slide a refill sponge head onto the handle and click it into place. The dishwand only comes with one sponge head, but you can buy a 14-pack of refills at Amazon.
7. ZEN LIVING Natural Eco-Friendly Sponge (12-Pack)
This sponge is made from natural fibers and is a great eco-friendly option for cleaning dishes, as it is 100% biodegradable and compostable. Plus, the packaging is 100% recyclable, nontoxic and plastic-free. The soft side of the sponge is made from natural cellulose of wood fibers, while the coarser scouring surface is made from coconut husk fibers. The sponge is dish soap-friendly and the organic materials don't collect bad odors easily like plastic sponges or cleaning cloths do. This multipurpose sponge is great not only for washing dishes but also wiping down countertops, cleaning the stove, scrubbing the sink and toilet, and washing windows.