When was the last time you cleaned your couch? Perhaps the better question is, "Do you ‌know‌ ‌how‌ to clean your couch?" Of all the household items that need cleaning, the couch seems to get forgotten more often than not. But thanks to TikTok, we have a couple of quick and surprisingly easy hacks that will help you get your couch looking brand new and smelling fresh.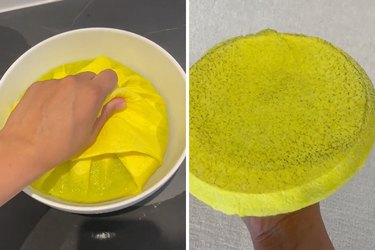 Today's first take on this couch-cleaning hack comes from creator @mycleanworld, who creates a cleaning solution from a laundry pod and hot water, dips a cloth in the mixture and wraps the cloth around a pot lid. This turns the lid into a handy scrubber of sorts, making it easy to cover the large surface area of a couch. Who knew cleaning a piece of furniture could be this easy?
Another take on this hack comes from @.claribel, who uses a dishwasher pod instead of a laundry pod as well as Fabuloso, a household cleaner. The TikToker uses the same basic technique of dipping a cloth in the cleaning mixture and wrapping the cloth around a pot lid. And the results? Just look at the dirty water that gets poured down the sink!
This third and final TikTok couch hack is perfect for in-between cleanings. Creator @christina_explainsitall came up with a DIY couch deodorizer that only requires a spray bottle, rubbing alcohol, scent beads and warm water. As @christina_explainsitall reminds us, it's important to kill bacteria that accumulate on couches (especially for those of us with pets and children).
Well, we're off to grab a pot lid and a detergent pod! Here's hoping that the color of the leftover water doesn't make us feel ‌too‌ bad about our prior couch-cleaning habits.