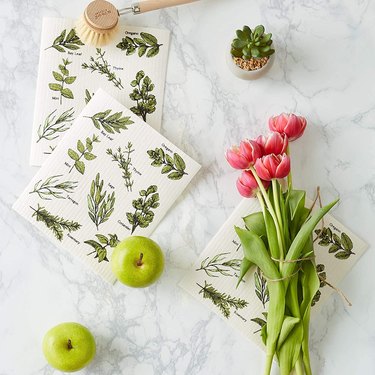 Has your paper towel addiction gone too far? We feel you. When you go through roll after roll, sopping up spills and wiping down any and all surfaces, the guilt starts to set in. You start to think there has to be a better, more sustainable, reusable option—and there is.
The solution: Swedish dishcloths, which can last years and seriously cut back on your paper towel consumption. As the name implies, Sweden and other parts of Europe have been using these absorbent, reusable cloths for decades. It's time we caught onto their eco-friendly inventiveness. Think of Swedish dishcloths as part paper towel, part sponge and entirely brilliant, designed with fun patterns and bright colors that'll add a dose of delight to your kitchen design.
Made out of a mix of cotton and wood cellulose, Swedish dishcloths feel like flexible cardboard when dry. Get them wet though and they take on the feeling of a thin sponge, and considering their size, are shockingly absorbent. Once you're done wiping up wayward flour from your cookie-baking extravaganza, they rinse out nicely and dry quickly—much faster than a still-wet-the-next-day sponge. That makes them less likely to trap bacteria. (Take ‌that‌, sponges.) They're sturdy enough for a daily spin through the dishwasher or washing machine for a proper clean too.
Dirty kitchen countertops, crusty stovetops, messy faces and sticky peanut butter fingers have met their match.
How to Use a Swedish Dishcloth
‌Wet It, Then Clean:‌ Before using, the first step is to wet the Swedish dishcloth, and then ring it out. Once it's damp, you use it just like you would a sponge or damp paper towel. You can use Swedish dishcloths when they're dry, but they're easiest to use when wet since they'll be more flexible. (Don't worry; it'll still pick up plenty of liquid when it's wet.)
‌Dry the Sponge:‌ Swedish dishcloths air dry significantly faster than a typical sponge or dishrag. Still, to encourage this process, you'll want to invest a few dollars into a dishcloth holder. (Imagine three telescoping rods that extend over your sink for convenient hanging.) That'll extend their lifespan and prevent bacteria from growing.
‌Clean the Sponge:‌ The greatest part of Swedish dishcloths: They're machine-washable. Which machine is up to you. You can throw them in the washing machine or the top rack of your dishwasher, or you could wet it and put it in the microwave for one to two minutes. (Just let the dishcloth cool before ringing out the excess water, otherwise ‌ouch‌.) Most Swedish dishcloths should stay in great condition wash after wash, with some brands claiming they can withstand about 200 washer cycles. Once it starts to deteriorate, you can toss it or, even better, compost it, since they're biodegradable.
Put down the paper towel roll and scroll on for 10 of the best Swedish dishcloths you can buy today.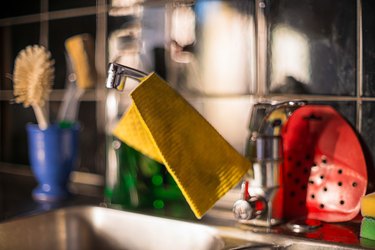 1. UMOYIT Swedish Dishcloths
Cute, colorful and crazy absorbent—that's exactly what you want from a Swedish dishcloth and that's exactly what you'll get with this set of four from Amazon. The graphics add serious cheer to your kitchen, making cleaning not quite a chore, and they come in a slew of adorable patterns too. The oranges are our favorite, but you can't go wrong with the flamingo, fox and tulip designs either. Best of all, they work perfectly, absorbing far more than your average paper towel, and can grip dishes and glassware well so you won't worry about them accidentally slipping from your hands. Win/win.
‌​Number in Set:​‌ 4
‌​Dimensions:​‌ 7.01" x 7.87"
2. Danica Studio Swedish Dishcloths
Paper towels are never this adorable and never this durable either. These Swedish dishcloths will be your new go-to when daily spills happen, since they're substantial but not bulky. Reviewers rave that they hold up well wash after wash, so you can feel confident that you can throw these in the dishwasher with each load and they'll stay in perfect condition. We're partial to the sweet snail design, but the "adventure awaits" or "stay wild" options would be a great gift for the van life or camping enthusiasts in your life.
‌​Number in Set:​‌ 3
‌​Dimensions:​‌ 8" x 6.5"
3. Leshangtechnology Floral Swedish Kitchen Dishcloths
Think of the rolls and rolls and rolls of paper towel you can nix with just one set of Swedish dishcloths, like this set from Amazon. The dishcloths each feature a lush floral design, and they're seriously durable with a ridged texture. Since they dry so quickly, you never have to worry about sniffing around your kitchen saying "what's that smell?" only to find a mildewy sponge either.
‌​Number in Set:​‌ 6
‌​Dimensions:​‌ 8'' x 7''
4. SimplyCasa Swedish Cloths
Messes are no match to these Swedish dishcloths, each of which replaces up to 15 rolls of paper towels. Their super absorbent biodegradable material (part wood pulp, part cotton) holds 15 times its weight in water, and with this pack of 10, you'll be set for a while. Take it from us, or take it from the over 1,000 glowing Amazon reviews from people who say they'll never go back to paper towels.
‌​Number in Set:​‌ 10
‌​Dimensions:​‌ 7" x 6"
5. Now Designs Ecologie Swedish Dishcloths, 2-Count
You'll immediately toss your seen-better-days old sponges and ween off your paper towel consumption when you have these compostable Swedish dishcloths. Their pop of color and graphics make cleaning up far more fun too. There are just two in a set, but 14 different eye-catching patterns to choose from. These kitchen workhorses can potentially last for years to come with proper care—the manufacturer recommends machine washing them on warm or placing them on the top rack of the dishwasher, then allowing the dishcloths to air dry.
‌​Number in Set:​‌ 2
‌​Dimensions:​‌ 6.5" x 6.5"
6. Boao Lemon Swedish Kitchen Dishcloths, 6-Count
These reusable Swedish dishcloths are so pretty you almost don't want to get them dirty. Don't let that stop you from scrubbing dishes or cleaning countertops with them though. (Especially since they're both dishwasher- and washing machine-safe, so a quick spin in either of those will make them good as new again.) This set of six includes three different lemon patterns, all of which are vivid and energetic, making a sink-full of dishes a little less daunting.
‌​Number in Set:​‌ 6
‌​Dimensions:​‌ 8.27" x 7.09"
7. DII Swedish Dishcloths, 3-Count
Once you switch to Swedish dishcloths, an Earth-friendly alternative to paper towels, chances are you'll rave about them to friends. One way to convert your loved ones is to stock up on several of these sets, then gift them out. Good luck narrowing down your favorites of the dozens of charming designs though. Chances are you'll want the one with apples on it, the floral design, and definitely the "gnome for the holidays" set too.
‌​Number in Set:​‌ 3
‌​Dimensions:​‌ 7.75" x 6.75"
8. Swedish Wholesale Swedish Dishcloths
To keep things organized, opt for a set of solid-colored Swedish dishcloths. That way you can assign each color to an area of your home—pink for your sink, perhaps, since they're safe for stainless steel—then always know where they go after a spin in the dishwasher or washing machine. For under $20, you can own a set of 10, then question why you've been spending so much money on paper towels all these years.
‌​Number in Set:​‌ 10
‌​Dimensions:​‌ 8" x 7"
9. SwedeDishcloths Mixed Modern Pattern Swedish Dishcloths, 3-Count
This set of three offers all the benefits you expect from Swedish dishcloths—they're absorbent, quick-drying and durable through up to 200 washes—plus they have a sleek retro-style design too. These can take in 20 times their own weight in liquid, so spills won't stress you out anymore. At this affordable price, you may want to stock up on a few sets just in case.
‌​Number in Set:​‌ 3
‌​Dimensions:​‌ 8" x 7"
10. FEBU Swedish Dishcloths
So long, single use paper towels! With this floral set, you'll wonder why you didn't convert to Swedish dishcloths sooner. They're non-scratch, odor-resistant and make cleaning up any surface—in your kitchen, bathroom or anywhere else—ultra easy. This set will last you up to a year of regular use, so go ahead and cross paper towels off your "to buy" list.
‌​Number in Set:​‌ 5
‌​Dimensions:​‌ 8" x 7"