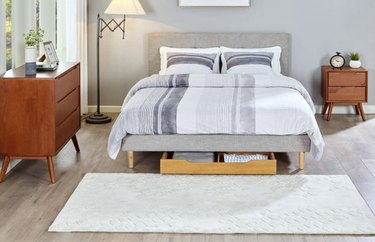 The space underneath your bed is prime real estate for storage as long as there's enough space between the floor and the bed frame. It's the perfect spot to discreetly store out-of-season clothes, shoes, extra blankets, your kids' sleeping bags and family heirlooms you don't know what to do with. But to maximize storage space, you can't just shove things under your bed (like you probably did as a kid and like your kids probably do now), you need the right under-bed storage containers.
What to Consider When Purchasing Under-Bed Storage Containers
‌Type:‌ There are several types of under-bed storage containers to consider and they all do the same job: Help organize your home. There are plastic boxes with latching lids that are often transparent so you can easily see what's inside; containers made of foldable fabric material that's breathable to keep your clothes, linens, etc. fresh; trundle drawers that don't have lids, making your items easy to grab; containers on wheels that are convenient to store and take out; and boxes designed with separate compartments for shoes.
‌Size:‌ Storage containers designed for under-bed use are generally shallow enough to fit under most beds, but to be sure, you might want to measure the dimensions from the bottom of the bed frame to the floor. There should be at least a half-inch of space between the bed frame and the top of the storage box so there's enough room to easily slide it in and out.
‌Material:‌ There are two main types of under-bed storage container materials—plastic and fabric. Plastic storage bins are sturdy and durable, so they're an ideal choice if you're storing delicate items. They are typically transparent, giving you a view of what's inside. The downside of plastic is that it isn't ec0-friendly and it can retain moisture, which can damage the items inside. Plastic is, however, easy to clean. Fabric storage containers are often foldable for compact storage when they aren't being used and they're breathable, but they aren't as sturdy as other options.
‌Special features:‌ Accessibility is key when it comes to under-bed storage containers, otherwise your stored stuff would never see the light of day. Wheels and handles are features that make it easy to access your belongings. Zippered bags and boxes with lids protect your items from dust, but the top of the storage container will probably need a good dusting every now and then.
Scroll on for the best under-bed storage solutions for your home.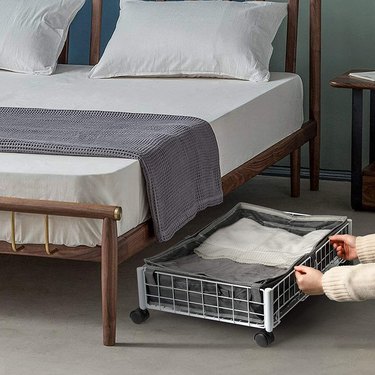 The Best Overall Under-Bed Storage Containers
Not only is this foldable under-bed storage organizer great for storing clothes, bedding and more, but it also comes in a pack of two, so you get a lot of bang for your buck. The lightweight, non-woven fabric bags are 100% eco-friendly and completely breathable, keeping your items fresh for longer. A clear window allows you to quickly find your items, and the large metal zippers can withstand up to 1,000 uses (according to the company, that is). The bags come in gray or black and you can choose if you want a soft-sided wall or a firm-sided wall. If you prefer more stability or if you're storing delicate items, you might want to opt for the firm wall.
‌Dimensions:‌ 39.37" x 19.69" x 5.91"
The Best Budget Under-Bed Storage Bag
You can't beat the price of this large under-bed storage bag. For less than $5, you can store sweaters, extra pillows, blankets or whatever will fit inside. It's made of heavy-duty non-woven fabric for durability with a zipper closure and transparent top. The white bag features two handles for easy accessibility and portability.
‌Dimensions:‌ 8" x 32" x 6"
The Best-Looking Under-Bed Storage Containers
Sure, under-bed storage options are hidden from view when they're put away, but that doesn't mean you can't have something stylish. This set of two mid-century modern under-bed boxes are attractive and space-saving. Made with natural soft canvas, nylon interior and a soft lid, the bags are breathable and can be filled like a suitcase. The handles are made with sustainably-sourced genuine leather, which adds to the beauty, and the zippers even match the cream-colored bags.
‌Dimensions:‌ 17.9" x 28.0" x 7.9"
The Best Under-Bed Storage Containers With Wheels
Add some extra storage space to your bedroom with this set of two under-bed storage containers on wheels. Four casters on each container give them the ability to rotate 360 degrees, making them easy to pull out and put away. Made of alloy steel, these containers are extra sturdy and can hold up to 40 pounds of weight. The storage totes are foldable, so when they aren't in use, they can be stored compactly. You can use them with or without the included dustproof zippered storage bags.
‌Dimensions:‌ 24" x 16" x 6.5"
The Best Under-Bed Storage Container With Lid
This clear plastic storage box gets the job done well. The size is perfect for most queen beds or larger, and it can hold up to 40 quarts, which is ideal for storing duvets, quilts, comforters and other large items. Durable handle latches keep the lid on tight to prevent dust or moisture from getting in. The bins are stackable or you can buy multiples to place side by side.
‌Dimensions:‌ 28.50" x 18.06" x 6.25"
The Best Under-Bed Storage Container for Shoes
If you have limited closet space, you probably don't want to deal with summer shoes taking up space in the middle of winter. This fabric shoe storage bag will keep your out-of-season shoes safe until you're ready to re-enter them into your closet. It comes with 12 dividers and a transparent vinyl top with a zippered closure so you don't have to dig through anything to find the shoes you need.
‌Dimensions:‌ 6'' x 28'' x 23''
The Best Under-Bed Storage Drawer
For a more aesthetically pleasing under-bed storage option, check out this wooden trundle. It's designed to sit under your bed at the edge so it can be easily accessed—similar to a trundle bed, only it doesn't hold a mattress, it holds extra clothes, bedding etc. The modern drawer is made from solid wood and comes in white, teak or natural color options. Choose from a twin/full or a queen/king size.
‌Dimensions:‌ 32.9" x 19.68" x 5.83" (twin), 35.4" x 19.7" x 5.8" (queen)
The Best Under-Bed Storage Basket
We love the look of this under-bed storage basket along with its simplicity. The sturdy, eco-friendly, textured container is made of handwoven natural rattan and buri fiber with cutout handles. It has a lid to help keep the dust out and it easily slides in and out from under the bed. It comes in four color options: honey, gray, black and white.
‌Dimensions:‌ 32" x 17" x 6.5"
The Best Under-Bed Storage Container for a College Dorm
It's no secret that most dorm rooms are small with very little storage space. This under-bed storage solution provides extra storage space in more ways than one—it's also a bedside table. Casters allow you to roll it under the bed during the day to save floor space and roll it out halfway at night to use it as a nightstand. The practical storage drawer has two compartments in the front and a larger one on top that can hold bedding, pajamas, books or anything else that needs a place to be stored.
‌Dimensions:‌ 23" x 30" x 18"