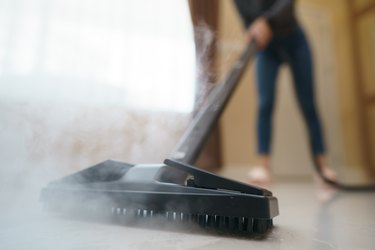 The most efficient way to clean and sanitize hard floor surfaces and carpets is to use a steam mop. A steam mop is different from a regular mop that requires soap or bleach because it uses heat from steam to lift dirt off the ground and disinfect the floor. It doesn't leave residue behind like regular mops, and it can even cut through grime, remove stains, restore shine and kill dust mites. In fact, the steam's heat can kill about 99% of the bacteria and dust mites on the ground.
Most steam mops come with a reusable, washable pad made from microfiber or terry cloth that's placed right underneath the steam jet to trap dirt. They typically last for 20 to 25 cleanings. There might be one or two additional pads included with the mop you purchase, but you'll need to purchase more to have on hand. You can usually buy them directly from the company or from third-party vendors.
What to Consider When Purchasing a Steam Mop
​Size:​ Since cleaning is a chore, you want to make sure the steam mop your purchase doesn't make your job harder. It needs to feel comfortable while you use it and be easy to operate, so make sure you check out the weight and dimensions before committing. Your steam mop should be one that isn't too tall or too heavy for you to use regularly. Looking at the dimensions will also help you determine if you have enough space to store it. Some steam mops have a telescopic, or extendable, handle that can be adjusted to your height.
​Accessories:​ Most steam mops come with accessories or attachments. Helpful accessories to look for include a brush to scrub grout, a squeegee to clean mirrors and windows, a carpet glider that allows you to use the mop on carpet, and even a landing tray that catches any water that might drip when the steam mop isn't in use.
​Settings:​ Not all steam mops have adjustable settings, but the ones that do allow you to adjust the steam output based on the type of flooring you need to clean and the level of dirtiness. Increasing the steam for tough stains can help save time, effort and a whole lot of scrubbing. If you think you'll need to use the mop for deep cleanings, look for a steam mop that reaches between 140 and 179.6 degrees Fahrenheit.
Getting dirt, grime and stains off floors is important, but it's also important to make sure your floors can handle steam. If you have hardwood floors, check with the manufacturer's advice on using a steam mop, or if that's not possible, you might want to test out the mop in a small area first. The right steam mop for wood flooring is one with adjustable steam levels and an absorbent mop pad that leaves minimal moisture behind.
​Water Tank Capacity:​ All steam mops have a built-in reservoir that holds water, but the size varies from brand to brand. Of course, the bigger the reservoir, the more surface area you can cover, but it'll also add to the weight of the mop. The average tank holds around 11 to 13 ounces of water, which for most models, takes around 20 to 30 seconds to heat before steam is produced. Some models have removable tanks that make filling and emptying easier than those that don't.
To help make your search easier, we've rounded up the best steam mops in 2022 below.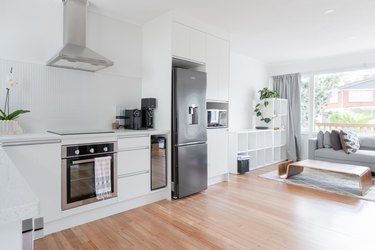 The Best Overall Steam Mop
PurSteam 10-in-1 Steam Mop
Clean the entire house with PurSteam's 10-in-1 Steam Mop. This mop has so many accessories, you can clean a lot more than just the floors. It has a built-in handheld steam cleaner, a flexible hose, a window squeegee, extra mop pads, and extra brushes and nozzles. The mop works great on hardwood and tile floors as a steam mop, but it can also function as a carpet cleaner, steam cleaner, handheld garment steamer, and a window, mirror and glass cleaner.
​Dimensions:​ 8.07" x 9.45" x 23.94"
​Weight:​ 2.2 lbs.
​Tank Capacity:​ 11.5 oz., run time of 20 to 25 minutes
​Cord Length:​ N/A
​Accessories:​ Built-in handheld steam cleaner, window squeegee, straight nozzle, mop cleaning pads, nylon brushes, bent nozzle
​Number of Settings:​ 3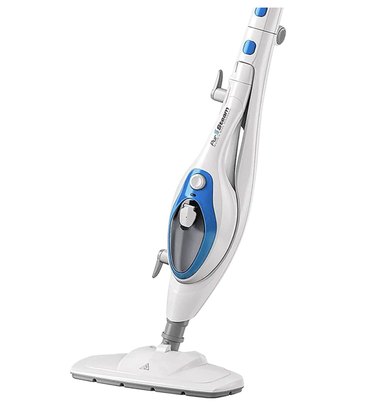 The Best Budget Steam Mop
It's a basic model, but the Shark Steam Mop S1000WM is very easy to use and an excellent option if you're hoping to save some money. You do have to manually pump to get the steam flowing, which takes more effort than a steam mop with automatic pumping features, but once it's going, it cleans well. Since it doesn't have a steam boost option, this mop is best suited for hard floors that don't need a deep clean. It comes with two microfiber cleaning cloths that can be removed hands-free by placing your foot on the marked label and lifting the steam mop. The water tank can hold enough water to clean one or two rooms, and it's easy to remove and refill.
​Dimensions:​ 11" x 8" x 46"
​Weight:​ 5 lbs.
​Tank Capacity:​ 12.6 oz.
​Cord Length:​ 18'
​Accessories:​ Two microfiber pads
​Number of Settings:​ 1
The Best Steam Mop for Pet Owners
Bissell PowerFresh Lift-Off Pet Steam Mop
The Bissell PowerFresh Steam Mop is the best option if you have a dog or a cat, as it allows you to tackle messes both on and above your floors. It comes with 13 attachments to clean just about any steamable surface in your home. The mop is easy to maneuver, it's an excellent spot cleaner, it has a detachable tank that makes it easy to refill, and it's an overall great option for both hard floors and carpets. The mop has two elastic-attached mop pads that fully cover the edges of the mop head, allowing you to clean baseboards and get into corners. It comes with a step scrubber, along with several other scrubbing and scraping attachments. As far as accessories go, there are multiple sizes of cleaning heads, a grout cleaner, a squeegee, a precision power nozzle and a microfiber cloth.
​Dimensions:​ 13.2" x 11.1" x 44.7"
​Weight:​ 10.4 lbs.
​Tank Capacity:​ 13.4 oz.
​Cord Length:​ 25'
​Accessories:​ Two mop heads, step scrubber, cleaning heads, squeegee, grout cleaner, precision power nozzle, microfiber cloth
​Number of Settings:​ 2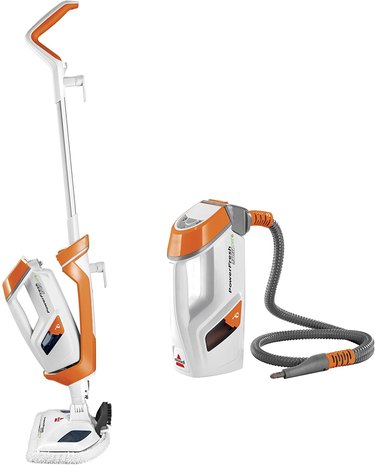 The Best Multifunctional Steam Mop
Light 'n Easy Multifunctional Steam Mop
This steam mop can do it all—from mopping the floors to cleaning the shower to steam cleaning furniture to removing wrinkles from clothes to degreasing the kitchen. A detachable handheld steamer can freshen clothes and couches, and you can switch to the steam nozzle to clean oily messes in the kitchen. The mop's lightweight design makes it easy to maneuver, and three different intensity settings help you effectively clean various surfaces. The mop heats up and is ready to be used in just 20 seconds, and a smart switch prevents steam from being released while it's in an upright position.
​Dimensions:​ 46.4" x 11.8" x 6.8"
​Weight:​ 6.3 lbs.
​Tank capacity:​ 11.5 oz.
​Cord Length:​ 20'
​Accessories:​ Detachable handheld steamer
​Number of Settings:​ 3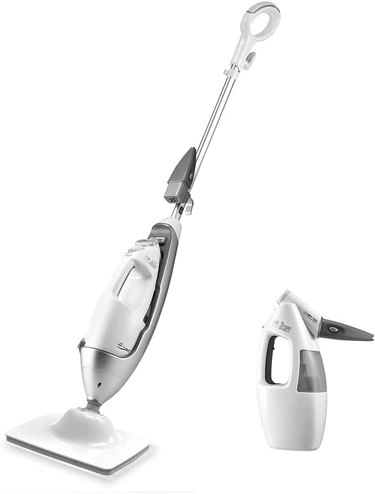 The Best Heavy-Duty Steam Mop
BISSELL Heavy-Duty 3-in-1 Power Steamer
The Bissell Heavy-Duty Power Steamer is ideal for both indoor and outdoor use and can be used across a wide variety of surfaces, including sealed hard floors, the garage, boat and RV interiors, and patio furniture. It's great for cleaning grout, refreshing fabrics and getting into those hard-to-reach areas. This upright steamer can be used as an extended reach steam cleaner and a handheld steam cleaner, but it's important to note that this device is on the heavier side. With this steam mop you get 25 accessories, but don't worry, it comes with a bag to keep all of them in one spot.
​Dimensions:​ 14" x 9.5" x 46.5"
​Weight:​ 6.1 lbs.
​Tank Capacity:​ 11.8 oz.
​Cord Length:​ 25'
​Accessories:​ Extension wand, mop pad foot, scrubby mop pad, flat surface tool and mop pad, fabric steamer, squeegee, grout tool, black bristle brush, brass bristle brush, flat scraper tool, angle concentrator tool, accessory bag
​Number of Settings:​ 2