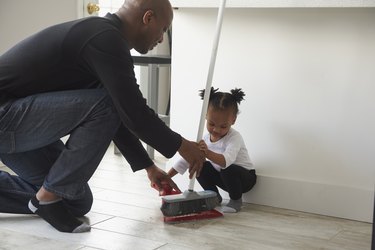 Every home needs a broom because as much as you'd like them to, the messes won't clean themselves. A broom is a basic, reliable household cleaning tool that is there for you when you need it and hidden away when you don't. The purpose of a broom is to clean your floors by sweeping up crumbs, spills, dust and general debris. If your floors are extra dirty, it's a good idea to sweep up the big messes before using a vacuum cleaner.
At quick glance, a broom is just a bunch of stiff bristles attached to a stick. But depending on its construction and design, it's so much more than that. Some brooms have removable heads for easy cleaning and others have telescopic handles to fit your height. You can use a broom for a tiny mess or a big clean. All you need is the broom and yourself—no cleaning products or batteries are required for sweeping jobs.
What to Consider When Purchasing a Broom
​Use:​ It's important to consider what you'll be using the broom for most before making your purchase. There are several types of brooms that are each suited for unique sweeping tasks, meaning you might want to own a few different brooms. Some brooms are designed for sweeping large, open areas, some are for best for sweeping under furniture or in tight spaces, while others are meant for messes in small spaces.
​Type:​ There are two main types of brooms: lobby and push. A lobby broom is a traditional broom that has long bristles and a shallow head that you pull towards you. It's used for household cleanups in the kitchen or any room with hard floors. A push broom has shorter bristles and a wide blockhead that you push away from you. It's typically best for sweeping larger outdoor areas like patios, walkways or the garage.
​B​​rush Angle​​:​ An angled bush is one that's cut on a slight diagonal to allow the broom to fit into corners and reach under furniture and other hard-to-reach areas while effectively sweeping crumbs, hair and debris off floors.
​Bristle Type:​ While some broom bristles are made of stiff, all-natural fibers like cornhusks, twigs, yucca or rattan, most are made from synthetic fibers, including PET (a type of plastic), PVC (polyvinyl chloride), polypropylene and other synthetic blends. Synthetic materials are inexpensive and durable. There are also flagged bristles and unflagged bristles. Flagged bristles are split at the ends and suck up fine dust and dirt, which is ideal for hard floors. Unflagged bristles aren't split and work best for moist or rough areas like a kitchen, bathroom or garage.
Scroll on for our top picks of the most durable and efficient household brooms in 2022.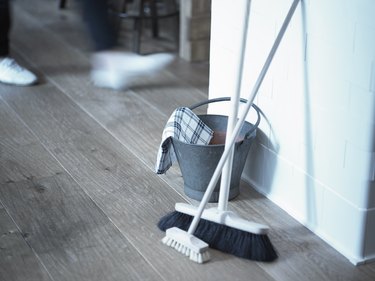 TreeLen Broom and Dustpan
TreeLen's 52-inch broom and dustpan set is the most versatile option on our list. It includes an optional extension pole for added height, and it has a 10-inch brush head with four layers of soft, yet sturdy bristles that can safely be used on hardwood, tile, vinyl, laminate, linoleum and bamboo floors. The dustpan is deep enough to hold a large amount of debris and can be carried without the risk of spillage, and it has an attached teether comb to remove excess dirt and hair from the bristles. The broom and dustpan combo snap together for stand-up storage, and the product comes in two color options: orange or green.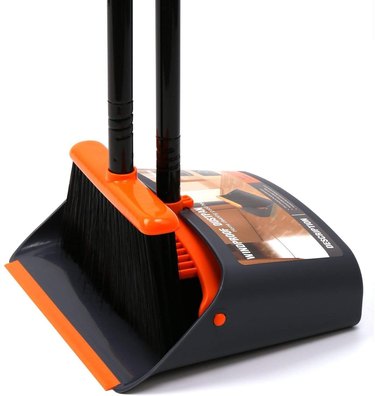 Reynera Household Angle Upright Broom
You definitely won't break the bank with this small but mighty broom. It's an angle-cut, poly-bristle, upright broom with a metal handle and plastic head. At just 10 inches, it's ideal for cleaning up small messes, plus it doesn't take up too much storage space. This broom is a great option if you don't want to spend a lot of money, or if you want a smaller, lightweight broom that your kids can use to help out around the house.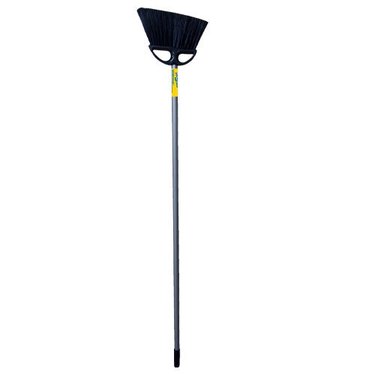 Rubbermaid Heavy-Duty Corn Broom
This wooden corn broom can be used for both indoor and outdoor cleaning. It's made of 100% natural corn fibers, which are heavy-duty, long-lasting and effective at picking up all types of debris. It's 21 inches tall with a 1.1-inch wood handle. You can't go wrong with this classic broom. Plus, it's never a bad idea to have a broom with a wooden handle around the house in case you need a last-minute witch costume. You never know!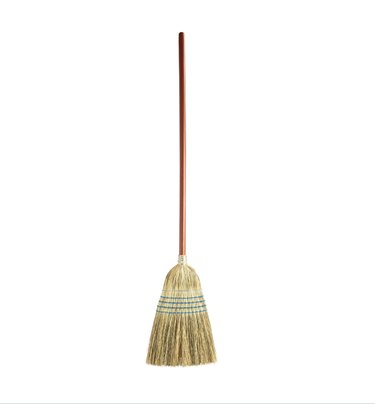 Libman Precision Angle Broom with Dustpan
If you need a trusty go-to broom and dustpan set, this one is a great option. The bristles are angled to reach under cabinets and into tight corners. The eco-friendly broom fibers are made from recycled water bottles, so you can feel good about cleaning and about doing better for the planet. The dustpan includes teeth to remove debris from the bristles, and it attaches to the broomstick for easy storage. The multi-surface broom can be used for both indoor and outdoor cleaning.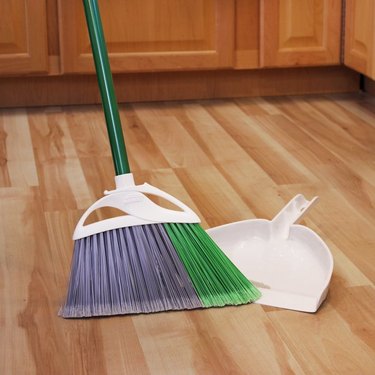 Quickie 2-in-1 Squeegee Push Broom
There's a lot to love about this 2-in-1 broom. Not only is it a push broom that can tackle large outdoor messes, but it also has an attached squeegee that works to clean spills. The long handle, 60-inch broom has a combination of split-tip stiff inner fibers that handle medium-duty debris and soft outer fibers that sweep fine dirt and dust from all surfaces. The broom has a swivel tip hang-up feature for easy storage.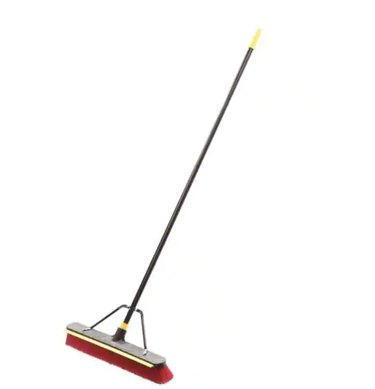 The Best Eco-Friendly Broom
Made from bamboo and recycled plastic, this Full Circle broom is eco-friendly and gets the job done. The shape of the broom head allows it to fit into tight corners and the specially-designed flagged bristles pick up dirt and grime. The broom is 51 inches tall and has a slim exterior, and its durability makes for a great cleaning sidekick.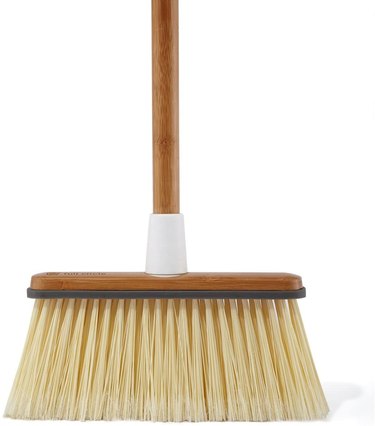 Yocada Heavy-Duty Outdoor Broom
This 54-inch heavy-duty sweeper is designed for outdoor messes and debris that require a strong and durable cleaning tool. The three-layer bristles are stiff and strong, ideal for garages, driveways and sidewalks. Of course, it can also be used indoors for any miscellaneous mess. The three-piece broom handle needs to be put together, but once it's locked in place, it's extremely sturdy.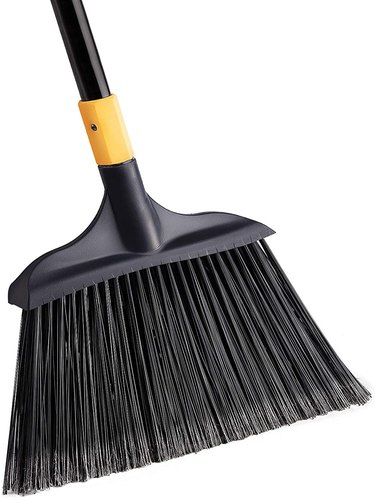 The Best Broom for Hardwood Floors
If you have wood floors, you understand the importance of using scratch-free cleaning tools. Swopt's Premium Straight Broom features ultra-soft, yet durable bristles that are safe and effective on hardwood and smooth surfaces and can pick up both large and fine particles. This broom is a great option for pet owners, as it's effective at picking up hair. The grip on the handle is designed for comfort and both the head and the handle are interchangeable.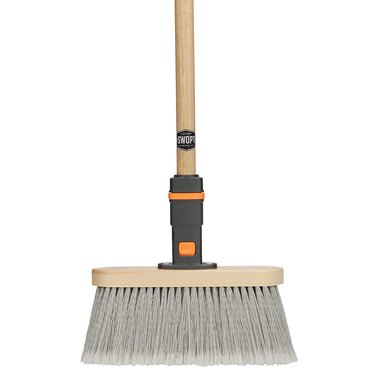 The Best Broom for Pet Hair
Furemover Broom with Squeegee
If you have pets at home who shed, the Furemover broom and squeegee is going to feel like magic. Made from natural rubber, this broom is specifically designed to remove dog and cat hair from carpets, rugs, hardwood and linoleum. To rid the broom of excess hair, simply wash it with soap and water. The pet hair removal broom is comfortable to use and extends from 3 feet to 6 feet. It's also ideal for sweeping up liquid spills on any hard surface.