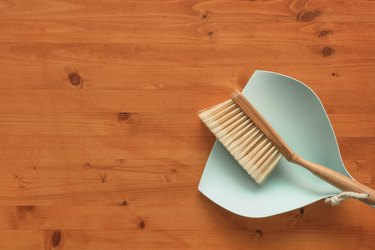 Every home needs a trusty dustpan and brush set. It's the type of cleaning tool that you hopefully don't have to use every day, but when you do need it, it's there and it's efficient. Large messes might require a dustpan with a broom or even a vacuum, but smaller messes can be tackled with a simple dustpan and a brush. While a full-size broom and its dustpan can take up storage space, a dustpan and brush set is more compact and easier to keep accessible enough to quickly grab when you need it.
A dustpan holds all the crumbs, dust and general debris on the floor that the brush sweeps into it. You probably don't spend a lot of time thinking about dustpans and brushes, but their design has come a long way. You can find simple, inexpensive sets that get the job done, and you can also find ones that are aesthetically pleasing—ones that you might even prefer to display rather than hide in storage.
What to Consider When Purchasing a Dustpan and Brush Set
​Material:​ Dustpans are typically made of plastic or metal, plastic being the most common due to its affordability and durability. Some dustpans and brushes are either made of bamboo or feature bamboo or wooden handles. Whatever the brush is made of, it's important for the handle to have a soft, nonslip grip for maximum comfort. The bristles on a brush are most often made of synthetic fibers like nylon, PET and polypropylene since they are the most affordable and durable. Bristles can also be made of natural fibers like broomcorn, yucca and rattan, although that's a lot less common.
​Design:​ Dustpans and their brushes have similar designs since they all have one job to do, but some have an added feature or two. Most dustpans have a soft lip made of rubber on the opening side that molds to any flat surface, making it easier to pick up as much debris as possible without it getting swept underneath the dustpan or leaving any behind. Some dustpans include a cleaning comb feature that can be used to remove dust or dirt that's stuck on the brush. If you have limited space, or if you need a dustpan and brush for your desk or craft room, you might want to consider purchasing an ultracompact or mini design, which offers the same design as standard dustpans just on a smaller scale.
​Storage:​ The majority of brushes attach to the inside of a dustpan for compact storage. This keeps the pair together for easy access when needed. Most brushes have holes or loops for hanging on a hook to keep them out of the way. Of course, you can always shove a dustpan and brush set into a cabinet and not worry about hanging it on a hook. Easy accessibility is key.
You're probably ready to start shopping for the right dustpan and brush for your home. Check out our list of the most efficient, useful and attractive options below.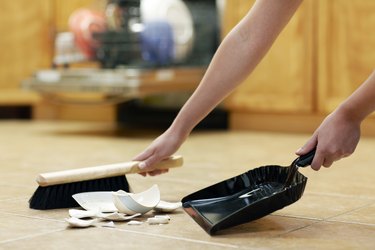 1. Everclean Small Hand Broom and Dustpan Set
This no-frills plastic dustpan and broom set has an ergonomic grip that provides comfort and control. The brush handle snaps into the dustpan for easy storage, and the soft molded lip picks up debris with minimal residue left behind. It comes in black/white, aqua/white and black/teal/white.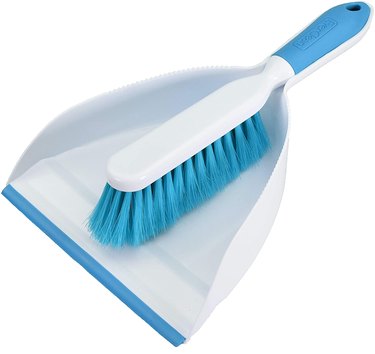 2. Simply Essential 2-Piece Mini Dustpan and Brush Set
At only $5, this mini plastic dustpan and brush set is small, inexpensive and efficient. The dustpan features a built-in comb to wipe excess dust and debris off the brush and into the dustpan. The brush snaps into the pan and has a loop at the end for convenient storage options. The ergonomic, nonslip handle also has a comfortable grip.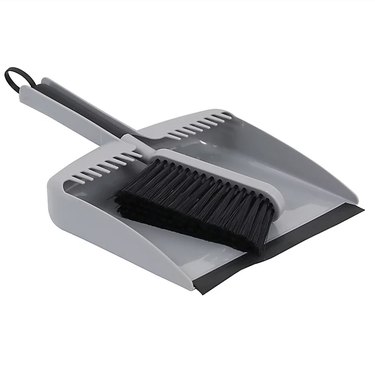 3. Chosee Dustpan and Brush Set
Perfect for cleaning small messes, this dustpan and brush set is light, convenient and attractive. It's great for cleaning up after kids and pets, as well as getting the crumbs off your desk or keyboard. Made of high-quality PET fiber, the set is soft to touch and the nonslip grip is comfortable to hold. The brush attaches to the inside of the dustpan and has a hole at the end for hanging.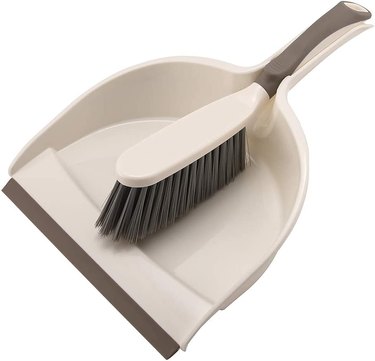 4. Phyex Aluminum Dust Pan with Brush Set
You'll notice that this dustpan and brush set is a bit more expensive than others, and that's because it's made of durable aluminum. Its flat edge easily collects small items and debris with little leftover after a sweep. It has an ergonomic looped handle and the pan is wide enough to hold large messes. If you have a large house or need more than one dustpan and brush, you can purchase this set in a 3-pack to save some money.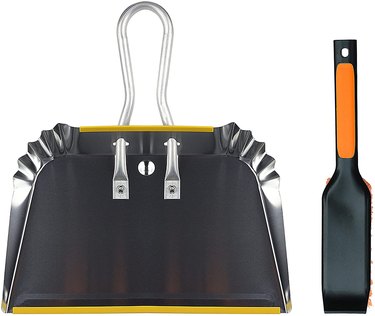 5. Mr.Siga TPR Bristles Brush and Squeegee with Dustpan Combo
This dustpan comes with a unique multipurpose brush that features two different types of cleaning tools on either side. On one side, non-scratch TPR bristles remove pet hair, lint and dirt from your couch, carpet, rugs and mats, and the other side is a squeegee that's ideal for cleaning shower doors, windows and fogged mirrors without leaving streaks. The brush can also do the regular job of sweeping dirt and other small items into the dustpan. It comes in grey/black and white/blue.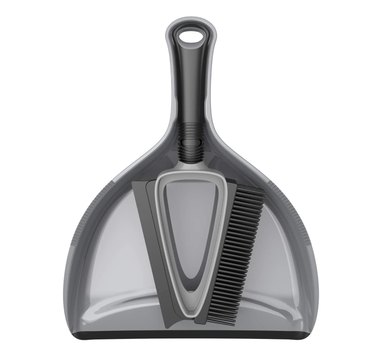 6. Casabella Wayclean Handheld Dustpan and Brush Set
If you need a dustpan on the larger side, this set is a great option. The large-capacity dustpan allows you to pick up a whole bunch of debris at one time. It has a built-in comb for cleaning dust or hair off the brush, and a soft rubber lip lies flat against the floor to maximize pick-up. The pointed design of the brush allows it to fit into corners. The brush nestles securely into the dustpan, and its soft-grip handle provides comfort for long cleaning sessions.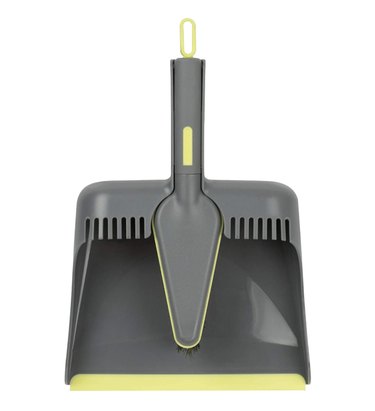 7. Full Circle Tiny Team Mini Brush and Dustpan Set
Made from nontoxic bamboo and BPA-free recycled plastic, this dustpan and brush set is eco-friendly and 100% safe for your family. It's perfect for cleaning under a highchair or handling litter box overflow. The size of this set allows you to reach under furniture and get in tight spaces, and it's efficient in cleaning up small messes. The brush fits snugly into the dustpan for compact storage.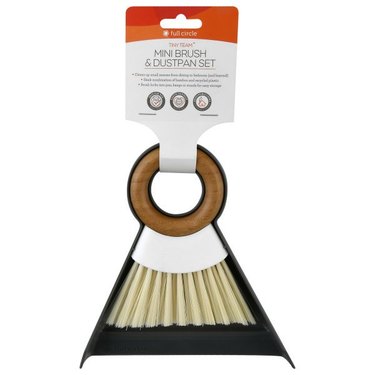 8. OXO Good Grips Dustpan and Brush Set
Whether you want to sweep away a mess or just tidy up a specific area, this dustpan and brush set is a great solution. A whisk-broom shape makes the brush easy to use while sweeping from above, and a nonslip handle makes for a comfortable grip. A rubber lip along the front edge of the dustpan helps you collect all the debris.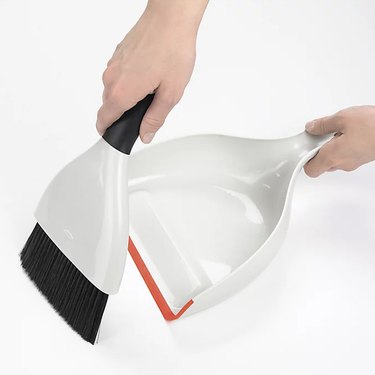 9. Robot-GxG Mini Dustpan Set
No job is too small for this mini dustpan set. It's easy to store, and not just because it's small. The hole on the top of the handle gives you a space to hang it on a hook. The set is ideal for small messes and small spaces. If you happen to enjoy a snack ... or 12 while working at your desk, this little set can sweep away all the evidence.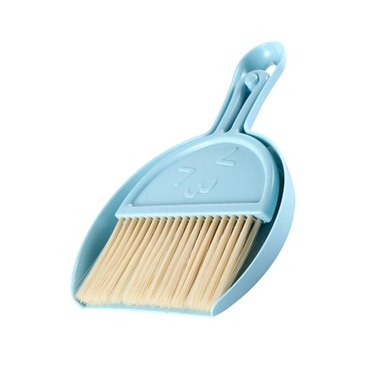 10. Mastertop Dustpan and Brush Set
There are two brushes included in this dustpan set, including one bamboo brush with whisk bristles and another soft brush that works as a duster (or something you can hand to your kids so they can help out with the cleaning). The set is made with high-quality PET fibers in addition to bamboo.