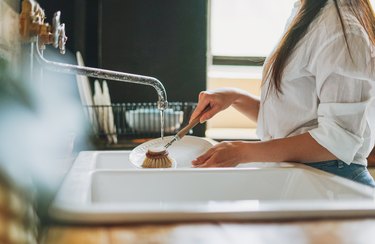 If you've been using a scrubber that is falling apart, or if it smells like it has a colony of bacteria growing on it, it's probably time to upgrade. A new, durable dish brush or scrubber can make your dishwashing experience more efficient and a lot less stinky. A dish brush is designed to thoroughly clean dishes—even the dirtiest dishes that have last night's dinner caked on. Its heavy-duty bristles are made of natural fibers, plastic or silicone that dry quicker than a sponge and are less prone to bacteria. The bristles are flexible so they can get to the hard-to-reach areas on dishes or pans.
While certain sponges need to be replaced regularly, some are heavy-duty and long-lasting. Silicone sponges are durable, eco-friendly, easy to clean and don't take on odors like regular sponges. The best ones are BPA-free and provide a good grip so they won't slip out of your hand. Whichever dish brush or sponge you choose, the most important thing is that it makes your life a little easier.
What to Consider When Purchasing a Dish Brush or Scrubber
​Type:​ Not all dish scrubbers are designed to do the same job. Before deciding on which one to buy, determine what you need it for and the shape of the dishes or pans you'll be cleaning. Are you looking for a scrubber to clean dirty dishes with caked-on food? A brush is best. Do you prefer a multipurpose scrubber that can take on all types of messes? A heavy-duty or silicone sponge or pad will do the trick. Do you need a brush to clean something more specific like a cast-iron skillet? There are single-purpose scrubbers made for just that.
​Dishwasher Compatibility:​ Dish scrubbers deal with a myriad of messes, so it's to be expected that they'll need to be washed in order to get rid of the bacteria that might be building up. You can find dish scrubbers and sponges that are dishwasher safe, while others might need to be DIY cleaned by soaking them in vinegar and dish soap or in a weak bleach solution. To help maintain the lifespan of your scrubber, be sure to follow the individual company's guidelines before throwing it in the dishwasher.
​Aesthetic:​ The look of a dish scrubber might not matter much to you, but since it tends to be kept near the kitchen sink, it's probably something you'll have to look at several times a day. It's possible to purchase one that matches the aesthetic of your home, you might just need to work a little harder to find it. If you do end up buying an aesthetically pleasing brush or sponge, you might find yourself less inclined to hide it under the kitchen sink, which makes it hard to reach.
​Special Features:​ Some scrubbers have extra features like a built-in soap dispenser, a holder or a scrubber tip. Built-in soap dispensers can speed up the dishwashing process since the soap is always ready to go, but you might find that some dispensers leak, causing you to unnecessarily go through soap at a much faster pace. Brush and sponge holders can help keep the scrubbers away from the sink's bacteria and scrubber tips can help remove stubborn food particles.
Now that you know a little bit more about dish brushes and scrubbers, take a look at our list below of the best ones you can buy in 2022.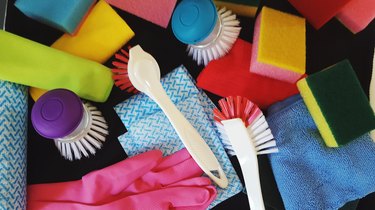 The Best Overall Dish Brush
Scotch-Brite Pot Pan & Dish Brush, 1-Count
You can't go wrong with this Scotch-Brite dish brush. The shape of the brush head is ideal for cookware, stainless steel, sinks, dishes, outdoor furniture and more, and the scrubber tip helps clean the corners and hard-to-reach areas. It has dual antimicrobial bristles for different types of cleaning. The handle has a grip that's easy to hold onto.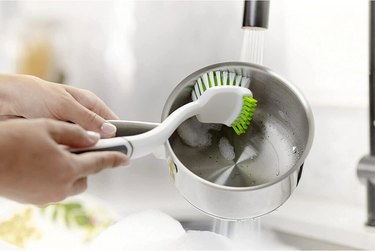 The Best Non-Scratch Dish Scrubber
E-Cloth Washing Up Pad, 2-Count
Textured scrubber on one side, soft and absorbent on the other, this non-scratch dish pad is more durable and more absorbent than a regular sponge. It's made of microfiber and can last about 100 washes before it needs replacing. The pad's microscopic, precision-engineered fibers do all the work, so it technically only requires water to get the job done. Of course, if you prefer to use liquid soap, that's fine too.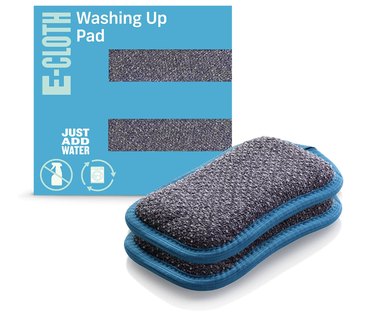 The Best Soap-Dispensing Dish Brush
OXO Good Grips Soap Dispensing Dish Brush, 1-Count
Unlike other soap-dispensing brushes that consistently leak soap, this plastic dish brush squirts out soap with the light push of a button. Its durable nylon bristles and a scraper on the backside of the brush can scrape away messes. It's safe for dishes and nonstick cookware. To refill the soap, just pop off the bottom of the brush handle.
The Best Palm Brush with Holder
DAPOWER Soap Dispensing Palm Scrub Brush, 1-Count
Leaving your dish brush or sponge on the side of the sink, or worse, in the sink, allows the bacteria to latch on. This Palm Scrub Brush comes with a holder and drip tray to keep the brush clean and your countertop dry. Small holes on the drip tray draw water inside, and it's easy to disassemble and clean. The grip on the brush is ergonomically designed, and the nylon bristles can be used to clean pots, bowls and plates of different sizes. The product is sold in gray or green.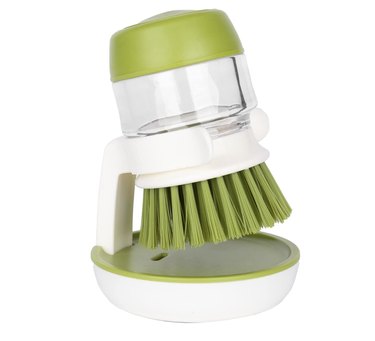 The Best Eco-Friendly Palm Brush
MR.SIGA Bamboo Palm Brush, 2-Count
This set of two palm brushes is made of sturdy, eco-friendly bamboo with an ergonomic handle design that makes it easy to grip when scrubbing. The non-scratch bristles are durable enough to tackle dried food, stains and grime while being safe to use on nonstick cookware. The brushes are ideal for cleaning dishes, pans, pots, sinks, stoves, kitchen utensils and countertops.
The Best Silicone Dish Scrubber
Teal Trunk Silicone Sponge, 1-Count
It's easy to clean with this silicone sponge thanks to the raised fish scale pattern on the back and a diagonal three-finger holding strap. The sponge works well for scrubbing dishes, pans, and even vegetables due to its nonabrasive bristles and angled ridges. For daily cleaning of the sponge, all you have to do is rinse it off when you're done and let it air dry. It's dishwasher-safe, so when it needs a deep clean, just throw it in.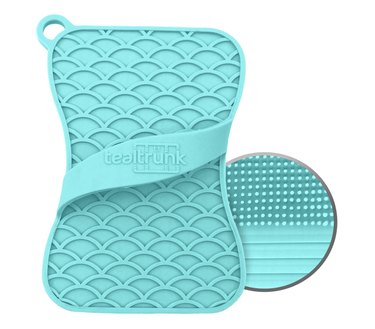 The Best Scrub Brush for Cast Iron
Lodge Cast Iron Scrub Brush
Designed specifically to be used on seasoned cast iron pans without damaging them, this scrub brush is a necessary purchase if you regularly use your cast iron. It's ergonomically designed so the lacquered rubber wood handle stays comfortable in your hand as you scrub. The gentle, yet dense nylon bristles can remove stubborn stains without putting in too much effort.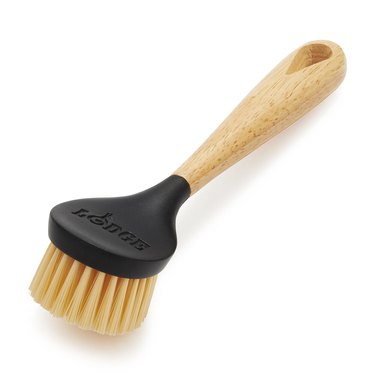 FEBU Zero Waste Bamboo Dish Brush Set
This brush set comes with six different scrubbers and they're all plant-based, 100% biodegradable and compostable. Included is a bottle brush to clean narrow cups and bottles; an all-purpose brush for dishes and pots and pans; a loofa sponge, which works great as a dish scrubber or a skin exfoliator; and a tawashi vegetable brush that can be used for cast iron pans.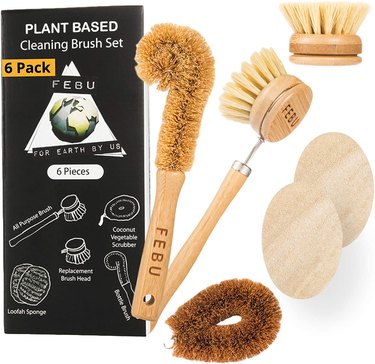 The Best Dish Brush for Straws
Rawnori Drinking Straw Brushes, 2-Count
Straws can get pretty grimy if they aren't thoroughly washed, especially if you drank something like a smoothie. This 2-pack of straw cleaners makes it super easy to effectively clean any straw. They are 10 inches in length and the durable, nylon bristles are 0.4 inches in diameter.