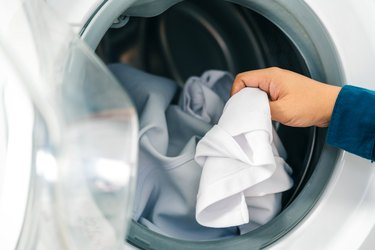 Wool dryer balls are sustainable and eco-friendly alternatives to dryer sheets and liquid fabric softeners. Made from natural sheep's wool, dryer balls can take the place of dryer sheets, which are typically full of chemicals and perfumes and can irritate sensitive skin, as well as have a negative impact on the environment.
Wool dryer balls work by bouncing around inside your dryer to separate clothes as they tumble. They promote air circulation inside the dryer, which can quickly evaporate moisture in the fabrics and ultimately shorten drying time. They can also reduce or prevent static, minimize wrinkles and soften fabrics. Wool dryer balls are designed to act as a natural and reusable alternative to fabric softener, dryer sheets and plastic dryer balls—saving you money while lessening your carbon footprint.
Dryer balls typically last around 1,000 loads, which equates to about 20 loads per week or about two to three years. You may notice that your dryer balls might start pilling after lots of use, but they're still getting the job done. A trick to refreshing dryer balls is to place each one in a thin sock and run it through a hot wash cycle before drying it on high heat.
And a bonus: cats love them.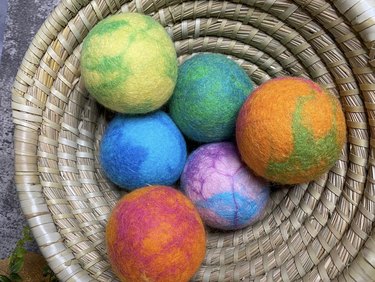 What to Consider When Purchasing Wool Dryer Balls
‌Material:‌ Most dryer balls are made of tightly compressed, 100% sheep's wool, but some companies sell balls made of textile blends with synthetic fibers and even rubber or plastic dryer balls. Since wool is the material that makes dryer balls compostable and moisture-wicking, it's important to look for sets that aren't made from other materials.
‌Size:‌ You can find dryer balls in different sizes. Many have a diameter of 3 or 4 inches, which is slightly larger than a tennis ball and ideal for heavier loads of laundry comprised of a full basket of clothes, linens or blankets. Smaller balls are great for delicates and smaller loads. As one would assume, extra-large balls can effectively be used on small loads, but small balls won't work as well on large loads. You might want to consider having different sizes on hand for your different load levels.
‌Scent:‌ Wool dryer balls come in two scent options: unscented or scented. If you want your laundry to smell extra fresh, you can buy scented dryer balls. Your other option is to buy unscented dryer balls and add your own essential oils. This can be done by adding a few drops of your favorite essential oil onto the balls whenever the scent starts to dissipate. A benefit of DIY-ing the scent is that you can change it up whenever you want without having to buy new dryer balls. If you're enjoying lavender, for a while, great. If you want to freshen things up with a lemongrass essential oil, you can do that too.
‌Quantity:‌ The number of dryer balls used in each load of laundry will be dependent on the size of the load. For small to medium loads, three balls should work well. For slightly larger loads, you should go with five to seven balls, and extra-large loads will require upwards of eight to 12 balls. Most dryer balls come in packs of two, four or six.
Take a look at the best dryer balls of 2022 below and get ready to never buy dryer sheets or liquid fabric softener again.
The Best Overall Wool Dryer Balls
You don't have to worry about textile blends with Handy Laundry's dryer balls. Made of 100% organic New Zealand wool, these extra-large balls lift and separate laundry, allowing the hot air to circulate better and dry faster. Ultimately, this helps you save money on energy costs and on fabric softeners and single-use dryer sheets. These dryer balls are also excellent at adding fluff and softness to your clothes while getting out the wrinkles.
‌Package Quantity:‌ 4 or 6 dryer balls
The Best Budget Wool Dryer Balls
These extra-large wool dry balls are organic, eco-friendly, fragrance-free and hypoallergenic. They can be reused for over 1,000 loads and can even extend the life of your clothes since they don't have any chemicals. They are great for homes with cats or dogs, as they can effectively remove pet hair from clothes. The set comes with six dryer balls inside a cotton bag for convenience—a great value for very little money.
‌Package Quantity:‌ 6 dryer balls
The Best Wool Dryer Balls for Essential Oils
Who says dryer balls can't be colorful? These extra-large, handmade wool dryer balls come in various colors to liven up your laundry room. They are made from premium wool sourced from New Zealand and are customizable with essential oils—you just need to add a few drops of your favorite scent. The dryer balls are hand felted by hand by underprivileged women and people with disabilities in Kathmandu, Nepal. Friendsheep is committed to ethical working conditions and their artisans are paid fair wages.
‌Package Quantity:‌ 6 dryer balls
The Best Scented Wool Dryer Balls
The Purple Lamb's scented dryer balls won't just add some color to your laundry room, they'll also keep your laundry smelling fresh. Infused with lavender essential oils via a special wax-infusion process, the scent will last for around 50 loads. Once the lavender has worn out, you can add more of your own essential oils if you want, but either way, they'll still work as dryer balls. The balls are made from 100% New Zealand all-natural wool.
‌Package Quantity:‌ 4 dryer balls
The Best Wool Dryer Balls for Baby Clothes
Make laundry day a little more fun with adorable penguins. These extra-large organic wool dryer balls do everything regular dryer balls do, but they'll bring a smile to your face while doing it. They are made of 100% pure New Zealand wool without any fillers, and they're handmade by artisans in Nepal. They are chemical-free, fragrance-free and hypoallergenic, making them a good option for baby laundry. These eco-friendly dryer balls would also be a great gift idea for a baby shower!
‌Package Quantity:‌ 6 dryer balls
The Best Extra-Large Wool Dryer Balls
Extra-large wool dryer balls such as these 3-inch ones are best suited for larger loads of laundry or drying bulky items. These inexpensive Casafield wool dryer balls do a great job of getting the wrinkles out of clothes, which saves you the trouble of ironing. For a small load of laundry, place a few balls in the dryer. For a large load, you'll need to use all six balls at once. These unscented dryer balls are made of 100% pure New Zealand wool with no dyes or chemicals.
‌Package Quantity:‌ 6 dryer balls
The Best Handmade Wool Dryer Balls
These handmade wool dryer balls from the sincerefamilycrafts shop on Etsy are made with scraps from Pendleton Woolen Mills, the American textile company that's been producing blankets, clothing, home decor and more since 1863. They come in a variety of designs and colors, depending on what's in stock, but the photos on the listing are updated frequently and typically reflect the dryer balls that are available. You can opt for pre-scented dryer balls free of charge by leaving a message with your order. Choose from pine needle, bergamot, rose and lavender.
‌Package Quantity:‌ 3 dryer balls
The Best Multi-Color Wool Dryer Balls
These organic wool dryer balls will add a burst of color to your laundry room. Made of 100% organic New Zealand wool, these dryer balls are hypoallergenic, chemical-free, reusable, fair trade and don't leave any lint behind. They are handcrafted in Nepal without any fillers or additives. If you have a baby or a family member with sensitive skin, these are a great alternative to liquid fabric softeners or dryer sheets.
‌Package Quantity:‌ 6 dryer balls