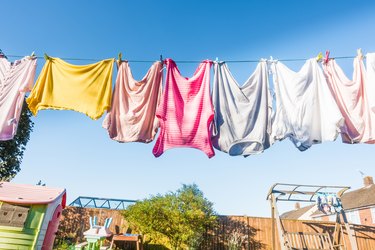 Considering how frequently you probably do laundry, using an eco-friendly laundry detergent makes the most sense, especially if you or someone in your family has sensitive skin or you're trying to use less plastic. Eco-friendly laundry detergents are free from harsh chemicals like phosphates, chlorine, bleach, surfactants and synthetic fragrances that can irritate your skin and lungs, pollute the water, and harm marine life and ecosystems. They tend to come in recycled plastic or other recyclable or compostable packaging, making them earth-friendly with a small carbon footprint and low environmental impact. The cleaning power of natural laundry detergents can be just as powerful as mainstream detergents that are full of chemicals—you just have to choose the right one. Most eco-friendly formulas can even be used as a baby laundry detergent.
What to Consider When Purchasing an Eco-Friendly Laundry Detergent
‌Ingredients:‌ Eco-friendly ingredients are less harmful to humans and the environment and include plant-derived cleaners such as sodium coco-sulfate, lauramine oxide and sodium salt, along with enzymes like amylase that act as a stain remover. A natural ingredient that can act as a laundry softener is vegetable glycerin. If you're looking for an earth-friendly, natural laundry detergent, it's best to avoid chemicals like artificial dyes, which can cause irritations for sensitive skin, and chlorine bleach, which is bad for the environment and can cause respiratory issues. You should also consider avoiding synthetic fragrances, AKA chemicals, that make mainstream laundry detergents smell the way they do. You'll know synthetic fragrances are used in a detergent if the label says "fragrance" or "perfume."
‌Bio Versus Non-Bio:‌ Some detergents are biological and some are non-biological, the difference being the latter doesn't contain enzymes and is usually dye-free and fragrance-free. Bio detergents typically have stain removing power but can be irritating to the skin and can fade fabrics. If you have kids who regularly have stained clothing (or if you're pretty messy yourself), you might want to choose bio. If you have sensitive skin or have delicate clothes, non-bio will be your best bet.
‌Type of Detergent:‌ The four main types of detergent are liquid, powder, strips and pods. Liquid detergent often comes in plastic bottles, but eco-friendly versions tend to be made from recycled materials. You can also find liquid detergent in cardboard packaging. Liquid is better at fighting stains than powder, but powder tends to be cheaper, although it doesn't dissolve in cold water as well. Laundry strips are pre-measured, ultra-concentrated laundry detergent sheets that dissolve quickly in both hot and cold water. Pods are convenient, but they're usually covered in a plastic coating that ends up in the waterways and negatively affects the environment. They're also usually the most expensive laundry detergent option. If you prefer pods over anything else, consider buying ones that have an eco-friendly coating.
‌Packaging:‌ The most convenient laundry detergent for many people comes in a large plastic bottle, but of course, that isn't the most eco-friendly option. If you do go with a plastic container, make sure it's made from recyclable plastic or can be refilled. Many eco-friendly detergents come in a small amount of packaging that's recyclable or biodegradable, so your impact on the planet is just as minimal as the detergent itself.
We rounded up the best products with the strongest cleaning power, including hypoallergenic solutions, cruelty-free options and ones that are completely devoid of plastic. Check them out below.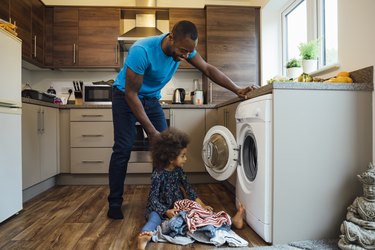 The Best Overall Eco-Friendly Laundry Detergent
Seventh Generation's laundry detergent gets the stains out while being gentle on your fabrics, your skin and the planet. It's free of dyes, artificial brighteners and synthetic fragrances. The detergent works in both high-efficiency (HE) and standard washing machines in all water temperatures. Made with plant-based ingredients and no synthetic fragrances, the lavender scent is derived from 100% essential oils and botanical extracts. The formula is never tested on animals, it's biodegradable and it's an EPA Safer Choice Certified detergent.
The Best Budget Eco-Friendly Laundry Detergent
They're the least expensive option on our list, but Eco Living Club's Laundry Detergent Strips certainly don't lack as a natural laundry detergent. These sustainable strips are biodegradable, cruelty-free, harsh chemical-free, paraben-free and a zero-waste detergent. Designed for HE and standard washing machines, the strips work well in both cold and hot water temperatures. They can also be used to hand wash your delicate garments. One strip equals one load, and each package offers enough strips for 40 loads. The strips are available in a fragrance-free or spring scent.
The Best Eco-Friendly Laundry Detergent for Sensitive Skin
You won't find any harsh chemicals in Biokleen's Free & Clear powder detergent. In fact, it's free of all hazardous materials, including dyes, fragrances, phosphate, chlorine, ammonia, petroleum solvents, butyl, glycol ether, brighteners, SLS or SLES, and EDTA or DEA priority pollutants. If you've never heard of some of those materials, just know that you don't want them in your laundry detergent. Even though it's eco-friendly and a great choice for sensitive skin, this chlorine-free oxygen bleach and mineral-based detergent removes tough stains and odors. Designed for HE machines, you can get 150 loads out of one box.
The Best Eco-Friendly Laundry Detergent Pods
Try these plant-derived, mineral-based laundry pods that are specially formulated to get out the toughest stains, leaving your laundry fresh and clean. Free of any optical brighteners, chlorine or dyes, these concentrated pods work on all water temperatures in standard and HE machines. The formula is responsibly sourced, cruelty-free and never tested on animals. The pods come in six scent options, including fragrance-free, with the option for 24, 60 or 132 pods.
The Best Eco-Friendly Liquid Laundry Detergent
This 2-pack of plant-powered liquid laundry detergent from Ecos is magnolia and lily scented via natural oils. It's safe for people, pets and the planet. The main ingredient in this ultra-concentrated formula is coconut. It's dermatologist-tested, hypoallergenic and it has a built-in fabric softener to reduce static. The detergent works in HE and standard washing machines and can also be used to hand wash delicate fabrics. You'll get 100 loads out of each of these bottles.
The Best Eco-Friendly Powder Laundry Detergent
If you're looking for a laundry powder that's both safe and effective, you'll find it in Charlie's Soap. Not only is it free of artificial fragrances, but the hypoallergenic powder is also nontoxic and tough on stains. The formula is made with plant-based surfactants and other biodegradable ingredients. If you use the recommended amount of powder per load, you'll get about 100 loads out of a 2.64-pound bag. However, there are other sizes available ranging from 50 loads to 300 loads.
The Best Eco-Friendly Laundry Detergent Sheets
Not only do laundry detergent sheets do just as good of a job as liquid, powder or pods, but they also come in a small box and take up a lot less space. Earth Breeze packaging is so compact, you'll reduce your carbon footprint by switching from plastic bottles to these detergent sheets. Formulated for sensitive skin, the eco sheets are hypoallergenic, vegan, bleach-free, paraben-free and phosphate-free. Each box provides 30 sheets for 60 loads. Choose from a fresh scent or fragrance-free.
The Best Zero-Waste Eco-Friendly Laundry Detergent
The most eco-friendly laundry detergent has zero waste, which is exactly what you get with Tru Earth's Platinum laundry detergent. The concentrated formula is biodegradable, hypoallergenic, chemical-free, vegan and ideal for sensitive skin. Choose from fresh linen or fresh linen platinum, which is an advanced, heavy-duty formula to clean the dirtiest laundry. These laundry detergent strips leave you with clean laundry by helping to remove oils, grease, blood and smoke from your clothes. The packaging is plastic-free and compostable. They come in a 32-, 64- or 384-count box, which should last an entire year.