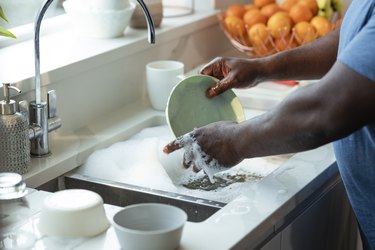 For some, doing the dishes is a zen sort of activity. But for most, it's a dreaded chore. Whichever camp you fall into, having the best tools for hand-washing dishes makes the process—if not enjoyable—at least easier and more efficient. And it helps actually get your dishes clean, too. Just in case you're not a fan of finding hardened, dried-on gunk on your fork tine when you're about to eat.
Things to Consider When Purchasing Tools for Hand-Washing Dishes
‌Needs and Wants:‌ The dishwashing retail category has lots of products for sale. Some essentials you probably won't want to forgo, like a sponge, dish soap and a drying rack. While those are the fundamental tools of the trade, there are many varieties available. And there are countless other accessories. Some—like dish gloves, sponge caddies and dish towels—make a lot of sense.
Then, there are extras you don't need but might want to have. For example, would you prefer to transfer your dish soap into a nicer reusable bottle to better match your kitchen decor? Something like a ceramic soap vessel can help maintain a more upscale look in your kitchen.
And then there are plenty of other dishwashing-related thingamajigs out there, too. Sort out the tools you actually need from the extra stuff, especially if you have limited space around the kitchen sink or you're shopping on a budget.
‌Cookware Materials:‌ Think about the pots, pans and other cookware you own. Nonstick coatings, copper, stainless steel and other materials are susceptible to scratches if you clean them with too abrasive a sponge or other scrubbing implement—or even too abrasive a powdered cleanser. Even liquid dish detergents that contain harsh chemicals aren't always safe for use on all cookware materials. Make sure any tools for hand-washing dishes that you're considering are approved for use on the cookware you'll be cleaning with them.
‌Package Size:‌ Many essential tools for hand-washing dishes are sold individually and in packs of varying sizes and quantities. This includes sponges, bottles of dish soap, canisters of dish detergent, boxes of dish gloves, bundles of dish towels and more. Do you have a dishwasher? How often do you hand-wash dishes, and how big are the typical loads? You almost always save a little money by buying larger packages. But be realistic about how quickly you'll go through the supplies, and also consider the storage space you have available.
These factors will help you pick out the best tools for hand-washing dishes in your kitchen.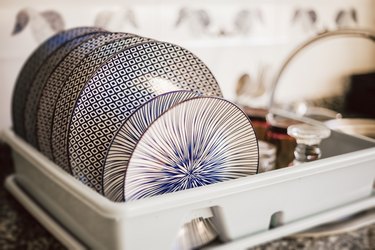 Comfortably hand-washing dishes—especially big or frequent loads—begins with a good pair of dish gloves. They prevent your hands from drying out or becoming irritated by detergent and prolonged hot water contact. And they help keep you from dropping slippery dishes, which can obviously lead to cracks, chips, breaks and complete shatters.
This two-pack of durable, reusable rubber dish gloves provides triple-layer thermal protection against hot water and harsh cleaning chemicals. Along with the gloves' ample length, drip-catch cuffs keep your forearms and clothing dry as you work. They allow for good mobility, and the nonslip grip is effective. These antibacterial-treated gloves also resist odor development. And the price is great for two pairs of such high-quality dish gloves.
Quality sponges make hand-washing dishes so much easier. They should be strong enough that they won't soon start tearing and coming apart. And they need the right balance of abrasiveness and gentility to successfully scrub gunk off without scratching more sensitive kitchenware.
Scrub Daddy sponges are hugely popular and for good reason. Their unique design makes them tougher in cold water and softer in warm water, letting you tailor the texture to the job at hand. They won't scratch dishes and they resist picking up odors and stains. And it's nice to see their smiley faces while you work, but the mouth isn't just decorative—it's also a smart feature for easily cleaning both sides of flatware.
The Best Scouring Sponges
Sometimes a standard sponge doesn't cut it when you're trying to scrape stuck-on gunk off your cookware, dishware or silverware. For those jobs, a scouring sponge is the tool to use. As with a regular sponge, a scouring sponge needs to be tough, and it needs an abrasive surface that removes buildup while being safe to use on a variety of dish materials.
These scouring sponges are safe for lots of materials. Their cleverly designed scraping surface removes foodstuff without retaining what it scrapes off in the textured surface. Made with highly absorbent polyurethane foam and an odor-inhibiting agent, they're quick-drying, odor-resistant sponges. And the product's monograms fade gradually, letting you know when it's time to replace them. Buy a multicolored pack of four or save a few bucks by purchasing an eight-pack.
The Best Liquid Dish Soap
In addition to a good scrubbing implement, you of course need a powerful dish soap to help get your dishes clean with minimal elbow grease. There are plenty of effective products made with harsh chemicals. These can irritate your skin (if you don't wear dish gloves) and are often also harmful to the environment. And who wants to risk chemical residue on the things they eat with?
Mrs. Meyer's Clean Day liquid dish soaps are not only highly effective, they're also natural and eco-friendly. They're plant-based, free of animal products, Leaping Bunny certified, completely biodegradable, and free of parabens and phthalates. The soaps cut right through grease and grime and help your dishware shine. This is a three-pack of the lemon verbena soap, but Mrs. Meyer's Clean Day dish soaps come in many different pleasant scents.
The Best Powdered Dish Soap
Sometimes, you have something like a particularly nasty, baked-on greasy mess to deal with. When faced with such a daunting dish-washing task, even the best liquid dish soap usually doesn't quite cut it. In these instances, you might start Googling for home remedies that call for stuff like baking soda or white vinegar. Or save yourself the hassle by just picking up a powerful powdered dish detergent designed for the job.
And this Bon Ami powder cleanser is just such a product. It cuts through the toughest grease stains with minimal scrubbing required. At the same time, it's a scratch-free formulation safe for use on most materials, including stainless steel, copper, ceramic, porcelain and more. It's also free of perfumes, dyes and harsh chemicals, making it eco-friendly and hypoallergenic. Add this budget-friendly three-pack to your online shopping cart and you may very well find yourself also using it to clean your stove, shower, toilet and other things around your home.
A bottle brush is a smart buy if you ever hand-wash bottles, tumblers, tall glasses, pitchers, carafes, decanters, teapots or anything else you can't get your hand into. This style of brush lets you clean the sides and bottom when you can't reach them with a sponge.
This affordable bottle brush's bristles offer a great compromise between abrasiveness and gentility. So, it'll get things clean without scratching many surfaces. The top blue bristles effectively get into corners, while the piece's length is adequate for any dishwashing job without being awkward to maneuver. The handle has the comfortable, soft, nonslip grip OXO is known for, plus it has a convenient hanging hole at the end (though the brush also fits nicely in many sink caddies). And it doesn't create extra stuff for you to wash by hand; it's dishwasher safe.
A sink caddy lets you store a sponge and brush within reach and prevents water from running on your countertop after using them. There are several types, like countertop models, products that affix to your sink and others that attach to the back of a cabinet door. Use one that allows plenty of fresh air circulation around the sponge and brush, as this helps prevent unpleasant odors. Also, look for one that has good drainage, as water that sits in the bottom can make things pretty gross.
This sink caddy checks all the boxes. It attaches to your sink with waterproof adhesive hooks that are much more reliable than suction cups. Made from stainless steel, it's rustproof and durable, too. Importantly, fresh air fully circulates around two sponges, a brush and a dish towel for quick air-drying. And water drips right into the sink, rather than accumulating at the bottom of the caddy.
The Best Dish Drying Rack
You need somewhere to dry your dishes after hand-washing them. Look for a dish rack that accommodates your typical load of dishes—and that fits on your available counter space next to the sink. As with a sink caddy, choose a product that allows for air circulation around the dishes and that's designed well to deal with dripping water.
With its expandable drainboard, this dish drying rack is suited to a range of kitchen setups and dish load sizes. The drainboard also has a drainage spout to direct excess water right into the sink. The rack is made from stainless steel, so it won't rust or break. The utensil caddy has three compartments, plus a handle for easy removal for putting away utensils and giving the caddy a quick clean. Also, a removable stemware rack lets you dry wine glasses conveniently and safely. And the soft feet prevent the rack from sliding around while protecting your countertop.