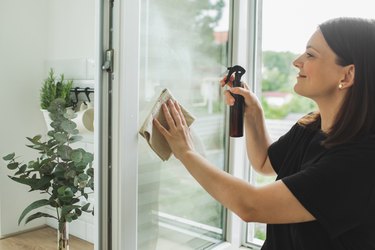 Keeping up with your household chores can be a full-time job. From soap scum to toilet bowl disasters, there is a lot going on in your environment! So, with all that happens within your home, it's important to evaluate and consider the cleaning products and ingredients you use to tidy up your space. If you're interested in pursuing a more eco-friendly cleaning routine, you'll certainly wish to incorporate some natural cleaning products into your green cleaning regimen. Sourcing greener alternatives to everyday items such as stain remover or bathroom cleaner can help keep your house spick and span while lightening the load of your environmental impact.
Maybe you'll want to create some DIY cleaning products at home, for example, a nontoxic stain remover made with baking soda and hydrogen peroxide, or an all-purpose cleaner made with leftover citrus peels and white vinegar. If DIY is not your cup of tea, you may want to opt for convenience. Thankfully, there are numerous natural cleaning products available for purchase online. From all-purpose cleaner to dish soap to glass cleaner to bathroom cleaner, there's a healthier alternative for each and every cleaning task.
What to Consider When Purchasing Natural Cleaning Products
There are many options to consider when purchasing natural cleaning products for your home and integrating them into your household cleaning routine. When looking into all-natural cleaning products, be it an all-purpose cleaner, rubbing alcohol, dish soap or chlorine bleach, you'll want to weigh whether an eco-friendly solution fits in with your lifestyle and home cleaning needs. Here are some aspects of eco-friendly products that you may wish to keep in mind before making a purchase.
​Purpose:​ Not all eco-friendly cleaning products can achieve the same desired outcome. Consider what tasks are ahead for you in your home cleaning routine and what you may need from a natural household cleaner. Some all-natural products may not be the right tools for you and your mess. If your messes are heavy-duty, you may require a stronger cleaning solution or product to help you tackle those chores.
​Fragrance:​ Unlike some heavily-scented regular cleaning products, many natural cleaners do not contain dyes and are scented with either sustainable synthetic fragrances or essential oils. Some of these scents may be more pleasing to your nose than others. When you are cleaning your countertops with natural cleaning products, some fragrances may or may not be familiar—or pleasing— to your scent memory. Before filling your cabinets with a cleaning solution that could be displeasing to your senses, read reviews about the product's pungency or opt to purchase a fragrance-free version.
​Price:​ Natural cleaning products tend to be more expensive than your standard household cleaners, the tradeoff being that many of them are free from harsh chemicals that can trigger health problems or cause irritation. Take your budget into account when bringing eco-friendly cleaners into the mix. Prices vary but there are plenty of natural cleaners that won't break the bank.
​Sustainability:​ While your floor cleaner, multi-surface cleaner or window cleaner may have a nice-looking label and smell like eucalyptus and tea tree oil, that doesn't necessarily mean that it's all-natural, eco-friendly or a safer choice for your home. Does your hand soap come in reusable or compostable packaging? Are your products also cruelty-free, meaning the manufacturer doesn't test on animals? Are you checking the label to ensure the preservatives in the products aren't harmful to you personally? We all have different needs and values, so these are important factors to consider on an individual basis.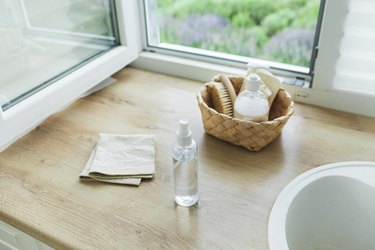 The Best Overall Natural Cleaner
Mrs. Meyer's Multi-Purpose Cleaner, Lavender, 16-oz. Bottle, 3-Pack
Mrs. Meyer's is a well-known, go-to brand for eco-friendly cleaning products, so it's no surprise that this liquid spray multi-surface cleaner is our top choice. It'scruelty-free (none of the products from Mrs. Meyer's are tested on animals) and safe to use on several nonporous surfaces including hardwood floors, countertops and tile. An added bonus, this multi-purpose cleaner is lavender scented. Get ready to achieve the ultimate meditative state while cleaning your messy hellscape of a kitchen!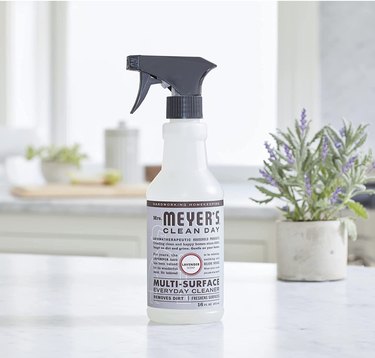 The Best Multi-Purpose Natural Cleaner
The Laundress All-Purpose Cleaner Concentrate, 16-oz. Bottle
Sometimes the best things come in small packages. This concentrated all-purpose cleaning formula from The Laundress is no exception. The extra-concentrated formula can be used to mop floors or clean kitchen and bathroom surfaces, but it's best suited for floors, showers and tubs. Simply mix the concentrate with hot water in a bucket, and dip your cleaning cloth, mop or scrub brush into the mixture. This product is not tested on animals and does not contain any animal ingredients. A luxurious and fresh scent of eucalyptus, with notes of pine, rose and lily of the valley, are derived from essential oils and make this all-purpose cleaning concentrate truly something to be desired within the home.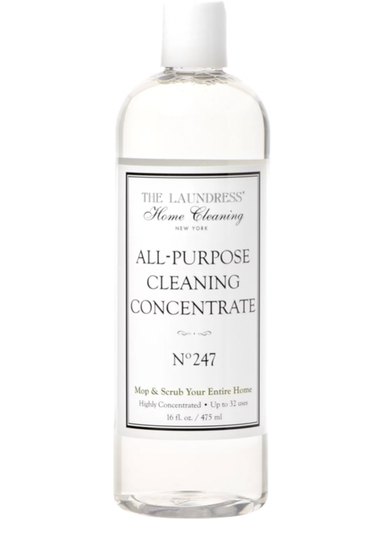 The Best Natural Dish Soap
Mrs. Meyer's Dish Soap, Basil Scent, 16-oz. Bottle, 3-Pack
No one likes dirty dishes—especially when it's time to tackle a pile of them stacked up high in the sink. But this all-natural product with a delicious basil scent makes dishwashing more enjoyable! The eco-friendly dish soap from Mrs. Meyer's contains plant-derived ingredients that are biodegradable, keeping water waste to a minimum. Additionally, the product is phthalate-free, paraben-free, dye-free and cruelty-free, meaning it's gentle on your skin and the environment. With a refreshing and uplifting basil scent, this dishwashing soap is a must-have, eco-friendly staple for any kitchen.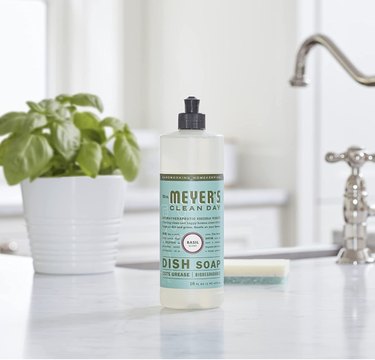 The Best Natural Bathroom Cleaner
ECOS® Bathroom Cleaner, 22-oz. Bottle, 2-Pack
Don't forget that your bathrooms need some eco-friendly TLC too! This 100% vegan shower cleaner from ECOS cuts through soap scum and stains from hard water, mold and mildew. Simply spray and walk away after every shower to extend the time between deep cleanings. Made with plant-formulated ingredients and tea tree oil, this natural cleaner is dye-, paraben-, phosphate- and phthalate-free. It's also U.S. EPA Safer Choice certified for safety and effectiveness.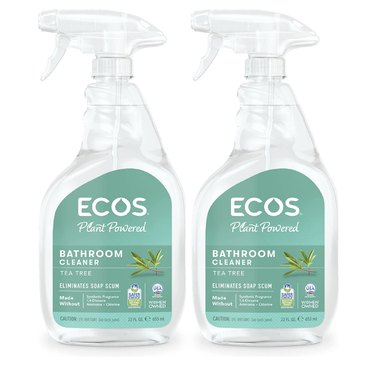 The Best Natural Laundry Detergent
Dropps Sensitive Skin and Baby Laundry Detergent Pods
Laundry pods are incredibly convenient and efficient, but they often come in unrecyclable plastic containers and contain harmful chemicals. However, these sustainable laundry pods by Dropps are fragrance-free, dye-free, enzyme-free, phthalate-free, paraben-free and cruelty-free. The gentle formula is great for those with sensitive skin or allergies, and for washing baby clothes or pet products. The product has been dermatologist tested and contains plant-based ingredients. The laundry pods are compatible with any type of washing machine and a variety of fabrics including cotton, wool and even cashmere. The cardboard packaging is recyclable and compostable but Dropps doesn't stop there with its dedication to sustainability—the company also works to achieve 100% carbon neutral shipping. Choose from a pack of 36, 64 or 160 laundry pods in unscented or freshly scented options.