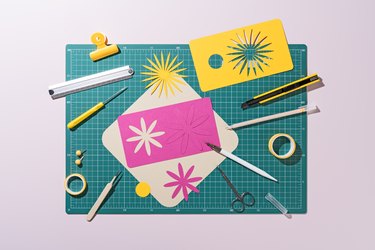 Spring is all about renewal and what better way to celebrate the spirit of the season than to give your craft space a little refresher with mats and tools that make the cleaning process so much easier? Whether you're looking for something that can protect your tabletop and is easy to wipe down after crafting or want an appliance that can pick up even the more stubborn of craft supplies (we're looking at you, glitter), we've got all of your spring craft cleaning covered with our top picks for the best mats and craft cleaning tools for your DIY projects.
What to Consider When Purchasing Craft Mats and Cleaning Tools
‌Type:‌ When shopping for items that keep your craft area clean, it helps to consider the types of mats and cleaning tools that are most useful for you and your project. For the most part, a large and simple silicone tabletop mat such as the MonsterMat Extra Large Silicone Table Protector will work for various craft projects, including acrylic painting, art prints, ceramics, floral arranging and even Cricut crafts. Floor mats are also a good idea, especially if you craft in high-traffic areas like the kitchen and living room and want to ensure your home remains clean and untouched by stubborn craft supplies like paint or glue, which can leave a permanent mark once dried. If you prefer to craft on the floor, in general, you can also use a canvas drop cloth or even an old yoga mat, bath mat or doormat as a barrier between your work and the floor. In addition to mats, you can also look for mini appliances such as the Recollections Mini Glitter Vacuum, which cleans up glitter—yes, the same glitter that sticks to everything—from your workspace and studio floor.
‌Material:‌ Depending on the item, the material can make a major impact not only in how well an area is kept clean but how easy it is to wipe down the tools. When looking at tabletop mats, silicone is best because it is more stain-resistant and provides a good barrier that won't allow for any liquid or paint to seep through, plus it's easy to wipe down and clean afterward. Plastic is also a go-to for both drop cloths and floor mats, which can be placed in your art studio under a desk or under an easel when working on an oil painting to prevent paint from coming in contact with the floor. You can also use old newspapers, though keep in mind that paints and liquids tend to easily seep through this material and can then leak onto the tabletop or floor.
‌Features:‌ Depending on your needs, certain features like a pop-up paint cleaning cup or built-in paint palette on a silicone mat can not only mean less cleanup (since you aren't dirtying other items) but also make your work more efficient since you have everything needed in one place.
‌Function:‌ Above all else, it's important to consider how well a mat or tool functions and whether or not that can elevate your process ‌and‌ make it easier to keep any space clean, whether you work in an art studio, at a desk or at your kitchen table. Consider how the material, design and features all come together to make the mat or tools work for you — after all, the whole point of them is the make things a bit easier after completing a project.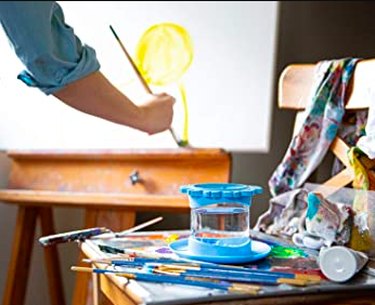 1. MonsterMat Extra Large Silicone Table Protector
The MonsterMat Extra Large Silicone Table Protector is one of our most-used and most-loved items in our craft arsenal. We use it for everything from ceramics (it works well when placed under a slab mat to keep the tabletop clean and dust-free) to painting to creating papier-mâché sculptures, and it does a fantastic job at protecting our kitchen table while providing a clean and smooth area to work on. The nonslip mat is also super easy to clean—even if you get paint on it—and is easily wiped down, rinsed off and back to new again. Its extra large size makes it a must-have for crafty kids and adults alike, providing plenty of room to create without making a mess.
Cleaning brushes could be as simple as dunking them in a cup of water and wiping them off on a paper towel, however, this doesn't always get the job done right. For a brush rinse that works to remove all of the paint colors from your bristles, consider the Green Stuff World Brush Rinser. This brush rinser is specifically designed to provide clean and fresh water for rinsing and preventing accidental spills. Plush, it's heavy-duty enough to tackle globs of acrylic paint, giving your brush a nice refresh when ready to switch colors.
3. Chalky Crown Silicone Craft Mat
For a silicone mat with a little more elevation, consider the Chalky Crown Silicone Craft Mat, which has lots of fun features designed for making the painting process easier and, of course, cleaner. This tabletop mat is nonslip and perfect for acrylic paint, with a built-in paint palette for squeezing globs of paint into, a pop-up water cup, and indented areas to mix paint colors to create your own custom hues. The mat is also super easy to wipe down and rinse off after use, is durable enough to protect the area underneath the mat, and helps you clean up as you go with the water cup.
4. Paint Puck® Original Paint Brush Cleaner, 3-Count
When a cup of water won't do the job, the Paint Puck Original Paint Brush Cleaner will. These silicone pucks come in a pack of three and are designed to go inside a cup of water to provide a more thorough clean, thanks to the silicone nubs that massage paint out of bristles. The pucks have a suction cup body, too, so you can not only secure them down to the bottom of a cup but also to the walls for a more rigorous clean.
5. Recollections Mini Glitter Vacuum
Glitter is a bit of a nightmare to clean up. If you're sick of wiping glitter off the table, consider getting this adorable mini vacuum, designed specifically to pick up itty bitty pieces of glitter. The Recollections Mini Glitter Vacuum is the perfect desktop vacuum for crafters, as it's battery-operated and completely cordless, giving you lots of range, and is small enough to fit inside art supply cases, rolling carts and other small areas. The vacuum is also super easy to use and does an amazing job at getting every last bit of glitter off the table.
6. Paint Puck Paint Brush Cleaner Rinse Cup
Whether you use your paint brushes for Mod Podge, resin, paint or glaze, cleaning them properly is key to keeping brushes in tip-top shape. Our go-to for cleaning and rinsing paintbrushes is the Paint Buck Paint Brush Cleaner Rinse Cup, which is designed to fit over an old mug or jar and is designed to give brushes a thorough cleanse in the water while also providing a built-in drying rack so your brushes don't have to sit in dirty water when not in use.
7. The Pink Stuff The Miracle Cleaning Paste, Multi-Purpose Spray and Bathroom Foam 3-Pack Bundle
In addition to tools and mats, cleaning supplies can also make the world of a difference when keeping areas clean. When crafting, we always have The Pink Stuff's Miracle Cleaning Paste and Multi-Purpose Spray on hand (but this bundle also includes the bathroom cleaner, which is a nice plus!). The Miracle Cleaning Paste is an amazing cleaning product that makes it easier to scrub and lift away dirt, debris and stains, so it's nice to have on hand for ultra-messy situations (it's also excellent for getting paint out of grout if you accidentally make a mess on your kitchen counter). The Multi-Purpose Spray also does a fabulous job of removing stains and cleaning up a space, making it hard to notice that the kitchen also serves as an art studio.
The clear plastic chair mats that are popular in offices are also excellent to use for crafting. Whether crafting on the floor, making at a desk or painting on an easel, you can easily slip this chair mat on the ground and underneath your work so you don't have to worry about ruining the tile, hardwood flooring, area rug, carpet or other flooring options below you. In addition to providing a barrier, the Kuyal Clear Mat is also super easy to clean, as you can vacuum over it as well as wipe it down.