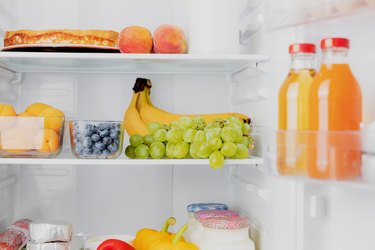 Refrigerator organization is key to maintaining a fridge where you can actually find the items you're looking for. If you're like most people, you probably prefer not to have to shuffle food and beverages around to find that one thing you want—especially when you (or your kids) are hungry or even hangry. That's where refrigerator organizers come in handy.
Even though many refrigerators come equipped with fridge drawers, most could use additional organizational options to keep them from looking like a tornado passed through. We put together a list of some highly efficient storage supplies—enough to keep your entire fridge (and even your freezer) organized—but if you're mostly happy with the way things are and could just use some organization for something specific like beverages or produce, we've got those too.
What to Consider When Purchasing a Refrigerator Organizer
‌Type:‌ Once you determine what you need organized, you'll know which type of fridge organizer to purchase. There are several types to choose from, including food storage containers, soda can or beer containers, bins for condiments, wine holders, egg holders, water bottle bins, lazy Susans, freezer organizers and more.
‌Material:‌ Most fridge organizer bins are made of plastic. You can also find freezer bins made of metal and reusable storage bags made of silicone. For produce or other food items, it's safest to purchase plastic storage bins that are made of BPA-free plastic.
‌Size:‌ It's important to make sure that the bins you choose fit on your refrigerator shelves or inside the drawers. If you have a compact fridge or one that's counter-depth, it might not be deep enough to store some of the bins, so you might want to consider measuring the space to make sure the fridge storage bins will actually fit.
‌Quantity:‌ If you have a lot of refrigerator items to store, you can buy bins that come in multi-packs. On our list, you can find packs of two for corraling just a few items all the way through packs of 18 to organize your entire fridge.
Below you'll find the best refrigerator organizers that'll save you time and hopefully a whole lot of frustration.
The Best Set of Organizer Bins
Great for refrigerators and freezers, this set of eight bins will help you organize your fridge and keep it that way. Included in this set are wide drawers, narrow drawers, an egg holder and a soda can holder. The bins have carry handles to make them easy to pull in and out. Made of BPA-free shatter-resistant plastic, the bins are great for holding fruits, veggies, yogurts, cheese, meat and more.
The Best Budget Organizer Bins
Perfect for a compact or counter-depth fridge, this small plastic bin is just the right size to hold a few things that tend to get lost in the hustle and bustle of your fridge. At under $6.00, it's inexpensive enough to buy however many you need. It's made of BPA-free PET material, and its transparency gives you a clear view of your items.
The Best Organizer Bins in Multiple Sizes
These open storage bins offer easy access for quick-grab items like fruit, beverages, condiments, pouches for kids and salad dressings. They come in a two-pack, four-pack, six-pack, eight-pack or 14-pack in various sizes. The bins are clear, which makes it easy to keep tabs on everything.
The Best Stackable Organizer Bins
You can use this 10-piece set of stackable bins for all types of food storage, including produce, cheese and deli meats. Made from BPA-free plastic, the bins are safe for unwrapped food items and they come with lids to help keep produce fresh for longer. Some of the trays have a dripping hole design on the bottom to keep produce away from any excess moisture, allowing you to store the items directly after cleaning, which is convenient and also extends their life.
If you want something sturdier than the cardboard container that eggs come in, check out this plastic egg storage tray. The tray can hold a dozen eggs, and you can feel confident that once the eggs are safely inside, they won't break. A removable lid makes the trays stackable to save room in your fridge (if you wanted to buy two or more!). It's made of BPA-free, chlorine-free and shatter-resistant plastic.
The Best Beverage Organizer
Whether you or people in your family drink soda, sparkling water, beer or other canned beverages, this can dispenser will keep them organized and easy to grab. The sturdy and durable container can store up to nine standard size cans. Choose from a single pack, two-pack, four-pack or six-pack. If you prefer your soda at room temperature, you can also use these bins as a pantry organizer.
The Best Refridgerator Turntable
A turntable, AKA a lazy Susan, is a super convenient way to access a number of food items without needing to shuffle things around in your fridge. It literally brings the back of the refrigerator to the front. This turntable fits in a standard refrigerator, is made of BPA-free plastic and is easy to clean. An optional mat can be purchased for a few more dollars, which is pretty useful since it keeps jars and other containers from sliding around when the turntable is turned.
The Best Wine Storage Rack
It's important to keep certain wine chilled, but not all refrigerators can accommodate a wine bottle unless it lays on its side. In order to keep a wine bottle from rolling around while it's on its side, you're going to need a wine storage rack made specifically for the fridge. This plastic rack comes in a one-, two-, three- or four-pack and is stackable to save space. Each rack can hold one bottle.
Reusable storage bags are a great option for refrigerator storage as they don't take up much space, they're BPA-free, eco-friendly (one reusable bag can replace up to 300 single-use plastic bags) and they can be used as an 0n-the-go snack bag. These airtight, sealed and leakproof silicone bags help prevent spills even when an upright bag is knocked over. The bags are also freezer-safe.
The Best Freezer Organizers
It's always a good idea to have plenty of food in your freezer just in case, but what good is frozen food if you can't find any of it? These white alloy steel baskets will help you keep your freezer organized. They're portable, stackable and they're durable. You can buy these baskets in a tw0-pack, three-pack or six-pack.
The Best Space-Maximizing Organizers
Pull out drawers can free up a lot of space in your fridge while organizing food and keeping it fresh for longer. This drawer comes with extendable rails that allow it to smoothly slide in and out, as well as two drawer dividers, so you can divide the drawer into four compartments to keep different types of food separate. The company notes that you should measure the size of your refrigerator shelf to make sure the drawers will properly fit. If the depth of the refrigerator shelf is smaller than 11.2 inches or larger than 18 inches, the drawer won't work.