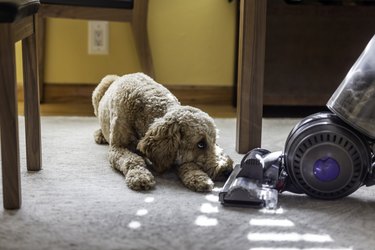 Are you in the market for a new vacuum cleaner? Maybe we're just being a bit overly enthusiastic about powerful suction, but a great upright vacuum cleaner can completely change your life. Upright vacuums have an all-in-one design which is versatile for many types of cleaning, including deep cleaning, hardwood floors and carpeting. A bonus? Upright vacuums can be relatively compact and easy to store. If you're ready to invest in a vacuum cleaner, you may want to consider an upright vacuum cleaner for all your cleaning needs. Thanks to their large dust canisters, wide floor heads and the capability to clean larger spaces, the best upright vacuums can make it easy to collect dust and grime from your carpets and hardwood floors both efficiently and effectively.
An upright vacuum cleaner is a vacuum that is pushed in front of the person using it. They normally have a base with wheels at the bottom, and a handle at the top for easy maneuvering. Upright vacuum cleaners can be great and a convenient solution for removing dust, allergens and dirt from your home and an excellent addition to any household cleaning routine.
Not only are upright vacuum cleaners effective, but they are also versatile. You can use an upright vacuum cleaner to clean practically any part of your home such as upholstery, rugs, the top of furniture, curtains and hard surfaces, as well. Upright vacuum cleaners are particularly efficient at cleaning thick carpets, but can transition easily to cleaning bare floors with the touch of a button. With its taller construction, upright vacuum cleaners are great for cleaning while standing, so you don't have to lower your back during a deep clean, saving time and effort for those who clean while standing upright. Upright vacuum cleaners can also come with motorized brushes for a more thorough cleaning.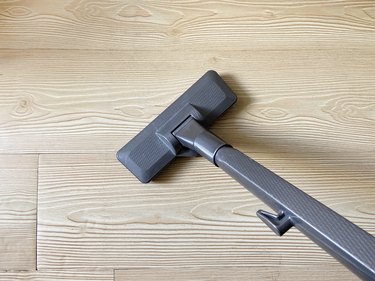 What to Consider When Purchasing an Upright Vacuum Cleaner
With all the convenience and efficiency an upright vacuum can bring to your cleaning routine, purchasing a new vacuum could have the potential to change the way you clean your home for good. However, with so many options on the market, you may not even know where to begin! We are here to help with all your upright vacuum decision making needs!
Before making an investment in the top upright vacuum, you will want to do your research. You may be wondering, "What should I look for in an upright vacuum cleaner?" Good question. There are multiple factors to consider in a vacuum before making your purchase. Certain elements and features of your upright vacuum can certainly change your cleaning experience, such as size, noise, attachments and your budget.
‌Ease of Use:‌ Factors such as weight, shape and the way your vacuum moves across your floors will impact its usability and how convenient it is to use to clean your household. You may also consider the placement of controls on your vacuum: Are they within reach and easy to use? Is your vacuum easy to store? Keep in mind that upright vacuums can be heavier and harder to push and pull, but there are different models that may be easier to use and lighter in weight than others.
‌Capacity:‌ A vacuum's capacity may greatly impact your purchasing decision. How much is your vacuum capable of picking up before you have to empty a bag or a canister? A smaller capacity vacuum may be more compact and convenient for an apartment or small space, while a large capacity vacuum would be ideal for a large space with more floors to clean.
‌Features and Attachments:‌ An upright vacuum can come with many varying features and attachments that you may or may not need when cleaning your home. This can include extra brushes, removable canisters, crevice tools, a hose attachment, extension wands and an upholstery brush. Some vacuums even come with self-cleaning features, and motorized brushes. In terms of convenient features, you can consider a vacuum with a self-cleaning brush roll to keep clean up and maintenance of your vacuum easy and hassle-free. Some vacuums are designed specifically for certain situations and cleaning needs such as hardwood floors, rug cleaning or a home with pets. Keep in mind that the price of an upright vacuum may vary depending on the features. Luckily, there is a wide range of vacuums that can fit within a multitude of budgets.You will want to keep this in mind before making your purchase.
‌Noise:‌ If you are sensitive to noise, the volume of your vacuum may be something to consider before making an investment in an upright vacuum. An upright vacuum tends to clean more thoroughly and is easier to store than a canister vacuum, but it can also be louder than a stick or canister vacuum.
The Best Overall Upright Vacuum Cleaner
If you are looking for an overall great vacuum option, this lightweight vacuum from Shark is it. The Navigator LiftAway has a 2-in-1 Lift-Away detachable pod portable cleaning feature, to help with cleaning in hard-to-reach areas. This vacuum also has swivel steering to help with maneuvering around spaces and furniture, as well as a HEPA filter for allergy and dust control.
‌Cord Length:‌ 25 ft.
‌Weight:‌ 13 lb
‌Features:‌ Lift away, swivel steering and pet attachment
The Best Budget Upright Vacuum Cleaner
This versatile, option from Hoover is great for those who want a solid vacuum with standard features from a reputable brand, while on a budget. The vacuum is great for whole home cleaning on both carpets and flooring. A hassle-free 25 foot automatically retractable power cord makes clean up around the house super easy, while a Pet Turbo Tool attachment is great for pet owners looking to tidy up their space!
‌Cord Length:‌ 25 ft.
‌Weight:‌ 16.1 lb
‌Features:‌ Pet turbo tool, multi-floor brush roll and extended cord
The Best Upright Vacuum Cleaner for Pet Hair
This upright vacuum from Shark is perfect for cleaning up after pets. It has intense suction power to clean both hard floors and carpets with a Powered Lift-Away motor and accessories, which can lift up off of the stand up unit, offering a versatile cleaning option for vacuuming stairs, under furniture and in and around hard to get spaces and corners. Additionally, there is a self cleaning brush roll with fins so that pet hair doesn't get caught within the vacuum.
‌Cord Length:‌ 30 ft.
‌Weight:‌ 16.38 lb
‌Features:‌ Self-cleaning brush-roll, power fins
The Best Upright Vacuum Cleaner for Carpets
If you're looking for the ultimate carpet friendly vacuum, look no further. This vacuum from Dyson has a self adjusting cleaner head, that automatically adjusts from hardwood floor to carpet. The Dyson Ball Animal 2 claims to have "the strongest suction of any vacuum," which could prove to come in handy when cleaning your carpet. In addition, attachments like a tangle free turbine tool—which keeps pet hair from clogging the vacuum attachments—will certainly please any pet parent.
‌Weight:‌ 17.35 lb
‌Features:‌ 5 year warranty, tangle free turbine tool and self adjusting cleaner head