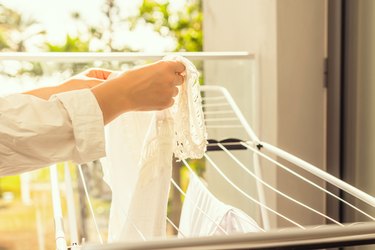 There's no question that dryers are a convenient way to quickly dry your clothes, but with this modern amenity comes two downfalls—they can damage or shrink certain clothes, especially the ones that require hand washing and air drying, and they use a lot of energy. A clothes drying rack is a no-heat alternative to a dryer. It's a rack that gives you a place to hang your jeans, sweaters, silk shirts, blankets or any other clothes you don't want to risk damaging in a dryer or that simply won't fit inside.
Since air drying your clothes can take up a lot of space in your laundry room (or kitchen, dining room, living room or wherever you've been putting your laundry's overflow), we've rounded up the best clothes drying racks in a range of styles designed to maximize your space, including collapsible racks, over the door racks, wall-mounted racks and accordion racks, as well as racks that lean against a wall, ones that are good for hanging clothes and ones that are best for laying sweaters flat to dry.
What to Consider When Purchasing a Clothes Drying Rack
‌Type:‌ This may come as a surprise, but there are several types of drying racks to consider.
‌Collapsible:‌ The most common drying rack is a freestanding fold-out rack because it's relatively inexpensive, easy to store, can hold a significant amount of clothes and is portable.
‌Mesh:‌ A mesh or nylon drying rack looks like a small cot and is ideal for sweaters, t-shirts or other clothes that need to lay flat to dry.
‌Outdoor:‌ This one is designed to attach to a porch or deck and fold into itself when it isn't in use. It makes sense for people who like to dry their clothes in the sun but don't want to commit to a clothesline.
‌Over the Door:‌ This type of rack takes up the least amount of space because it hangs over a door and out of the way.
‌Wall-Mounted:‌ More of a permanent drying solution, a wall-mounted rack screws into the wall and folds into itself, saving space and time.
‌Material:‌ Most drying racks are made using materials that won't rust, which is an important factor since it will consistently be holding wet clothes. Drying racks are typically made of plastic, wood or steel. Plastic is generally the least expensive but isn't as durable as stainless or alloy steel or wood. If you opt for stainless steel, just make sure it isn't too slippery for your clothes. If wood is your preference, go for a sealed finish so your clothes don't snag.
‌Capacity:‌ If you tend to do several loads of laundry a day or if many of your clothing items require line drying, you might want to go for a large drying rack with crossbars with a range of heights. Otherwise, a small or medium rack should do just fine. As for weight capacity, keep in mind that wet clothes weigh more than dry clothes, especially denim and blankets.
Scroll on to see our top picks of the best clothes drying racks of 2023 so far.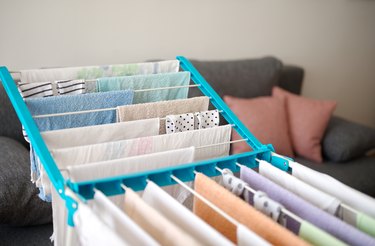 The Best Overall Drying Rack
This freestanding, alloy steel drying rack has all the bells and whistles. It has several cross bars on top for hanging clothes, a mesh rack for sweaters and bars on the bottom that can hold shoes and undergarments like bras and underwear. There's 46 feet of linear drying space, plus the rack collapses to make storage easier.
The Best Budget Drying Rack
Even though this one's our budget option, this steel garment rack doesn't skimp on functionality. This classic laundry drying rack features seven levels for drying a variety of clothes at the same time. It's sturdy and durable, and it can be folded for easier space-saving storage and convenient portability. While it isn't an official outdoor drying rack, it's a good option to use outdoors when you want your garments to be sun-dried.
The Best Wall-Mounted Drying Rack
A major benefit of this wall-mounted drying rack is its space-saving capabilities. It folds out when being used and tucks away when it isn't needed. Made of engineered wood, the rack comes in white, which works nicely with most laundry rooms. It has six slots to hang clothes, and it extends to 18 1/2 inches, giving your clothes enough room to air dry.
The Best Collapsible Drying Rack
The lifespan of your clothes can be extended with the use of a drying rack like this Amazon Basics rack. It's a classic laundry rack that folds when you aren't using it and can be stored in a closet or even between the washer or dryer and the wall if there's room. Made of alloy steel, the rack has a waterproof and rust-resistant coating. It's sturdy and lightweight enough to be portable so you can take it on the go or place it outside to have your clothes dry in the sun.
The Best Over-the-Door Drying Rack
If you don't have any available floor space or if you have a small space to work with, this over the door drying rack is a great option as it's collapsible and stays out of the way even when it's open. This sturdy rack made of alloy steel can hold lingerie or other under garments, t-shirts or any other clothes that need to be hung. It's compact but provides a total of 22 linear feet of drying space.
The Best Leaning Drying Rack
If you're looking for a drying rack that offers ease of use, check out this leaning drying rack. It lays flat or can be stood upright in a closet to keep out of the way when it's not in use, and when you're ready to use it, simply lean it against the wall and hang your clothes. Made of steel, the rack has stoppers on the top and bottom to prevent slippage and it can hold up to 20 pounds.
The Best Accordion Drying Rack
The perfect addition to any spacious laundry room that could use some extra drying space, this accordion drying rack has seven hanging rods to hang wet clothes, towels and more. It's made of stainless steel and a 60-pound weight limit.
The Best Drying Rack for Hanging
If you prefer to hang your wet clothes, this tripod might be just what you're looking for. It's sturdy and foldable, so it can be put away just as easily as it's set up. It can be used as a drying rack or as a travel garment rack. Each arm of the dryer can hold up to 11 items on hangers using the notches or holes for hangers. Since your clothes will already be on hangers, this tripod removes that step in your laundry process.
The Best Drying Rack for Sweaters
Unfortunately, sweaters can't be hung on a standard drying rack without stretching out. This collapsible cot-like nylon drying rack has five levels to place your sweaters and other garments that need to lay flat to dry. It's also a great place to let your newly washed shoes air dry. The rack can hold up to 30 pounds and can be folded and stored for your next laundry day.
The Best Drying Rack for Outdoors
Easier to manage than a clothesline, this stainless steel drying rack is foldable and perfect for outside drying. It features three retractable drying rods and has plenty of space to hold your clothes, linens, blankets, rugs and other larger items that won't fit in the dryer. The rack comes in three sizes: 63-inch, 79-inch and 95-inch.